As you've no doubt heard by now, Chadwick Boseman died of colon cancer over the weekend, to the shock of his many fans and even his co-workers and co-stars. In the brief time his star was on the rise, he gave us legendary portrayals of iconic Black cultural and historical figures such as Jackie Robinson, Thurgood Marshall, and James Brown. But it was his culture-shifting, game-changing performance as T'Challa, the king and protector of fictional African country Wakanda in 2018's mega-hit Black Panther that will likely stand as his greatest cinematic achievement. He and director Ryan Coogler gave multiple generations of Black audience members the superhero and heroic king figure cinema had largely denied them. And Chadwick did it all while quietly and privately battling for his own existence, keeping it secret for his own reasons. We suspect it was partly because he understood the value of the symbol he'd become and the responsibility he felt to maintain an image of heroism and regal dignity. There is nothing we could write that would pay proper tribute to the man and what he has meant to countless people. We can only look back on our style coverage of him with gratitude that we were able to see and understand how game-changing his fashion was; to note how much of an influence he was having on other male stars.
In collaboration with his stylist Ashley Weston, he recreated the image of the Black male star and influenced so many other men – sports stars, movie stars, TV stars and an army of fans – by showing them that self-expression, high style and Blackness can all work together to produce moments of pure fashion beauty and envelope-pushing masculinity. Here is a selection of his greatest looks over the years, ranging from traditional men's suiting to the bold African-inspired prints and paradigm-shattering shapes he enjoyed in the later years, when his image as a king and a symbol of Black Excellence influenced nearly everything he did in public and in promotional work. He used style to support his career, but also to contribute to the cultural understanding of Black men as avatars of style, culture, refinement and dignity. He knew exactly what he was doing with every one of these looks and the message left behind by them is both powerful and unforgettable.
Rest in Peace and in Power, King, Warrior, Artist. Your legend is secure, your battle is won, your art endures forever. We are so enriched by it all.
At the 2014 GQ Men of the Year Party, December 2014
In Salvatore Ferragamo at the NBA Awards, June 2017
At the Black Panther LA premiere, January 2018
At the Black Panther Seoul press conference and premiere, February 2018
In Givenchy at The Black Panther London premiere, February 2018
In Fear of God at the "Welcome to Wakanda" NYFW Event, February 2018
At the Black Panther New York premiere, February 2018
At the GQ All-Star Party, February 2018
In Burberry at the Film Independent Spirit Awards, March 2018
In Givenchy at the Academy Awards, March 2018
In Versace on Saturday Night Live, March 2018
In Prada at the Avengers Infinity War premiere, April 2018
In Atelier Versace at the Met Gala, May 2018
In Off-White at the MTV Movie & TV Awards
In Louis Vuitton at the ESPY Awards, July 2018
In Versace at the Governor's Awards, November 2018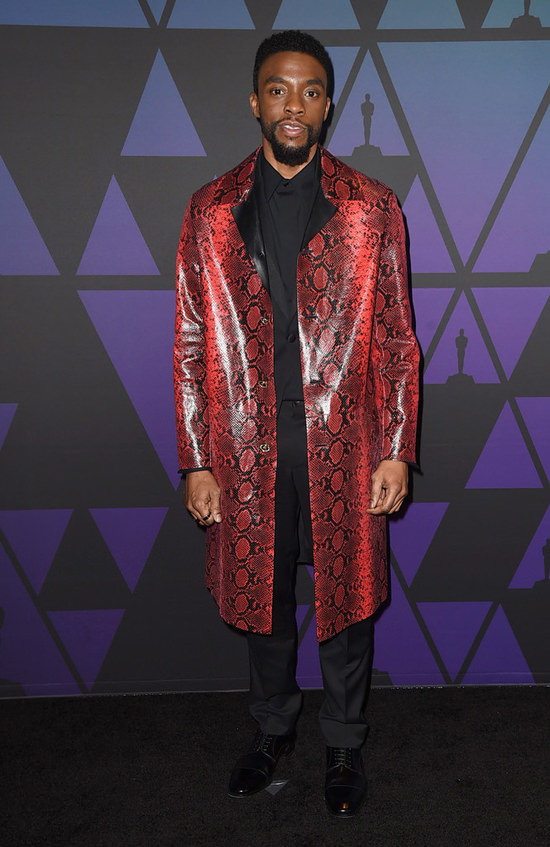 In Calvin Klein at The Hollywood Reporter's "Power 100 Women in Entertainment" Party, December 2018
In Ermenegildo Zegna at the SAG Awards, January 2019
In Versace at the NAACP Image Awards, April 2019
In Givenchy at the AFI Life Achievement Award ceremony for Denzel Washington, June 2019
 In Dunhill at the "21 Bridges" NY Special Screening, November 2019
[Photo Credit: INSTARImages]
blog comments powered by

Disqus