Kittens, everyone put on their semi-finest for the first big fashion-based kick-off to awards season, the Governor's Awards. When we do the red carpet retrospective for all the best actress and best supporting actress nominees the weekend before the Oscars, pretty much all of them will have an early entry from this event. Everyone here can smell a nomination on the horizon and they're dressing for it.
So let's go judge them!
Amandla Stenberg in Celine

The sandals are kind of cute in an off-beat way, but the shape of that dress is terrible. It looks badly home-sewn.
Carey Mulligan in Dolce&Gabbana

She looks fantastic in metallics, but we don't love the ombre effect or the multiple tiers.
Chadwick Boseman in Versace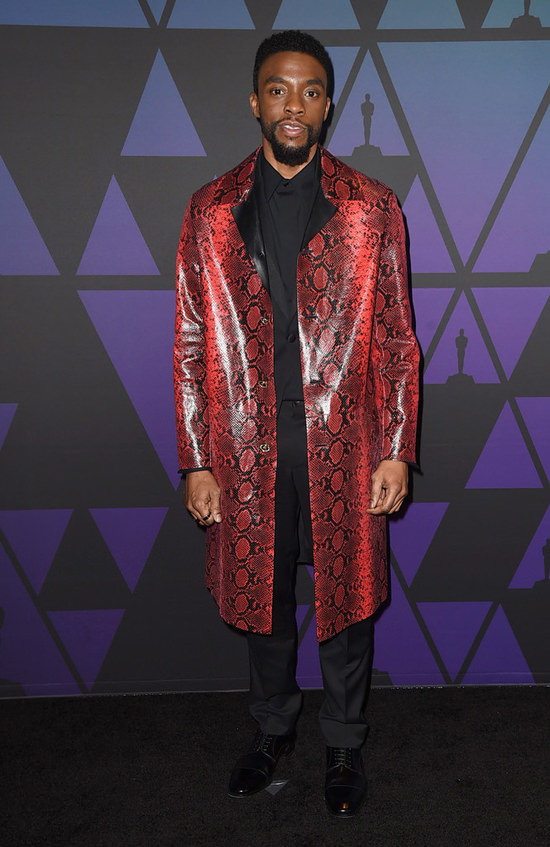 It's a fabulous coat, but it's a bit too shiny on the RC and by necessity, the rest of his outfit winds up being generic and plain.
Emma Stone in Louis Vuitton

Not feeling those weird, painful-looking straps at all, but we like the subtle touches of silver in the dress and her eye makeup is on FIRE.
Ethan Hawke

Much like Chadwick's red python coat, it's hard to make a bright red velvet dinner jacket work without being overwhelmed by it. We love that he chose it, but we think he might have looked a skosh less sleazy with a white shirt and tie.
Gemma Chan in Stella McCartney

Woman, you are entirely too fabulous for this thrift store bridesmaid gown from the '80s.
Laura Dern in Rodarte

The details are almost impossible to see so we … guess we have no objections?
Maggie Gyllenhaal in Attico

Maggie,  send Judi Dench her dress back and say "No, thank you," the next time she insists on lending you one.
Nicholas Hoult in Prada

Pretty Boo.
Nicole Kidman in Rodarte

It's not our fave color story for her, but it's pretty enough. The shape/length of the skirt is a little odd but we think we like it. It's got a little bit of a sugarpum fairy feel to it.
Rami Malek in Givenchy

We feel a bit bad saying this, since he never defaults to boring menswear style and should be commended for that, but we've seen him in this exact outfit a half-dozen times at least.
Saoirse Ronan in Calvin Klein

A TURTLENECK SWEATER TURNED INTO A GOWN. Get thee behind us, Satan.
Timothée Chalamet in Haider Ackermann

Pure love. This is why Rami and Chadwick's efforts looked a little stale to us. This kid picked up the mantle and he's been running with it like crazy.
[Photo Credit: INSTARImages]