Swellegant.
We're going to let kindly ol' Mr. Press Release have the floor, because we found ourselves re-reading this more than once to make sure we were getting it.
Leading British designer Vivienne Westwood officially launched her much anticipated red hot uniform collection for Virgin Atlantic.
Original design and sustainability are top of the priority list for Vivienne and Virgin in this long term partnership: upheld through intelligent cuts; beautiful tailoring; as well as polyester yarn made from recycled plastic bottles and a nano finish to extend the garments life and retain colour.
Vivienne Westwood has redesigned the iconic cabin crew look with an elegant, and feminine red jacket inspired by the "Bettina" jacket designed in the early 90's with a matching red pencil skirt with a cheeky dart to the rear. The hand drawn wing designs are a recurring theme across all members of the team while a new addition of bags for ground staff has also been introduced by the Ethical Fashion Initiative in Nairobi in collaboration with the International Trade Centre, United Nations.
Vivienne Westwood's design references her enduring interest in 40s French couture cutting, with a double breasted 'drape coat' for women, and updating the classic red shoe with Westwood's iconic hourglass heel. Male crew will be provided with a sharp Saville Row inspired three piece suit with a contemporary twist in a deep burgundy Oxford weave wool.
Over 7,500 staff including cabin crew, pilots, Clubhouse staff and Virgin Holidays employees will receive the new uniform consisting of 22 pieces in total which has been trialled across airports and on board over the past year.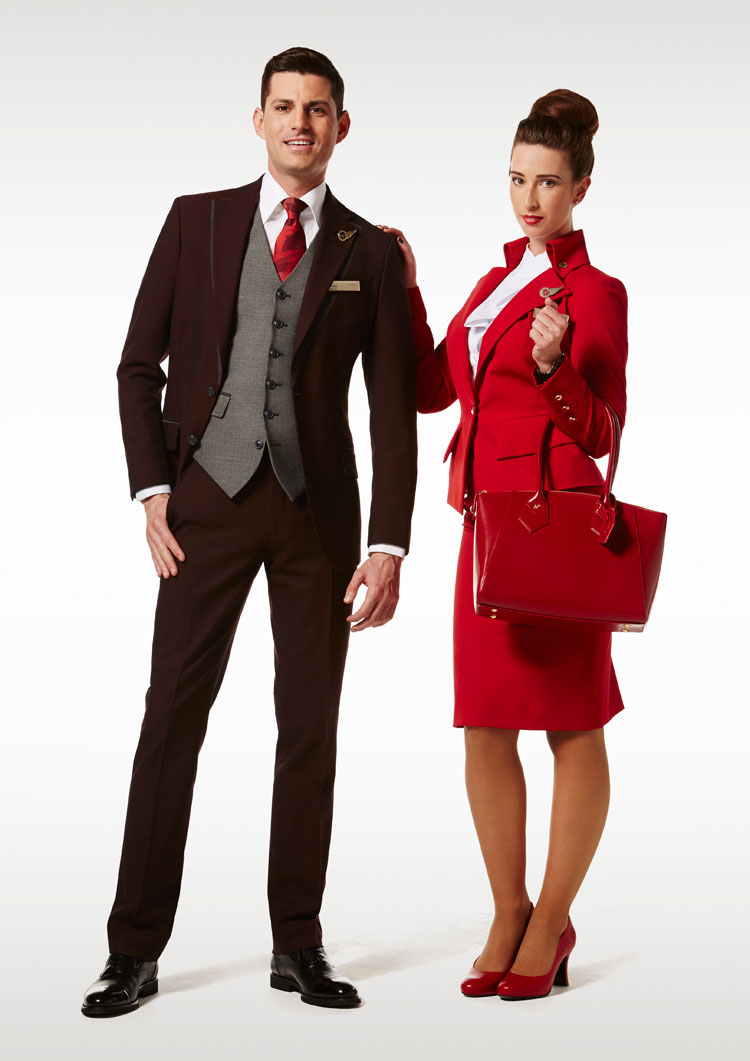 Okay, first: these are really nice designs, every single one. We saw a few of them in person on a recent flight and they're definitely eye-catching. But unfortunately, cheap fabric is cheap fabric, no matter how well it's cut or how innovative it is. You can see that cheapness, even in heavily photoshopped pictures like these. The women's tailored jackets don't move well at all. You put a hand on your hip and the whole thing rides up. And all the pants have that "hanging off the waist" look of a lot of service uniforms.
Which brings us to our next point. We had to re-read that press release because we couldn't quite believe that they're expecting women to serve drinks in pencil skirts and heels. And since the height, weight and age requirements of flight attendants were long ago tossed away, we're a little shocked that they're expecting the range of women (and men, for that matter, because those tight vests and jackets don't look conducive to stowing luggage) who make up modern flight attendants to wear such specific and restrictive styles. If you're built exactly like the people in these pictures, then yeah; you'll look great in tightly tailored jackets, pencil skirts, and ruffled blouses. Everyone else will just have to suck it up.
Also: women pilots with scarves tied around their necks, wearing heels? Seriously? Please tell us that's optional.
Look, we are fully supportive of any attempt to make the world a more stylish place. And these are, as we said, some really sharp looks. But it's not 1965 anymore. We're long past the Glamour Age of Airline Travel. There's something a little odd about the idea of service people getting all dressed up on an airplane full of cramped, annoyed people in flip-flops and shorts and trying to navigate an 18-inch wide aisle in 3-inch heels while handing out 4-dollar cans of Diet Coke.
[Photo Credit: Virgin Atlantic]