This is it! Our soon-to-be-controversial picks for the TOP FIVE red carpet looks of the year! If you need to play catchup, you can find the rest of our top twenty list here, here, and here. Reiterating: we call this list "Best Red Carpet Looks" instead of "BEST DRESSED" because our red carpet coverage has always been just as interested in things like branding, image-control, and statement-making. For us, the following looks may not have been the most chic of the year and most don't comprise our favorite styles, trends and elements. What they all have in common is IMPACT, followed by the sense of a strongly declarative statement being made on the part of the wearer.
5. Emma Corrin in Miu Miu at the Met Gala

We will never not clap in delight when someone uses fashion as a form of unique self-expression. Emma Corrin, possibly the least likely person to show up at the Met Gala in a conventional gown, took this year's Gilded Age theme in an unexpected direction, by paying tribute to a legendary dandy and eccentric of the late 19th Century named Evander Berry Wall, known at the time as "King of the Dudes." The result was one of the quirkiest and most interesting looks of the year, as well as a bit of a personal declaration from a nonbinary performer with a bit of a punk attitude to them.
4. Doja Cat in Schiaparelli Couture at the Billboard Awards

Schiaparelli's surrealist body-focused fashion practically exploded on the red carpet this year, with a ton of stars attempting to make toe shoes and ear earrings work for them (with several of them just not hitting the mark). The aesthetic may have found its best wearer in Doja Cat, who has a particular knack for combining sex with an occasionally unsettling severity in her fashion choices. We honestly don't think any star could've pulled off this combination of pieces as well as she has. She looks amazing.
3. Florence Pugh in Valentino Couture at the Venice Film Festival

Miss Flo made one of the biggest red carpet splashes of the year while also delivering a non-verbal declaration that she will not be fussed, disregarded, or getting involved in any further drama. After a string of rumors and semi-scandals hit the promotional tour for Don't Worry Darling (including the release of a video of the film's director Olivia Wilde dismissing the star's concerns), Flo announced that her appearance at the Venice Film Festival would be the only work she'd be doing for the film's promotion. With all eyes on her, she hit the red carpet in this explosive confection that implied exuberance, confidence, and a huge sense of fun.
2. Quannah Chasinghorse in Atelier Prabal Gurung at the Met Gala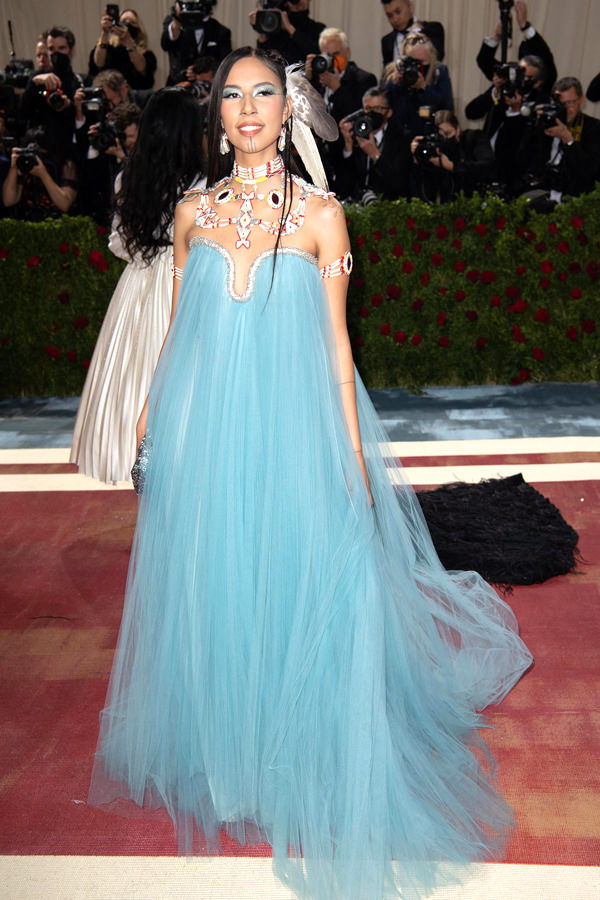 Native American activist and model Quannah Chasinghorse managed the impossible for the Met Gala: a high-fashion tribute to her people in the middle of a gala devoted largely to ignoring one of the worst periods in their history. The results were chic, gorgeously unique, quietly powerful, and free of any sorts of cliches or stereotypes about Indigenous American clothing.
1. Lizzo in Jean Paul Gaultier Couture at the MTV VMAs

It was probably a coincidence that Lizzo showed up to the VMAs in a gigantic, space-taking gown the same week that several mid-profile men looking for attention decided to come for her for the crime of being insufficiently suited to their particular tastes. On the other hand, it's not a coincidence that a ton of arrows were fired her way this year and she handily swatted all of them aside, so this look was almost certainly a form of personal statement; a look that says she will not only take up space, not only refuse to make herself smaller or concern herself with how other people think she should looks; it's a look that says she fucking loves who she is, loves to be large about it, and doesn't give a flying fuck about anything else. It's also, not for nothing, possibly the most forward and edgy fashion any plus-size celebrity ever wore on the red carpet. Lizzo will do and be whatever and whoever she wants to be and this whole look says that, loud and clear.
[Photo Credit: Christopher Polk/NBC, Todd Williamson/NBC, David Becker/NBC, Rich Polk/NBC, Luca Dammicco/Warner Bros., Hubert Boesl/DPA/Cover Images, Rocco Spaziani/DPA/Cover Images, JOHN NACION/startraksphoto.com, PA IMAGES/INSTARimages.com, Jamie McCarthy/Getty Images, Abaca/Instarimages.com, JOHN NACION/startraksphoto.com, John Shearer/Getty Images, Michael Simon/startraksphoto.com, Johnny Nunez/Getty Images for MTV/Paramount Global, Dimitrios Kambouris/Getty Images for MTV/Paramount Global, Kevin Mazur/Getty Images for MTV/Paramount Global, Jamie McCarthy/Getty Images for MTV/Paramount Global}
blog comments powered by

Disqus