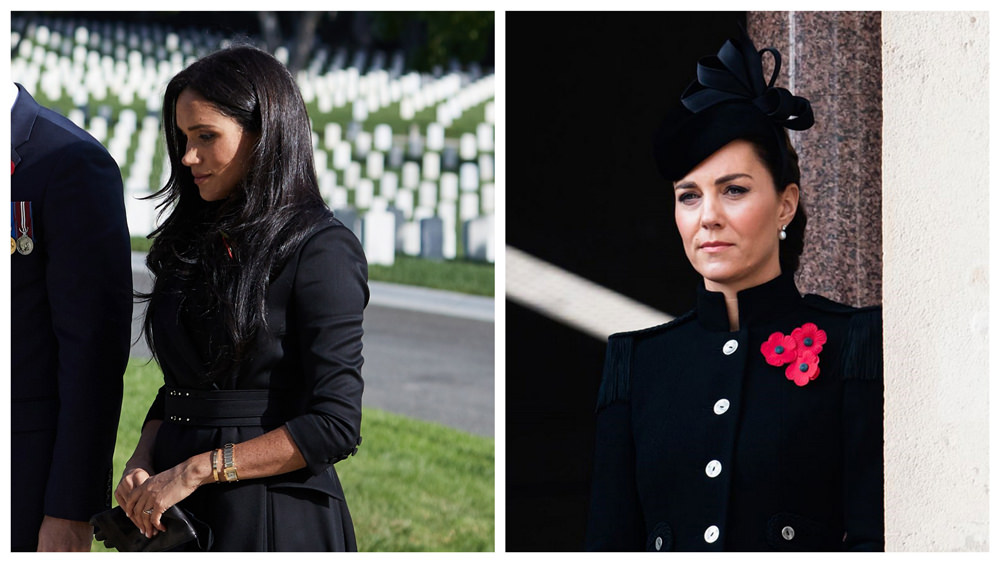 Two very different Duchesses stand before you! Instead of making them lip sync for their lives, let's talk about the very different ways these very different Duchesses observed Remembrance Day on different continents and in different countries. To be fair, we're only talking about two black coats, but even wearing the same type of garment, the differences are stark.
Meghan Markle in Brandon Maxwell

Meghan and Harry visited the National Cemetery in Los Angeles, where they laid flowers from their own garden at the graves of two Commonwealth soldiers; one from Australia and the other from Canada.
Okay, we have to say this: This is the first time the Sussexes' attempt to have it both ways comes off fairly awkward. These pictures – released by the Sussexes – just come off strange; a prince wandering an American cemetery in his medals, looking for a countryman to mourn, hanging on to the pomp and circumstance even though there's no one else there. This isn't so much a criticism of the Sussexes as it is an observation that their "of two worlds" approach to their royal status doesn't always work that well. To be fair, they would've likely been crucified in the British press if they had let the day pass without some sort of remembrance (and there are reports Buckingham Palace courtiers denied Harry's request to have a wreath laid on his behalf), but these shots have the distinct whiff of a prince in exile. Very "Edward and Wallis in the south of France," which is almost certainly not the image either of them wanted to project.
Fashion-wise, the coat is lovely; a bit big and bulky in the way that she prefers (and likely to have been way too heavy for SoCal weather in November), but since this is the first time in a long time we've seen Meghan dressed up, we're inclined to love it.
In other news, the Duchess of Cambridge has declared herself Dictator-for-life:
Cathy Cambridge in Catherine Walker

We couldn't have asked for a more obvious depiction of the differences between the two duchesses and their roles and goals. Catherine is going to be Queen someday and she'll be required to make appearances now and then in full military regalia, so stepping out on a balcony on Remembrance Day wearing military cosplay isn't presumption on her part, nor is she getting ahead of herself. She's laying the groundwork for her transition from dutiful granddaughter-in-law and Duchess to eventual Princess of Wales and then on to the throne. Her style in the past few years – roughly from Louis' birth – has gotten deliberately more stately, slightly more military, and quite a bit more regal. From a fashion design perspective, we don't like the epaulets at all, but given her role and image, this is a savvy choice and a smart reminder of who she is and who she's planning on becoming.
Style Credits:
Catherine, Duchess of Cambridge
– Catherine Walker Black Military-inspired Coat
– Philip Treacy Hat
– Queen's Diamond and Pearl Jubilee Earrings
Meghan, Duchess of Sussex
– Brandon Maxwell Black Belted Jacket Dress
– Brandon Maxwell Cotton and Silk-blend Waist Belt
– Cartier 'Love' Gold Bracelet
– Princess Diana's Gold Cartier Tank Française Watch
– Jennifer Chamandi 'Lorenzo' 85 Suede Pump
[Photo Credit: Lee Morgan, Chris Jackson/Getty Images]/span>