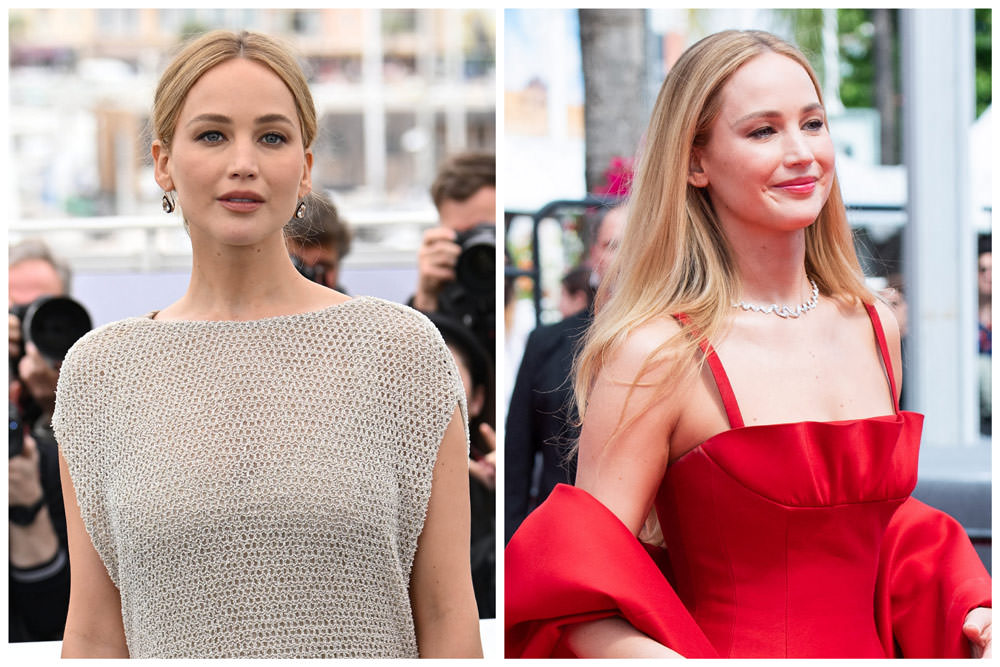 Jennifer Lawrence hit Cannes like a high-fashion breeze rolling in off the Riviera, but she wasn't there as an actress. She was there representing as a producer of the documentary Bread and Roses, by Afghan filmmaker Sahra Mani, about the lives of women living under the Taliban. It's rare to see a producer deliver this much glamour (or gain this much attention) at Cannes, but we can see this as an example of someone using her star power very wisely and strategically, to call attention to work and issues that are important to her. To be fair, we should also see it as a brand ambassador fulfilling her contractual obligations.
AT THE BREAD AND ROSES PHOTO CALL IN DIOR COUTURE

This is honestly gorgeous; the perfect Riviera Chic look. It's breezy and lightweight and sand-colored, but it has a really appealing elegance to it. If we're being honest, we like the minimal front much more than the busy back view.
AT THE ANATOMY OF A FALL PREMIERE IN DIOR COUTURE

Yes, she's wearing flip flops, in seeming defiance of the festival's controversial demand that women in attendance wear heels several years ago. She did, in fact, wear red heels with this dress, but let's face it: the look was all about that bit of comfortable rebellion. The dress is gorgeous. Red never lets her down.
Style Credits:
First Look: Christian Dior Dress from the Spring 2023 Couture Collection | Alison Lou Cocktail Drops | Longines Watch
Second Look: Custom Christian Dior Couture Dress with Cape
Styled by Jamie Mizrahi | Hair by Jennifer Yepez | Makeup by Hung Vanngo
[Photo Credit: Doug Peters/PA Images/INSTARimages, Aurore Marechal/Abaca Press/INSTARimages]
blog comments powered by

Disqus