RuPaul's Drag Race All-Stars concluded its All-Winners season in exactly the way we all assumed, didn't we? Yay for that. It delivered a full season of world-class drag entertainment from some of the most polished and talented queens in the world and we can honestly say there wasn't one episode that didn't leave us feeling entertained. You're sensing a "but" here, but there's no but; not really.
Here. Have a bulge instead of a but.
We're violating the first rule of any essay or review by admitting this, but we don't really have a point to make or an element to critique here. This was fun all around. These bitches are talented and we think the show was (mostly) right not to eliminate any of them. Did this make for an occasionally frustrating viewing experience, simply because it was a competition where no one loses or gets criticized for doing poorly? Occasionally, but that's coming more from the recapper's perspective more than the viewer's.
The thing is, there's not much to say about a "competition" where everyone is really, really good and no "judge" would ever dare suggest otherwise.
Like, what can we write about a mini-challenge that was really just "Hey, go put on some quick drag and dance goofy for shits and giggles"?
OF COURSE it's hilarious fun to watch. These bitches are drag queens, after all. This is kind of why we wished they'd completely eliminated the competitive framework for the show. We realize that it's been the formula for every iteration of Drag Race in its world-conquering, award-winning climb to success, but so were eliminations and critiques — and they got tossed aside without a second thought.
If the whole point to your show is "Let's dance/sing/tell jokes/do sketch comedy just for shits and giggles," you are, in fact, putting on an old school variety show in the Carol Burnett mode. Why not just go with that for the All-Star seasons going forward. Gather your best and put them through their paces, but without the ultimately pointless distractions of plungers and badges.
The queens were asked to serve their best eleganza and of course, every single one of them slayed. Jaida choose to put the elegant back in eleganza and came out in this low-key stunner of a look.
RAJA. Dear GOD can that queen turn a look when you ask her to. This is simply amazing to look at.
We once again had our annual pleasure of watching this episode with a bunch of gays on Fire Island and to a man, we all sighed when The Vivienne walked out. Not so much for this look ,which is nice enough, but far from the best thing she's worn on that stage. No, we just all agreed that we were big, big fans of hers. It's perhaps not worth it to talk about who was "robbed" in a competition that really wasn't a competition, but the one downside of this season's format is that it didn't wind up with Jinkx and The Viv facing off. That would have been correct and it would have been epic as fuck.
Yvie's looks got better as the season went on, which was probably smart on her part. We love this, although there have been better cake or dessert designs on that runway. Still, it's fun to see her serving up a frothier, more whimsical form of drag than we're used to seeing from her. We suspect that lighter touch was strategic on her part.
This is fucking fabulous. The queens occasionally like to make fun of Jinkx for being more of a performer than a looks queen, but one of the pleasures of watching her this season is seeing just how far she's come from her "water off a duck's back" phase. She is the very definition of a world-class queen and she stands as a perfect example of how being a Drag Race girl can  lead to opportunities that make a queen better at her job if she's open to it. Our only critique of this look is that the bottom half is a little unresolved as a design. Just looks like some fabric was tacked onto that bodice and called a skirt.
Like a lot of Monet's looks, we love the concept and wish that the details were a little more impeccable. The effect you want to go for here is nakedness, not "I'm wearing a decorated bodysuit." Still, it's striking as hell. From the neck up, she's flawless.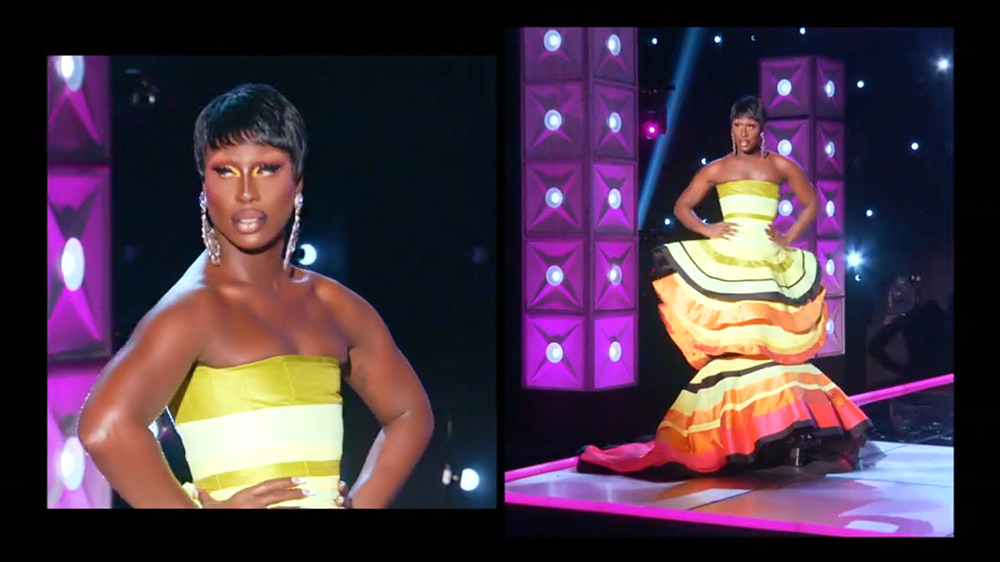 This is absolutely gorgeous, but as with The Viv's look, we feel like we've seen better from her in this season.
Ditto Trinity. Not to be too critical here, but it really felt this season like Trinity was doing a lot of falling back on tricks and techniques that worked in the past. Lots of tucks and sassy soundbites, but not an overall performance that showed any sense of advancement or stepping up of one's pussy. To be fair, she's already a world class queen, but it seemed to us that dolls like The Viv, Raja, Jinkx, and even Monet really came here to show how much better they are now than when they were first crowned.
Next up: lip syncs. The queens had to pick a case in order to find out what song they were lip syncing and that is the only reason we're including this picture; for educational purposes.
The Viv and Yviie faced off with Salt n Pepa's "Push It" and if we were more conspiratorial bitches, we might point out that Yvie happened to be perfectly costumed for the song. Of course they knew the song choices ahead of time, so this was a smart risk on her part that paid off. Still, as much as we wanted The Viv to win this one, we think her comedic approach to the material didn't serve it as well as Yvie's gyrations.
Raja and Jaida faced off with Deniece Williams' "Let's Hear it For the Boy," and while we think this one was pretty close, this may have been one instance where Raja's advanced age served her well. She was able to give the song the exact energy required for doing 1984 pop.
Having established Yvie and Raja as the finalists of the She Done Already Done Had Herses group, the A-list finalists faced off.
Jinkx faced off against Shea with Lady Gaga's "Judas," making for the third lip sync in a row where a song choice seemed to favor one queen over another. Shea is an amazing queen, but of the two of them, Jinkx is simply built for a Lady Gaga song – not because she's white, but because she's essentially a comedic drag version of Gaga already; a pre-formed Little Monster. Still, this one gave us chills because both queens were so good.
Monet and Trinity faced off with Pink's "So What" and like Yvie (and to a lesser extent Raja and Shea), Trinity dressed the part. But it takes more than a platinum blonde wig to interpret a Pink song and Monet brought the exact right energy and attitude to her version. Having established Monet and Jinkx as the Queen of All Queens finalists, the B group finalists came out to battle for the (smaller) cash prize.
Yvie and Raja faced off with "Sisters Are Doing it For Themselves" by Eurythmics and Aretha Franklin. Yvie's wig reveal was a lot of fun (there were blessedly few reveals and we wonder if the queens were told not to overdo it on that front, since it's become something of crutch in the finales), but again, Raja's just better at interpreting these '80s songs and her sense of glamour and poise were more suited to it than Yvie's gymnastics.
Raja won her round handily, although we suspect Raja only did this season on the understanding that she'd walk away with some sort of prize. But she re-proved herself to the Drag Race fandom, which almost seemed necessary given how much she did to give the show some cred as a talent showcase back in the hazy, smeared-lens days of Logo.
Monet and Jinkx faced off for the crown with Katy Perry's "Swish Swish." In terms of song choice, this could've gone either way, since they're both well-suited to it, but let's be real here: Jinkx was barreling full speed toward that win at this point. Having rewatched this segment more than a few times, we think it was really close, but it would have felt like a failure of the season if Jinkx didn't walk away with the crown. No offense to any of these girls, but she really is head and shoulders above most of them in terms of performing skills.
So condragulations to Jinkx (and Raja) for slaying all comers. This was a fun season, loaded with polished entertainers. Having to hand out prizes at the end almost felt like it wasn't needed, but they stuck with the competition format even when it was clear this wasn't really a competition. Even so, if Jinkx didn't "win" it, we'd have been pissed
Legendary Children: The First Decade of RuPaul's Drag Race and the Last Century of Queer Life, a New York Times "New and Notable" pick, praised by The Washington Post "because the world needs authenticity in its stories," and chosen as one of the Best Books of 2020 by NPR is on sale wherever fine books are sold!
[Photo Credit: Paramount Plus via Tom and Lorenzo]
blog comments powered by

Disqus