And now a revelation from two people who may have written more words about RuPaul's Drag Race than anyone on the planet: We hate recapping finales. In fact, we hate it so much that we can't even remember the last time we truly enjoyed one of them.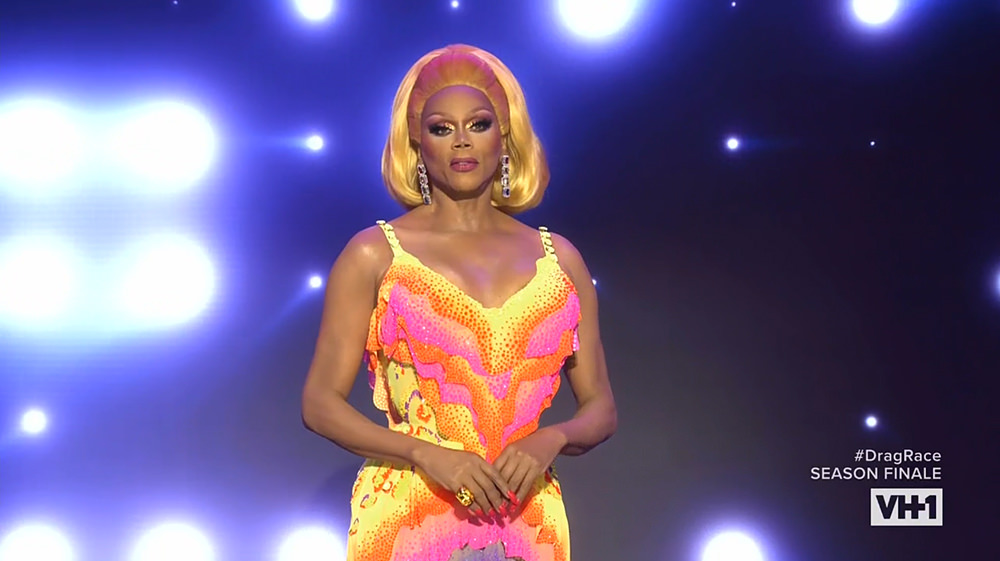 Look, we have nothing against the show or any of the queens, obviously. And while we've always hated the format of the Drag Race finale, we guess it serves the fandom well and gives each of the finalists a chance to really strut her stuff. We would argue, however, that the finalists have already had plenty of chances to simply strut and be themselves throughout the competition. We prefer the All-Stars finale format, where the final queens are usually put through a fairly complicated musical number challenge. With the regular Drag Race finale, we get these stilted interviews and the weird spectacle of everyone suddenly acting very aware that they're on a stage (including Ru) instead of the loosey-goosey, more informal style of reality television where everyone's more relaxed because they're on a set. Suddenly all the gestures get more grandiose, the posture gets ramrod straight, and everyone's talking like they have teacups in their hands. We are more than aware that reality television and drag both call for a certain sort of artiface, but when you go from queens shit-talking each other at the mirror to queens genuflecting to Ru and talking about their journey and all the people they love or whatever, we struggle to keep our eyes open.
This is absolutely not the show's fault, but we should be honest and cop to the fact that we're also kind of exhausted by these Zoomified, socially distant sort of presentations. We're happy no one was asked to lip sync in their living rooms this time, and the show did everything it could to present a real finale in the tradition the fans expect, but honestly, we're just over shots of people in parking lots pretending to be excited. We've been saying this a lot lately, but in a few years, we're all going to come across TV shows from this period and be totally weirded out watching the effects of the pandemic play out in entertainment.
Our grumpiness over the format (if not the pandemic) aside, at least the queens got to serve some killer looks. But even here, we feel weird about assessing them because they're just modeling high-end costumes, which means if they're being assessed on anything here, it's how much money they have or how well they spent it. Kandy's costumes simply weren't on the same level as the other girls and we have to assume part of that comes down to how much she could spend.
Having said that…
Gottmik's Pinhead drag was inspired and it was kind of shocking to see her padding her hips for the gods after serving bodydrag all season. Kandy's hair looks great and the dress is well-designed, but that little crotch flap kept, well, flapping. Rose's Eliza Doolittle drag was inspired but she could barely walk in it. Symone, as always, combined high drag camp with Black cultural references, which is why her costumes tend to stand out so much. They're the essence of Black drag personified.

Gottmik's Keith Haring salute was, like all of her drag, very expensive-looking and sophisticated. Kandy's street look was a little bit ho and a little bit banjee and that's her thing. Rose's was kind of awful in the way so many of her costumes are bad: it makes her thick in all the wrong places. We didn't love Symone's look from an aesthetic perspective, but she nailed the camp of it. The hair is hilarious.
Again with Gottmik: Very expensive, very chic. Hard to get excited about at this stage. Kandy looks great and someone needs to tell her she should wear more ballgowns because the silhouette does wonders for her. Once again, Rose picks a look that allows her to serve up manthighs, no waist, and linebacker shoulders. That girl just doesn't have the best costume instincts. Still, from the waist up, it's impressive as hell. Symone is, as per usual, sublime.
This was … cute? We guess? Certainly we'd be the last folks to complain about Drag Race inserting a little queer history into the mix, but it felt like it came out of left field and we felt kinda bad that a bunch of young Millenial queens were forced to do a thirty-year-old Bette Midler lip sync because RuPaul's references are so dated. If you're gonna teach the children about the AIDS Crisis, Bette Midler would not be our suggested starting point, diva that she is. But like we said: Cute. We wish the one group number of the night wasn't another lip sync, but maybe there were rehearsal considerations surrounding lockdown issues.
We're glad they gave Chi Chi her moment. Rest in Power, legend.
Also: a final hail to the reigning queen. It hurts to think about all the money Jaida would've made this past year if the world hadn't shut down. We hope her booking rates are astronomical and she's got gigs every week through the rest of the Biden administration.
The final lip syncs practically require a reveal at this point, which means all of the girls look incredibly awkward in their tricky, weirdly-shaped, pre-reveal costumes.
There was the usual fan grumbling when Kandy landed the first runner-up spot, but by the rules and format of the game, we don't see how that wasn't the correct result. Rose is great at the theater-kid stuff, but only so-so on things like lip synching and her moves were clearly limited by her injury. If the criteria used to assess queens comes down to C.U.N.T., then from where we're sitting, Kandy had the first three in spades during this face-off. Her energy was up and she knew how to handle the song, which means your eye went to her constantly.
Things were a bit closer in the Gottmik/Symone face-off, but as much as Gottmik put her all into it, Symone just has that something-something; that star quality that makes every performance seem like the most natural thing in the world to her.
Kandy may have earned her spot as #2, but this face-off was over before it even started.
Keep on dancing till the world ends! 😱🌍 Our top two really just DID THAT! 💫 #DragRace pic.twitter.com/usLKEMHVFo

— RuPaul's Drag Race (@RuPaulsDragRace) April 24, 2021
Say what you will about Drag Race (God knows we have), but as a reality competition, it has a pretty good track record for crowning the right queen. Symone has the kind of star quality Ru is looking for. When she's in drag, she's never not "on." Every aside, eyebrow raise, quip and hip cock is well-calibrated and smooth as silk. She's ready.
But man, we'd love a finale where the queens show up with nothing but wigs, shoes and makeup and have to come up with a final look and learn a musical number in a day. Drag Race is one of the few reality competitions that essentially shuts the competition down when it settles on finalists and then just waits for Ru to pick one. Put the bitches through their paces!
We'll be back next week for the Drag Race Down Under premiere, and of course we'll be here for the next All-Stars and for Drag Race España when it drops.  Until then, you should take the advice of Buzzfeed, who listed our book as one of the essential items any Drag Race fan should consult while they're jonesing for more Drag Race. It's all critically acclaimed and shit!
Legendary Children: The First Decade of RuPaul's Drag Race and the Last Century of Queer Life, a New York Times "New and Notable" pick, praised by The Washington Post "because the world needs authenticity in its stories," and chosen as one of the Best Books of 2020 by NPR is on sale wherever fine books are sold!
[Photo Credit: VH1 via Tom and Lorenzo]