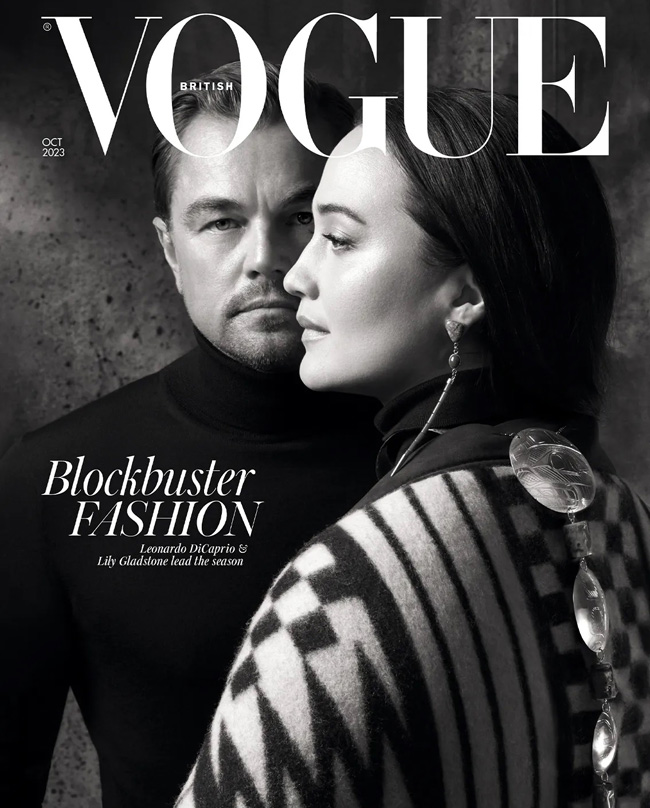 Pin
KILLERS OF THE FLOWER MOON stars Lily Gladstone and Leonardo DiCaprio cover the October issue of British Vogue magazine photographed by Craig McDean and styled by Edward Enninful.
As Leonardo DiCaprio and Lily Gladstone team up with director Martin Scorsese for autumn's biggest epic, murder, mystery and missing millions are all in play. Yet, with Killers of the Flower Moon, the actors tell Afua Hirsch their mission was to bring a shocking 100-year-old tale to the screen.
Pin
Pin
"It's a completely forgotten part of American history," says DiCaprio. "And an open wound that still festers."
"It's not that long ago that the Reign of Terror happened," Gladstone agrees. "I don't want to label this a western. I'm happy that it's being labelled a tragedy."
"Hollywood has a long history and chequered past in its depiction of Native American people," DiCaprio adds. "We need to do more. You know, we are coming towards a great reckoning of our past. The more that these stories can be told in a truthful way, the more it can be a healing process."
"My cultural understanding is more shaped by Blackfeet, because that's the reservation I was raised on," Gladstone says. "There's a bit of a pan-cultural understanding that Native people have," she continues. "But there's incredible diversity within Indian country." After all, there are presently more than "560 federally recognised nations and another several hundred that are not federally recognised".
[Photo Credit: Craig McDean for British Vogue Magazine]

blog comments powered by

Disqus