Once again, we are feeling light-headed and a little overwhelmed because there are celebrities wearing fashion and posing for pictures in a for-real, no-bullshit, honest-to-god red carpet situation. Isabelle Huppert was kind enough to pose on some grass for us last week, but this is the first actual step-and-repeat we've seen since March.
And these two crazy kids certainly deserve to take some sort of victory lap, since Normal People pretty much got a whole bunch of real normal people through the first few months of this whole mess and neither of them really got a chance to do any sort of press tour (again, because of the aforementioned mess). That doesn't mean we're not up for a little bit of fashion judging, however. Grateful we may be, but we're still messy little bitches at heart.
Paul Mescal in Dior Homme

Hmm. It's a good-on-paper sort of look that's hard to get wrong and yet here we are. We don't understand the 1990s NBA player cut of that suit at all. We've all seen his bod. It deserves better than this blocky SpongeBob suit. Also, a t-shirt-and-suit combo is a classic at this point, but if you choose a white shirt AND TUCK IT INTO YOUR PANTS it just looks like you forgot your dress shirt. We suspect most of our complaints would evaporate if he'd just button the jacket. Double-breasted jackets really aren't meant to hang open. You've gotta commit to them.
Daisy Edgar-Jones in Miu Miu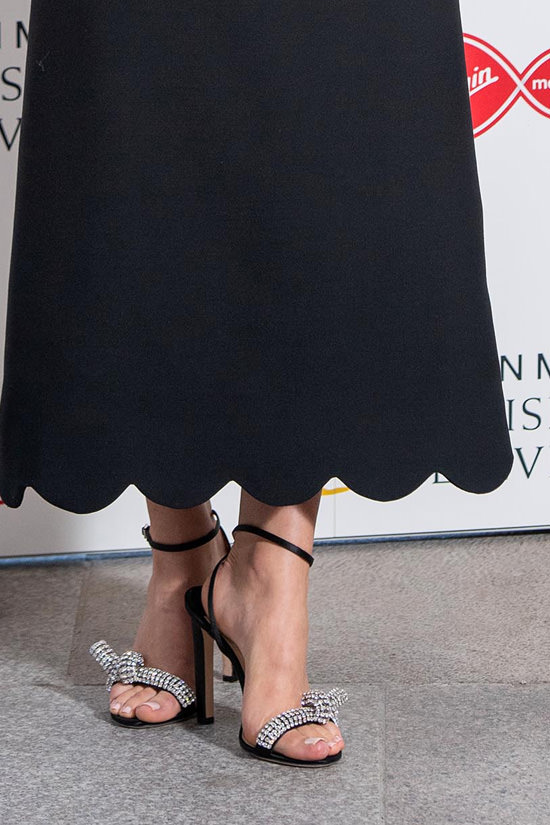 We are unreasonably delighted by that hemline. Granted, we're so hungry for fashion right now that we're delighted by anything that isn't activewear or yoga pants, but still. The length is perfect and the scalloped edge really is a pleasant surprise and a great way to set off those eye-catching sandals. At a different time, we'd ding her stylist for the slightly poor fit in the bodice, but this really isn't a time for fitting sessions, so it's all good, as far as we're concerned. Given that there's a hairstylist credit for this look, we suspect that this sort of DIY effect is going to be the standard for any sort of celebrity styling for the rest of the year. No one wants to step out looking like an entire team of professionals worked on them for hours. This isn't a criticism. We think the tousled effect and bangs look really cute on her.
Style Credits:
Paul Mescal: Dior Homme Suit | Cartier Watch
Daisy Edgar-Jones: – Miu Miu Black Crystal-embellished Cady Dress | Jessica McCormack Gypset Earrings | Jimmy Choo Thyra 100 Crystal-embellished Suede Sandals in Black
Styled by Nicky Yates | Hair by George Northwood | Makeup by Kelly Cornwell | Nails by Christie Huseyin
[Photo Credit: Dominic Lipinski/PA Images/INSTARimages.com, jimmychoo.com]