Darlings, it's been a while since we've had to write a Project Runway finale post. It's been even longer since we've written one with virtually no complaints (hence, the reason why it's been a long time). We'd become so used to the idea of Project Runway finales being either limp and boring or rage-inducing.
Kudos must be paid to the Magical Elves and Bravo, both of whom got their hands back on the PR property after years away in the wilds of Lifetime, both of whom clearly have a better understanding of what makes this show work than anyone who's been in charge of it in the last several years. It's about fashion and it's about colorful, interesting people making that fashion and striving to be the best one at it. It's not about arguments or drama or personality conflicts. Garo, Hester and Sebastian are all likable people with interesting personalities and personal stories, making them easy to root for. They each have highly distinct aesthetics, ensuring that the finale would show us a range of fashion instead of endless department store retreads. And best of all, they each seem genuinely supportive of each other. We've never seen competing designers react so well to another designer's win. After years of screeching on Lifetime, it was genuinely heartwarming to see.
And while we have LOVED the addition of Brandon Maxwell to the judging panel, it's Christian Siriano's role as mentor that has really helped redefine the show and get it back to what it was originally all about. His advice has always been good and practical. His concerns come off genuine and to his credit, he doesn't try to pretend he's anyone's best friend here. He's officious, a little sassy, and clearly wants the designers to do the best work they can do. No one thought Tim Gunn could be replaced and we'd argue most people thought Christian would be the last person in the world who could fill his well-buffed loafers. But he made the job his own and he's the most responsible for turning the new Project Runway into something worth watching.
Aside from that, we have no further thoughts on the episode or season. It was good. It was entertaining. It was what Project Runway always should have been. It feels like the world of fashion. It feels like it's set in the heart of the city. There's a youth, energy and even chicness to the show that had been missing for some time. This final episode was almost entirely turned over to matters of sewing and last-second designing. It may not have had fireworks, but if you like fashion design and you felt that any of these finalists were worth rooting for, it was a pleasant way to pass the time until a winner was announced.
And while it wasn't an actual New York Fashion Week show, it was a well-mounted production in a highly glamorous and telegenic setting, with a bunch of glamorous and experienced judges who know their shit. A special warm shoutout to Diane Von Furstenberg, who was one of the earliest of the big-name designers to sit on the judges' panel of Project Runway and who clearly felt passionately about the work being discussed last night. It was fun seeing her respond so well to Hester. DVF is all about women having big ideas and big personalities. It's been her brand from Day One. Hester is the walking embodiment of that idea and it speaks well of DVF that she hasn't lost sight of that.
We're going to offer a few thoughts on each collection but if you want to hear us run down all thirty pieces, check out our podcast later today.
Hester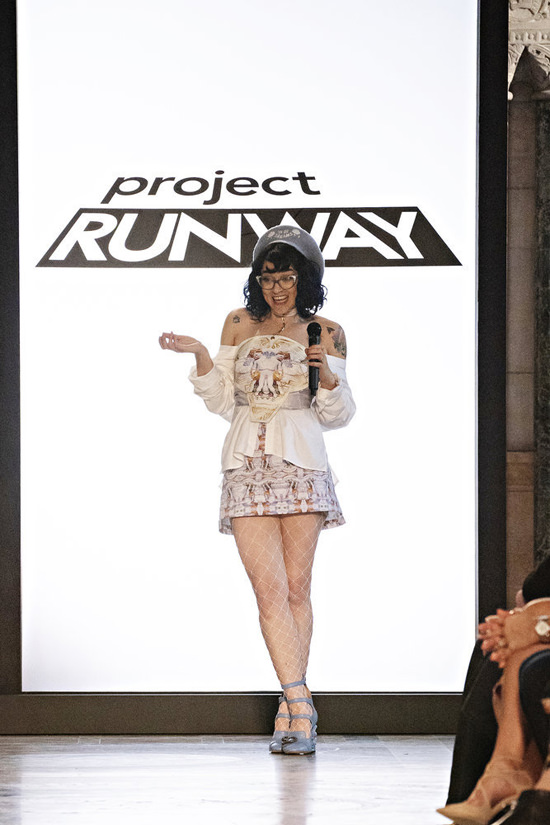 Hester can tone down her more cray tendencies when she wants to. We think all the mentoring and guidance she got during her time on PR allowed her to produce this collection, which shows a level of sophistication and restraint she rarely demonstrated during the competition. It has a distinct point of view, is highly editorial, and offers some truly innovative and modern-looking pieces. She still has a tendency to overdesign and she has a pretty spotty record on the use of prints, but her outerwear pieces and her accessories are top-notch.
Garo Sparo

Garo tried to up the sophistication on his aesthetic and we think that may have been his downfall. While there's nothing wrong with taking a corset-themed collection and trying to make it magazine-cover chic, we think he tamped down a bit too hard on what makes him special. The results were mostly bland and forgettable. The worst part: a succession of poor fabric choices.
Sebastian

Sebastian blew the other two designers out of the water and we think part of the reason this episode was so gently drama-free is because everyone took one look at his collection, knew it was all over, and opted to just settle in and do their best until it was announced. Smart move, Hester and Garo. He produced a range of looks that were dramatic, editorial, exhibited a high level of technical skill, utilized various weights of textile, were wearable and covetable, and felt like true high fashion. His collection was the most runway-ready of the three; the most sophisticated, the most technically advanced. It has a distinct point of view and a consistent aesthetic that runs through every look.
There was simply no question his was the best collection, but right up until the announcement, we worried they were going to give the win to Hester. Her collection is strong and we appreciated how well DVF took to her, but Sebastian's checked off every high fashion box and had the fewest weak points.
With his personal charm, engaging backstory (ballet dancer to janitor to fashion designer), and extremely high level of design skill, Project Runway may have found its next true success story.
More to come on the podcast!
[Photo Credit: Barbara Nitke/Bravo]