Emma Corrin had two different films premiere this weekend at the BFI London Film Festival and to mark both occasions, that cray little fashion pixie wore some questionable looks.
AT THE LADY CHATTERLEY'S LOVER PREMIERE IN MIU MIU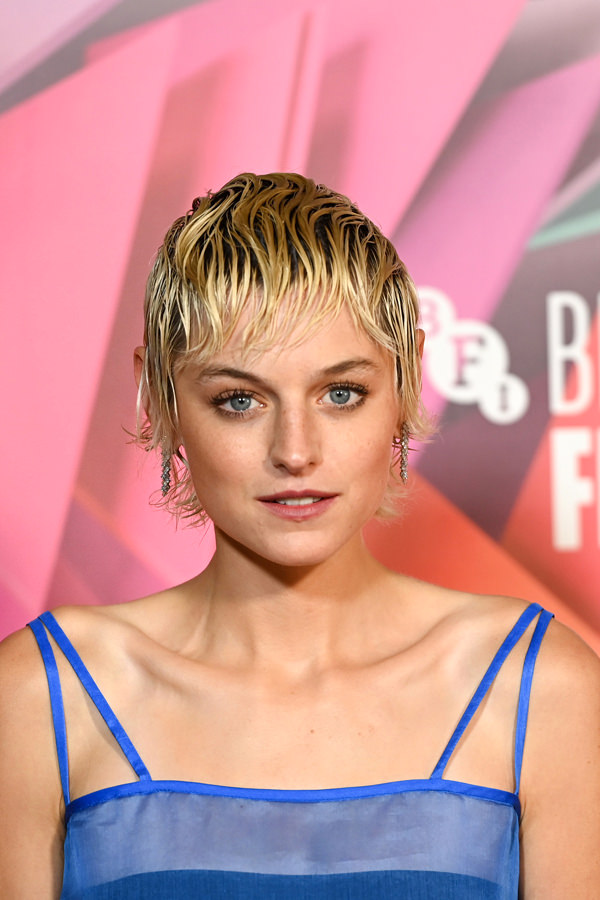 They're always going to be really well suited to mod '60s callbacks like this one, but that is just about the dreariest frock she could've picked. It's just some flimsy textile draped over an unflattering one-piece. The shoes are nice but we're not loving the "Miley Cyrus circa 2016" hair.
AT THE MY POLICEMAN PREMIERE IN JW ANDERSON

Emma, evidently someone handed you a shower curtain and told you it was a dress. We don't know why anyone would do that to you but you should perhaps consider cutting them out of your life. Other things you can consider cutting out of your life: those shoes.
Style Credits:
First Look: Miu Miu Sheer Dress from the Spring 2023 Collection
Second Look: JW Anderson Dress from the Spring 2023 Collection | Cartier Jewelry
Styled by Harry Lambert | Hair by Daniel Martin | Makeup by Gina Kane
[Photo Credit: Gareth Cattermole/Getty Images for BFI, Kate Green/Getty Images for BFI]
blog comments powered by

Disqus