We've said it more than once this week, but we have to give the stars of Bullet Train a lot of credit. Not only have they been doing so much promo work that we're finding it hard to keep up with it all, but every one of them is going so hard on their fashion choices that they pretty much demand coverage. That's how you do it, stars. Keep T Lo nice and busy. As we noted earlier, Aaron Taylor-Johnson has made the surprising choice to take his style evolution in more of an '80s movie villain direction. What's even more surprising than the choice is the fact that it really works for him.
At the Berlin Premiere in Saint Laurent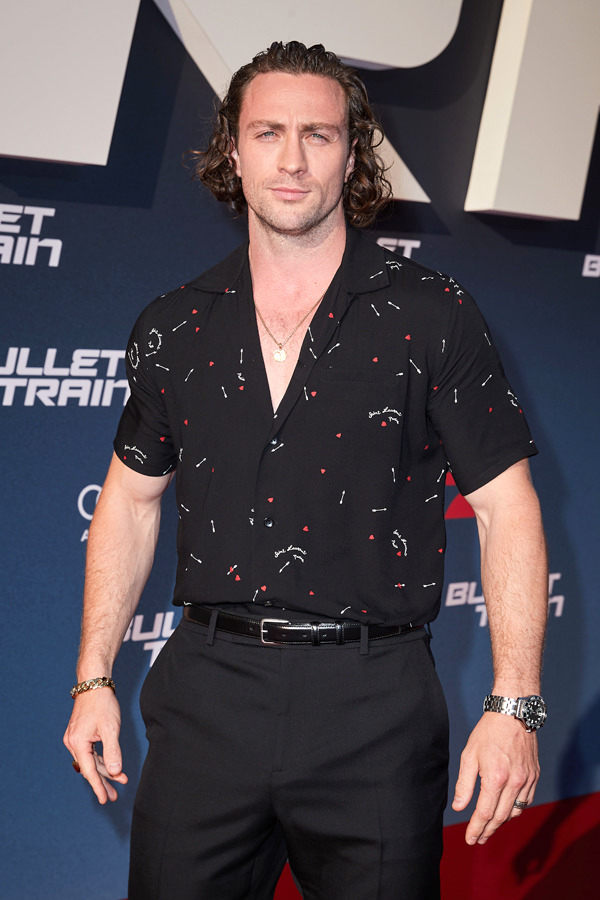 We haven't seen the film yet, but we're going to go out on a limb and suggest that he doesn't play a sensitive, bookish type. In other words, this sudden turn toward Miami Vice Drug Kingpin Chic could be seen as a sort of thematically appropriate way to dress for a testosterone-fueled action film. If he was back in the Marvel fold and promoting some sort of Disney-backed project, we suspect he wouldn't look anything like this. We remain astonished that he can work that hairstyle, not to mention the skinny belt and the tucked-in short-sleeve shirt.
At the London Photocall

It's all very douchey looking, but it's hard to argue against. Sometimes, a guy's just gotta go with what works. Having said that, not even he can get us to agree to horsebit loafers with jeans.
At the London Premiere in Saint Laurent

It's kind of hard not to think this is all something of a bit, given the finger-pointing and smirking. He has to know how that comes across in pictures, right? Then again, perhaps a man who wears a heel that high isn't concerned with what people think of him. We wouldn't suggest this sort of look – or these sorts of poses – for most guys, but we are impressed by how well suited he is to it. We'll always root for the guys who refuse to hit a red carpet looking like an executive, even if it does mean dressing like a douchebag.
[Photo Credit: Sebastian Reuter/Getty Images for Sony Pictures, James Veysey/Shutterstock for Sony Pictures Entertaiment, Yui Mok/PA Images/INSTARimages.com/Cover Images, Doug Peters/PA Images/INSTARimages.com/Cover Images]
blog comments powered by

Disqus