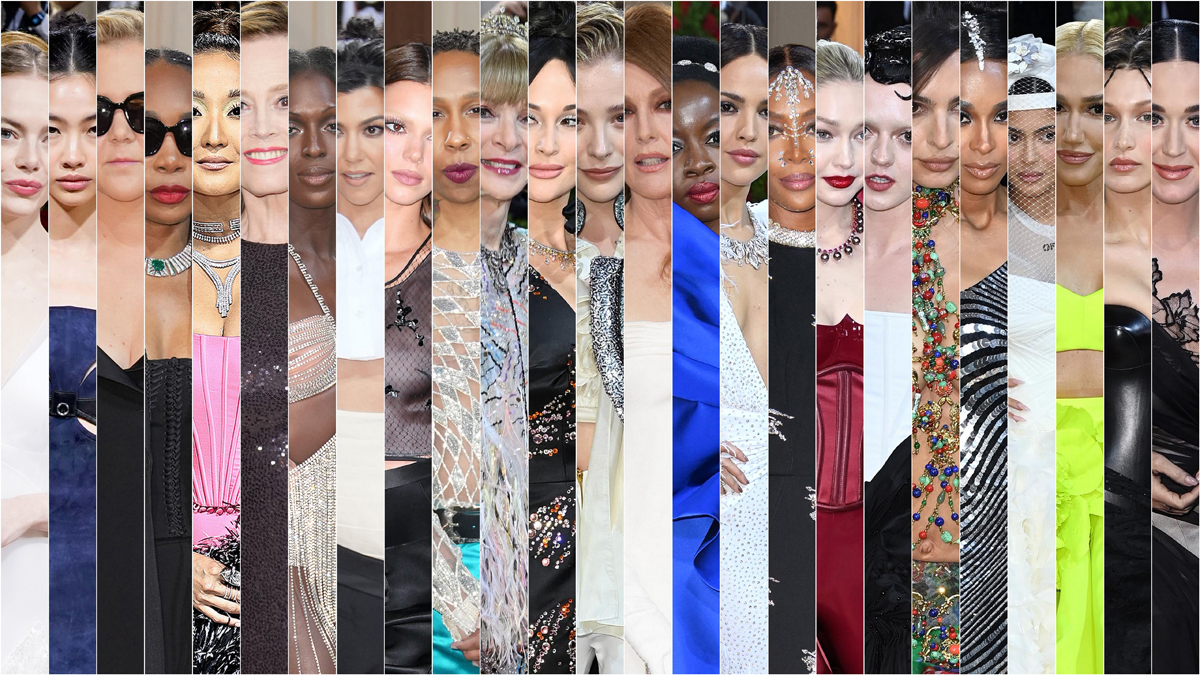 Part one is here! All the rest of our 2022 Met Gala coverage is here! Get caught up and then put your judgin' pants on and scroll down with us!
Amy Schumer in Chloé

Zero effort nonsense.
Anna Wintour in Chanel

This might be the closest Anna's ever come to acknowledging the theme of the evening, what with the tiara and all. But it's also a perfect example to once again remind people that the Met Gala isn't a costume party and the theme is meant to be widely interpreted. We love the dress but we're not feeling the feather poncho. Still, it may be one of the most joyous looks we've ever seen her wear.
Ashley Park in Atelier Prabal Gurung

We love the bodice, but the rest of this look is overdone, from the sandals to the skirt to the jewelry to the makeup. It just doesn't pull together.
Bella Hadid in Burberry

Models are the least likely to show up on theme for the Met Gala. Our problem with this look is that we feel like we've seen her in it plenty of times.
Chloë Moretz in Louis Vuitton

The coat's a bit more 18th century than 19th, but it's stunning nevertheless. The pants are disappointing.
Ciara in Michael Kors Collection

Generic fashion.
Danai Gurira in Head of State

This is gorgeous and we feel like Head of State designer Taofeek Abijako should have the final word: "I couldn't find references [in the Gilded Age] of people that look like us. We also know the historical context as to why. The most exciting part was being able to reimagine what these people looked like," which speaks to our earlier point about the various ways Black, Indigenous and other POC attendees chose to interpret the Gilded Age theme: subvert it, ignore it, or find a way to make it speak to you.
Eiza González in Michael Kors Collection

We like Michael Kors and think he's a great designer for the red carpet, but he's always been stubborn about sticking to fairly basic fashion for this event. It's fine. It's just underwhelming.
Emily Ratajkowski in Vintage Versace

This is from the Spring/Summer '92 collection, which, in a different year might have made it the oldest frock on this red carpet, but Kim Kardashian beat her by another thirty years. We would call it hideously fabulous.
Emma Stone in Louis Vuitton

As we tweeted at the time, Anna should have had her thrown out. This is so boring.
Gigi Hadid in Versace

LOVED this. If puffer jackets had existed during the Gilded Age, this is what they'd have looked like.
Gwen Stefani in Vera Wang

Meh. Neon's not her color.
HoYeon Jung in Louis Vuitton

Possibly the biggest disappointment of the night. She looks gorgeous, but it would be hard for not to. The point is that she could've owned that red carpet if she'd worn something a little more ambitious than a standard party dress.
Jodie Turner-Smith and Joshua Jackson in Gucci

They're a gorgeous couple but we hate her dress; not just because the Josephine Baker-esque style is so off, but because adding a train to it makes no sense. He looks great, but the pants are huge.
Julianne Moore in Tom Ford

This is an interpretation of a Jackie Kennedy gown from 1963 which, in typical Tom Ford style, he managed to make a lot less interesting.
Kacey Musgraves in Prada

We loved this. It's on point, it's not too literal, and it even feels a little campy, like a lot of her fashion choices.
Katy Perry in Oscar de la Renta

Go home, Katy.
Kendall Jenner in Prada

The skirt is jaw-dropping. Too bad about the top (and the wearer).
Travis Barker and Kourtney Karsdashian in Thom Browne

Putting pants on under a Thom Browne kilt is so hilariously wrong-headed. Her whole deal just isn't working for us.
Kylie Jenner in Off-White

This is a wedding gown from Virgil Abloh's last collection before he died. She explained that she was meant to attend the 2020 Met Gala with him before it got postponed and wanted to offer a tribute to him here. People got mad about the baseball cap, but we kinda love it.
Lena Waithe in Versace

We feel a bit underwhelmed by this. The color is kind of harsh and ugly and the whole thing is too shiny to be photogenic.
Maisie Williams in Thom Browne

It's weirdly gorgeous and we love it.
Naomi Campbell in Burberry

LOVE the face jewelry, but we feel it should be noted that the necklace she's sporting is worth a whopping $6 million. The dress is kind of plain, but given everything else (not least of which is that she's Naomi Fucking Campbell), it probably doesn't matter.
Sigourney Weaver in Michael Kors Collection

She's gorgeous. This is too dull for the occasion.
Venus Williams in Chloé

We think a plain black pantsuit doesn't necessarily rise to the level of the Met Gala, but the jewelry is fabulous and her hair looks amazing.
[Photo Credit: Jennifer Graylock/Instarimages.com, John Nacion/Startraksphoto.com, Dimitrios Kambouris/Getty Images for The Met Museum/Vogue, Pa Images/Instarimages.com, Abaca/Instarimages.com]
blog comments powered by

Disqus