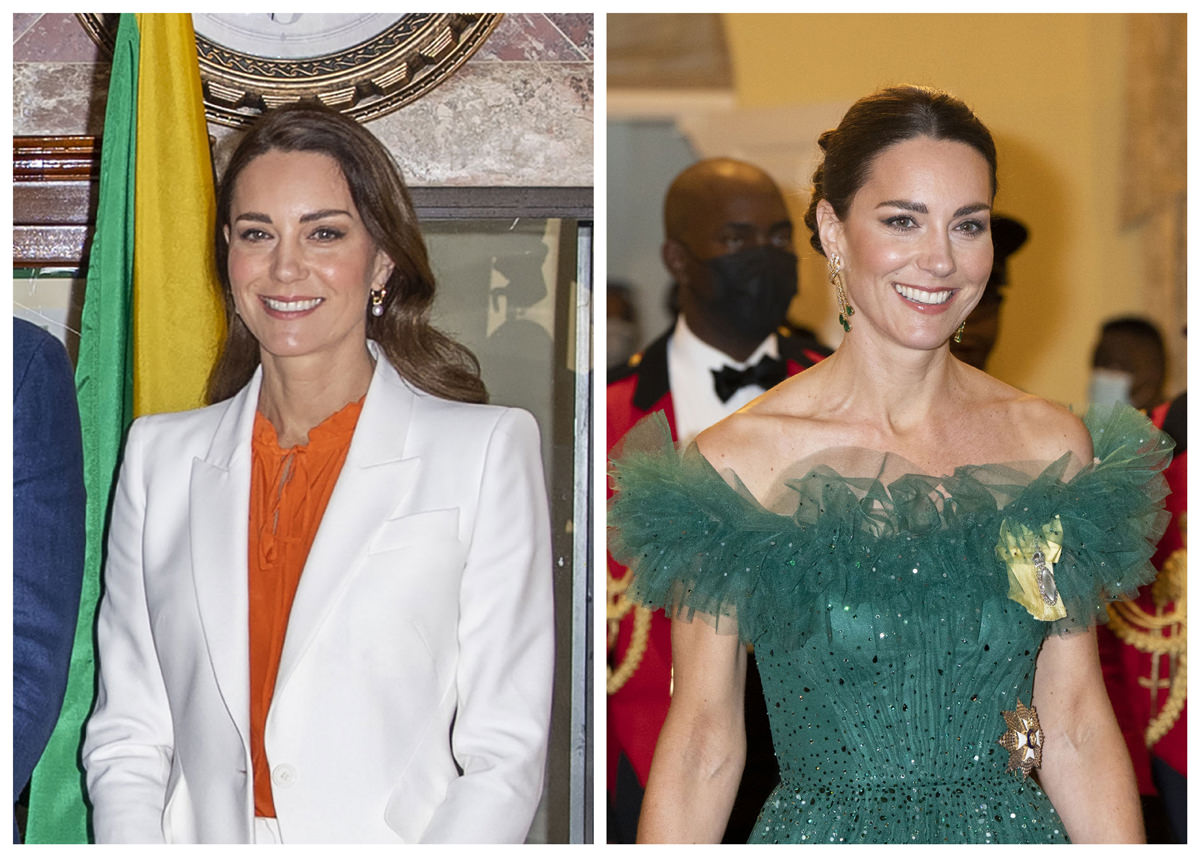 The rocky Caribbean royal tour continues and we never wanted The Crown to have ten extra seasons more than we do right now. Someday, someone's definitely going to film some behind-the-scenes version of this one. The bad news is that Prime Minister of Jamaica Andrew Holness told them both "We're moving on" and that Jamaica will be removing the Queen as their head of state. William gave a speech later that night expressing his "profound sorrow" regarding the history of slavery but the reception to it appears to have been lukewarm at best. The good news is that Kate didn't stumble on the style front, as she has once or twice on this tour. She is so much better off falling back on her style go-tos in a precarious situation like this tour.
First, they met with The Prime Minister at his office in Kingston, where she fell back on her "working duchess" style persona:
This is a fantastic look. It's bold and photogenic and more importantly, it stays within her recognizable style parameters while looking perfectly appropriate for a Caribbean setting. The pumps and bag matching the suit and top exactly is just so very her. We wouldn't have recommended it, but it's definitely a recognizable Cambridge style motif. The bag is pretty mumsy and we wouldn't have recommended pearl accents with so much white.
Later, she went full princess (in a restrained sort of way) for a reception held by Jamaica's Governor General Patrick Allen.
As we said in a previous post, unlike royal duties at home, a Commonwealth tour — especially one when the royal family and the UK are both in periods of transition, upheaval, and change — is one big PR exercise on behalf of the monarchy itself. For at least part of each visit, Kate has to really turn the royal dials up to eleven when she gets the chance. This is somewhat restrained (as it should be) compared to some of her more dazzling gowns and some of the much showier jewelry options at her disposal, but it fulfills the brief and it pays respect to the hosts as much as it does the Queen.
Style Credits:
First Look: Alexander McQueen Blazer | Ridley London 'Alicia' Top | Vintage Bag from Willow Hilson | Maria Black 'Cha Cha' Earrings | Jimmy Choo Cece Pump 105
Second Look: Jenny Packham Dress | Jewelry from the Queen's Collection
[Photo Credit: Jane Barlow/PA Images/INSTARimages.com]
blog comments powered by

Disqus