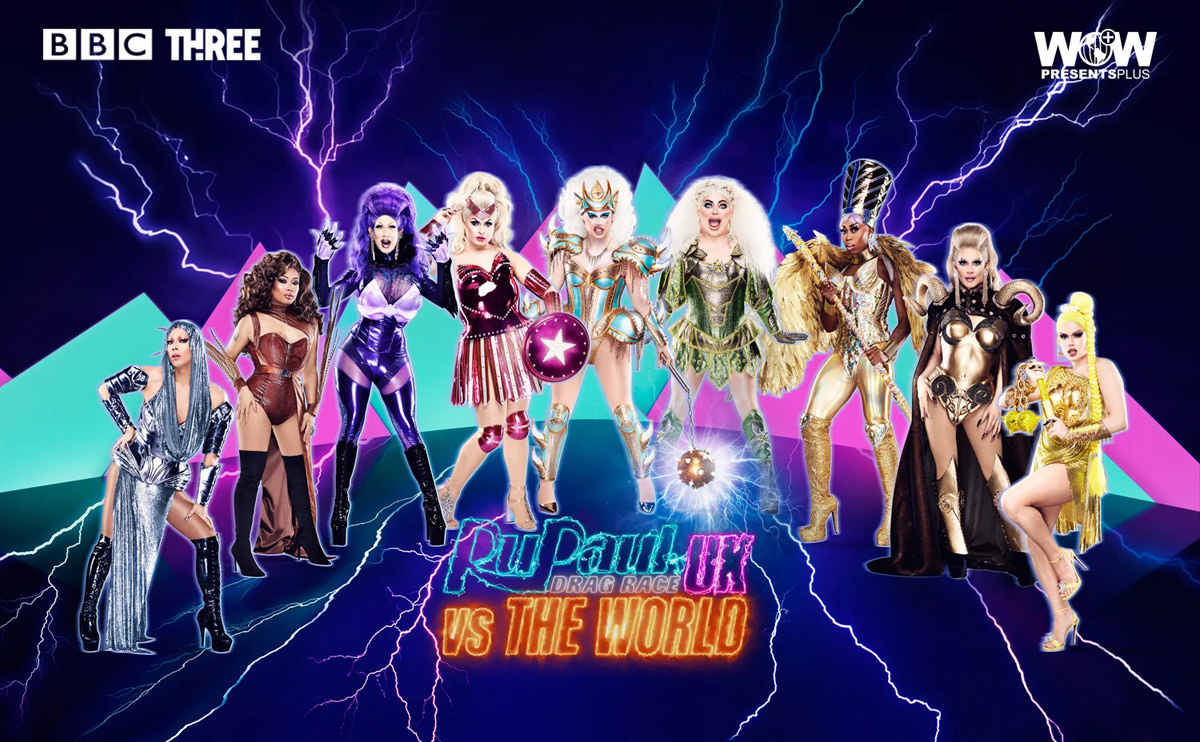 While we may have mentioned once or twice that we're suffering from a weensy bit of burnout after covering all of the international Drag Race franchises for roughly two years non-stop, we are pretty excited for this one: RuPaul's Drag Race UK vs. The World, a rather clumsy title for what is essentially an international version of Drag Race All-Stars, with queens from several franchises all converging on one spot, like some drag coven. They should shoot at it Stonehenge. Anyway, here are your queens. Minor observations by us at the bottom:
Baga Chipz – United Kingdom – Season 1


"I'm going to BRING it this time! The wigs, the outfits are going to be MUCH BETTA. I am ready to battle. I'm going to knock them out one by one! Baga Chipz is going to kick you right up the arse. I want to be queen of the world! I am in it to win it."
Blu Hydrangea – United Kingdom – Season 1


"I'm ready to make it to the top. I deserve to reign supreme. When I walked into season one, I said let's paint the town blue. Well how about we paint the world blue! But RuPaul still makes me shit myself a little bit… so we'll see."
Cheryl Hole – United Kingdom – Season 1


"YES! I am the one to beat! And I'm ready to show that I'm not mediocre anymore! This is the queen of the huns right here. I'm gonna have all the badges. I'm gonna be walking sideways because it's so heavy because I've got all the badges… and I'll be QUEEN OF THE WORLD! "
Janey Jacké – Holland – Season 1


"I'm going to approach it with a lot of fire… they think I'm just a pretty girl. But I want to break the stereotypes of what people think of the Netherlands. I've got it all! I've got the performances, I got jokes, I got everything in this package!"
Jimbo – Canada – Season 1


"I can't wait to take out my sisters. I'm going to crush them with my breasts, stab them with my fingers…. And then scream at them! I have a thirst for drag blood. Make sure that you sleep with one eye open!"
Jujubee – United States of America – Season 2, All Stars 1, All Stars 5


"There's no way that I'm NOT getting to the top every single time. I am a pro at this competition. These girls can learn something from me! Ru might as well just give me the crown now! I'll buy a farm, have a whole bunch of chickens and cats – I won't bother her anymore!"
Lemon – Canada – Season 1


"I think they are going to be very scared of me. I look good in a tiara. It'd be really nice to give me one..?"
Mo Heart – United States of America – Season 10, All Stars 4


"I am truly prepared for the competition. It's not just that my runway looks that are going to slay – which they are, trust me ! But y'all knew Monique – and it's time for you to know Mo Heart. She's a winner baby."
Pangina Heals – Thailand – Season1, Season 2, Host of "Drag Race Thailand"


"I'm not going to play. I'm here to slay. And I'm going to kill the competition. I'm also brutally honest and that's how I live my life. If someone crosses me, then they no longer exist…. I'm afraid, I'm gonna have to say goodbye to you!"
We can't say we're unhappy to see any of these girls, although some (Jimbo, Baga, Pangina, Monique) excite us more than others (Cheryl, Lemon, Janey). We know she's probably been on the merry go round a few too many times, but any season of Drag Race with Jujubee in the game is automatically more entertaining. Still, this isn't quite as international as we'd hoped, with no queens from Spain, Italy or Down Under in the competition. This is fun (and of course we'll be covering it), but with most of the cast coming from the UK, the US and Canada, it doesn't quite have the cultural clash aspect we'd hoped for.
[Photo Credit: BBC Three/WOW Plus]
blog comments powered by

Disqus