And now, a little recurring feature we like to call Extremely Attractive People in Dull as Dishwater outfits. May we present to the court exhibits A & B: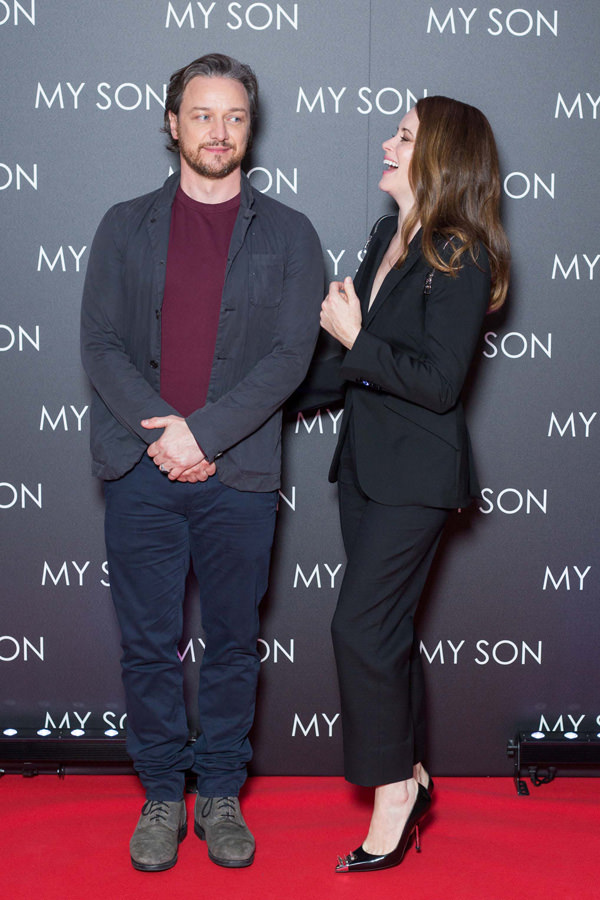 Granted, her shoes could put a man in the hospital for weeks with one well-placed kick, which is certainly kind of interesting. Her ensemble is fine enough, but she continues to be one of those stars who take a very workmanlike approach to the red carpet. That's all fine and she's allowed to define how she undertakes the promotional part of her job any way she wants, but she has SO MUCH potential for working much more stylish looks than this.
We will now say something that will be met with howls of outcry, we suspect. James McAvoy is a very hot man, but his interest level plummeted when his whole public style became "I'm a very hot man." We tend to find certain forms of studied masculinity in style (the artful t-shirt tuck, the thick, "weathered" belt) to be a bit eyeroll worthy, much in the same way we might find overly twee or retro-girly styles to be a bit too precious on some women. To be fair, he's not laying it on too thick. If nothing else the hideous cut on the jacket and pants are helping to hide the hot a little. His hair remains spectacular. Won't take that away from him.
Hmmm. This looks gimmicky as hell.
Style Credits:
Claire Foy: Alexander McQueen Black Ensemble with Zip Detailing  | Christian Louboutin Shoes
Styled by Nicky Yates | Hair by Delphine Courteille | Makeup by Kelly Cornwell
[Photo Credit: Abaca/Instarimages.Com – Video Credit: Peacock/YouTube]