There simply isn't any question that the black satin Givenchy dress, opera gloves, pearls, and sunglasses Audrey Hepburn wore in the opening credits of 1961's Breakfast at Tiffany's comprise one of the most iconic film costumes of all time. The dress itself is probably the most famous dress in film history and stands at that cultural crossroads where its boundless influences rippled outwards to have effects on both fashion and cinematic costume design for decades to come. It is still, nearly 60 years after its debut, considered a classically fashionable look that never goes out of style – which is interesting, because so many of its elements place it firmly in the French-dominant post War years of high fashion.
But we come to this topic a little begrudgingly, we have to admit. When we launched this series, the first thing we agreed on was that we were going to avoid or put off talking about this look for as long as possible. Not because we hold any disdain for it, but because it's such a cliche when talking about film costumes for actresses. It's literally the first one that comes up in practically any essay or conversation on the topic and it may be one of the most examined and discussed film costumes ever. But now that we have an even dozen of these Iconic Look posts under our belt, we figure it's time to tackle this titan of cinematic costume design lest we risk giving the impression that we don't understand or agree with its significance.
As we noted with Carrie Fisher's Princess Leia costume from Star Wars: A New Hope, certain costumes are so iconic while at the same time being so simple in design that it sometimes becomes difficult to actually see any details. The overall image of Hepburn's performance as Holly Golightly is so locked into place (like Princess Leia's) that you only need to say or think the character's name and the broad details float into view automatically and involuntarily: black sheath, pearls, sunglasses. Like all of the most iconic film costumes for women, any drag queen or costume party attendee could easily nail this look using only those broad strokes. You could get the glove length or the hair style or the number of pearl strands wrong and people would still get the reference. In the climax to 2017's HBO mini-series Big Little Lies, the iconography of this look was demonstrated by both Nicole Kidman's character and Shailene Woodley's character wearing two very different versions of this look to a Hepburn-themed costume party. Both versions get the details wrong, from neckline to pearls to hem length and silhouette, but there's never any question what costume they're referencing.
So let's really look at what's being discussed here. When the original Givenchy dress (upon which the actual costume worn during the filming was based) went up for auction in December 2006 (right after Natalie Portman modeled it on the cover of Harper's Bazaar), Christies described it as "[a]n evening gown of black Italian satin designed by Hubert de Givenchy for Audrey Hepburn as Holly Golightly in the 1961 Paramount film Breakfast At Tiffany's, the sleeveless, floor-length gown with fitted bodice embellished at the back with distinctive cut-out décolleté, the skirt slightly gathered at the waist and slit to the thigh on one side." It sold for over $600,000. Givenchy is credited as the designer of the dress, with legendary costume designer Edith Head (whose sketch is featured above) credited as the film's costume supervisor. It has been said that she lowered the hem on Givenchy's original design, which featured a knee-length hem.
The dress design is relatively simple, with a few slightly unexpected details to give it distinction, like the slight flare of the waist and the cutout design of the back, which accentuates Hepburn's shoulders and play up her fashion model figure. On its own – and worn by someone else – this dress might not have had any impact at all. It's the combination of Hepburn herself (to whom the design could not be more well suited) and the styling that turns it into such a memorable costume.
Take away the cigarette holder, gloves, and jewelry (as she does when she wears the same dress in a brief later scene) and you have nothing more than a very good representation of the perfect Little Black Dress. Which is why the LBD became such a fashion standard post-War; because it's more or less a blank canvas that can be styled a million different ways.
For Holly Golightly, in this moment, the style speaks of high cafe society glamour, combining a Parisian-tinged chicness with a party girl showiness. Given the setting and manner of introduction, it would be safe to assume that Holly's wearing costume jewelry. After all, why take a taxi to Tiffany in the early morning just to stare at the windows if you don't covet what's inside? The whole point to this scene, from both  storytelling and character perspectives is to show you who Holly Golightly is.
The setting and the business with the coffee and danish tell you she's quirky, unfussed by social expectations or pretensions (there isn't the slightest hint that she considers this any sort of Walk of Shame), and perhaps a little dreamy-eyed and impractical. The costume tells you she's been up all night doing impossibly glamorous things and rather than going home when the sun came up, she opted to go out of her way just to go look at something sparkly and out of reach before heading back to her life. It's that quality of high style, glamour, and unpretentious wish-making that make both Holly and this dress such an unforgettable combination. She gets to look like a movie star and a fashion model while still getting the audience to believe her as an underdog in life.
We should note (as we have in a few of these posts) that opera gloves have a long cinematic history as a shorthand for sex, largely because of their association with burleque and striptease. From Rita Hayworth singing "Put the Blame on Mame" in Gilda to Marilyn Monroe in a bright pink pair vamping her way through "Diamond's Are a Girl's Best Friend" to Natalie Wood peeling them off in Gypsy to Jessica Rabbit slinking across a stage in them in Who Framed Roger Rabbit? and Julia Roberts wearing them for her big opera date with her john in Pretty Woman, a long line of showgirls, call girls, strippers and streetwalkers have sported opera gloves in some of the biggest films in history.
Which isn't to say that they necessarily label Holly as a prostitute, but certain distinct items or styles sometimes need to be put in perspective and especially around the time of this film, opera gloves straddled a cultural line between high style (Jackie Kennedy) and burlesque (Gypsy Rose Lee) in the public's associations.
But Givenchy was said to hire his parurier Roger Schemama to design the pearl necklace for this costume and the design of the neckline – front and back – was clearly devised in order to set it off. We don't know if Audrey Hepburn is wearing actual pearls here, but it would seem more than unlikely that Holly Golightly would. If those pearls were real, there's kind of no point to the entire rest of the story, let alone this opening scene. Just as it's unlikely that Holly would own a custom gown from Givenchy.
Holly isn't technically a call girl in the film version; more of a party girl who gets men to pay her way through life as she runs away from an embarrassingly poverty-stricken past and works toward an unlikely future for herself. Granted, there might not be much of a distinction between "call girl" and "woman who goes on dates with men to get them to buy her gifts and pay her bills," but we tend to think the overwhelming chicness of this moment and the unlikely high quality of the ensemble itself were director Blake Edwards' way of playing down what could have been considered the seedier elements of the character first introduced in Truman Capote's story, as if to start off the film by openly asking its 1961 audience, "How can anyone who looks this chic and glamorous possibly be a sex worker?"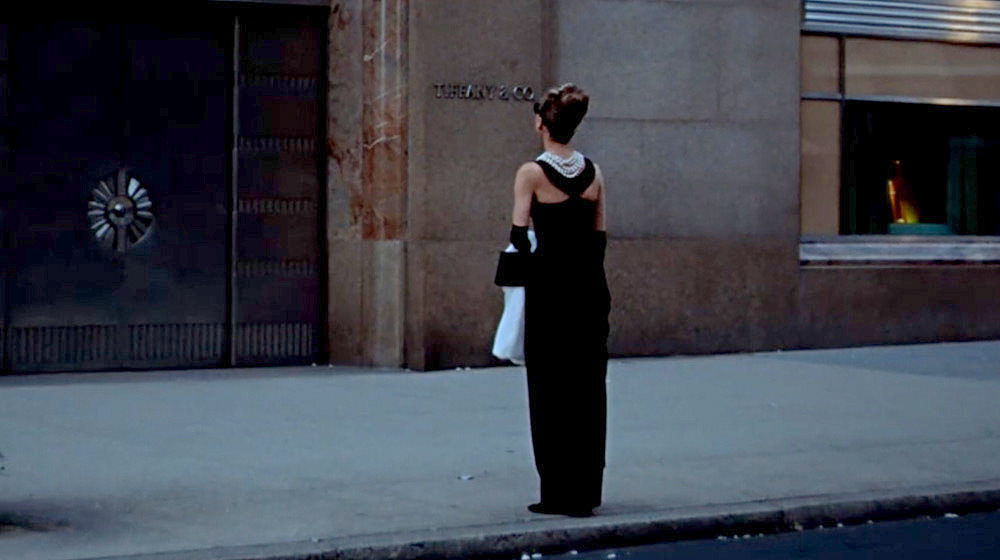 If she'd stepped out of the cab into the morning sun looking even a little disheveled – looking anything less than spectacular – the entire feel of this scene would be different. Capote's first choice to play Holly was Marilyn Monroe, and if she stepped out of a cab in opera gloves, a gown, and big jewelry in the early morning light, she might have been seen as just as glamorous as Hepburn, but almost certainly not as respectable.
This costume is iconic because everyone involved in making it memorable – Givenchy, Edith Head, Blake Edwards and even Audrey Hepburn herself – understood that the combination of Parisian style, high-quality pieces that probably aren't realistic for the character, and Hepburn's own persona as an untouchable international beauty – could get a 1961 audience to see Holly as a chic, glamorous, even heroic girl with dreams and not a tragic and sinful woman leading a life of questionable morals, which is how 1961 audiences were trained to see women like Holly. It's a case of a stunning couture look and chic styling overwhelming or outright ignoring character and story in order to trick an audience into rooting for the type of character it would normally pity if not denounce. It's essentially an example of tapping into a sense of classism through couture and costume design.
[Photo Credit: christies.com, bonhams.com – Stills: Paramount Pictures via Tom and Lorenzo]
blog comments powered by

Disqus