Let's loudly and unfairly judge young people and make them cry! Are you ready?
WE SAID, "ARE YOU READY?!?"
Then let us commence.
Hailee Steinfeld in Elie Saab Resort 2015

Dangerously high levels of twee! Bordering on "Marie Osmond Doll Collection" levels!
Nina Dobrev in Vionnet Resort 2015

Backup dancer for Stacey Q!
Jordin Sparks in Simply Intricate Spring 2014

Theme restaurant hostess! Yes, I WOULD like a drink served in a pineapple, thank you!
Bella Thorne in Johnny Wujek for Candie's

Stinker Bell!
Welcome to the Playboy Club. May I see your key?
Gay levels of clothing tightness!
Ariana Grande in Georges Chakra  Couture Spring 2013

Pedo-minimalism!
Cat Deeley in Alberta Ferretti Spring 2014

Slowly and unexpectedly morphing into Phyllis Diller! Applied her makeup with a pillow!
Sarah Hyland in Marc Jacobs Resort 2015

Kind of disco-fabulous, but a little boring and tonally off for the event!
Odeya Rush in Monique Lhuillier Resort 2015

Congratulations, dear, but your Bat Mitzvah's being held across the street!
Kellan Lutz in Timo Weiland Spring 2014

Just happy to be here, thanks!
Victoria Justice in Rebecca Minkoff Resort 2015

That dress should be worn by a potted fern!
Willow Shields in Emanuel Ungaro Resort 2015
HAHAHAHAHAHA!
Oh, HONEY. You are SO gonna get drunk some night in your thirties and laugh-cry over this.
Hillary Duff in Noir Sachin & Babi Spring 2014

Trying WAY too hard!
Zendaya Coleman in Material Girl

Barbie flight attendant!
Selena Gomez in Saint Laurent Spring 2014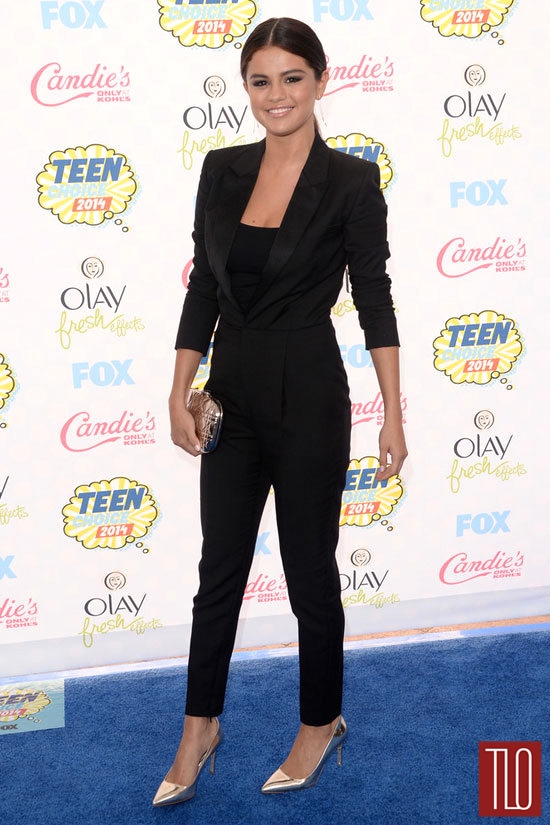 Wait. How did SHE wind up the chic one in this crowd? What does THAT tell you?
Chloë Moretz in Valentino Resort 2015

If we were assholes and actually thought this was cute, we'd say "MATADORABLE!"
But we're not (arguably) and we don't, so we think she looks like a Russian version of Jodie Foster in Taxi Driver.
[Photo Credit: Getty Images]
blog comments powered by

Disqus