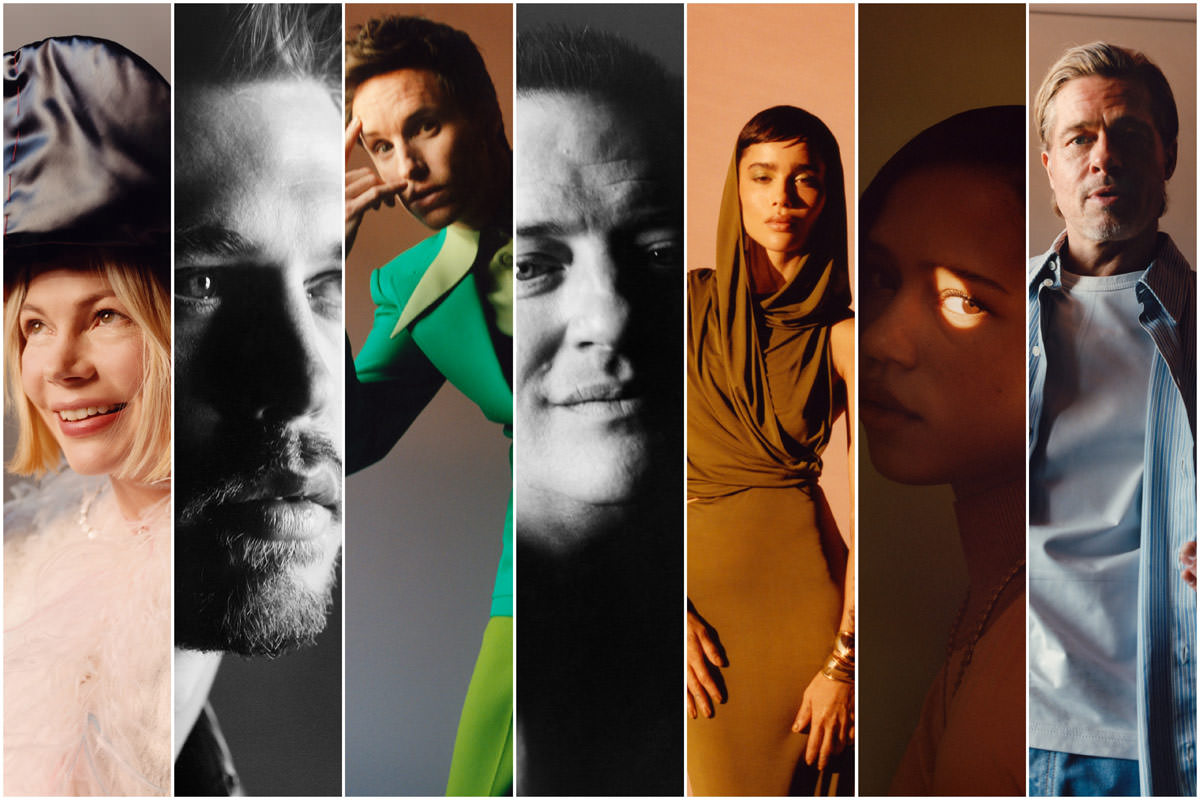 W Magazine's first issue of 2023, Volume 1, Best Performances hits stands February 7, 2023. The highly-anticipated Best Performances portfolio is an annual feature curated by W's editor-at-large Lynn Hirschberg and highlights stars at the forefront of cinema, from industry legends and icons to those whose phenomenal talent is ushering in a new wave of stardom.
Paying tribute to the actors who left us in awe over the past year, this year's Best Performance issue features Cate Blanchett, Michelle Yeoh, Zoë Kravitz, Michelle Williams, Brendan Fraser, Taylor Russell, Daniel Craig, Jennifer Lawrence, Brad Pitt, Eddie Redmayne, Ana de Armas, Jonathan Majors, Margot Robbie, and Austin Butler across fourteen unique covers photographed by Jamie Hawkesworth and styled by W Magazine's Editor-in-Chief, Sara Moonves.
In total, the issue salutes 32 actors who offer thrilling emotion and depth from the most explosive, glory-filled, and introspective films of the year. The pandemic is, we hope, increasingly behind us, but these performances are a reminder that art can emerge out of darkness and we are beyond excited to share these gorgeous covers with you.
MICHELLE WILLIAMS

On meeting Crystal, the pet monkey, in Steven Spielberg's The Fabelmans: "Crystal! What a scene partner! The room was sort of hushed and I was led in to meet Crystal. I asked her trainer, 'Is there anything she can't do?' And he said, 'There's nothing this monkey can't do.' She picks stuff out of your ears and hair, which is a little embarrassing. And she taught my baby how to give a high five! She also recognized that Steven was in charge. She knows who's the boss."
EDDIE REDMAYNE

Going to nursing school to prepare for his role as Charles Cullen in Netflix's The Good Nurse: "Jessica and I went to nursing school for two weeks, which I found hilarious. The older you get the more you romanticize education. You go, 'Well, maybe I want to go back to university. Maybe that would be a wonderful thing to do.' And then you do go back, as we did, and quite promptly, you turn into the 15-year-old version of yourself. I was leaning back in the classroom. I couldn't really concentrate. It was all science, and none of that made any sense to me. When I was practicing with needles, I succeeded in injecting my finger. It was a disaster."
His first love scene: "It was in a film called Savage Grace. It was based on a true story. The character I played was gay, and his mum, played by Julianne Moore, tried to sleep with him. There ended up being a ménage à trois with another man, played by Hugh Dancy. It was definitely one of the more surreal experiences of my life. And it turns from incest to violence. My early work! [Laughs] Before I found tweeds and period dramas."
BRENDAN FRASER

On preparing for his role in Darren Aronofsky's The Whale: "I met with people who live with eating disorders. They were open-hearted in telling me how they came to the point in their lives where they were so heavy they were bedridden. The common denominator was that someone spoke cruelly to them when they were very young. Years ago, I was in Bangkok visiting a temple, and there was a small sign that said, "Painful Indeed Is Vindictive Speech." I thought of that often. Because there are serious ramifications when our confidence gets challenged by others who speak in a recriminating way. It can reinforce habits that could lead to real consequences. But it gave me a sense of purpose to be the voice for those we so often disregard in our society."
His go to karaoke song: "The Clash — "Should I Stay or Should I Go."
BRAD PITT

First love scene: "It would have been in the show Dallas. I had to roll around in the hay in a barn. I don't think I had a line. I was just rolling and frolicking."
On crashing a wedding: "It was on the set of Mr. & Mrs. [Smith]. We were filming down in this Deco building downtown, and up in the penthouse above, we kept seeing people going up and down. It was a wedding party, so I crashed it. And they were okay with it. [Laughs]"
ZOË KRAVITZ

Discussing dancing to prepare for her role as Selina Kyle for Matt Reeves's 2022 film The Batman: "I'm actually a really bad dancer. I'm not being cute: I'm truly an awkward dancer. I did watch a lot of videos of large cats and thought it was really interesting that they move their hips but not their face or their eyes. They're very hard to read because of that.
Her first kiss: "My first kiss was in my father's house in Miami. My dad had a very psychedelic house—it looked like Austin Powers's house. There was this cubby-sized room that was furry. And this kid, I don't remember his name, but we kissed. And I remember, whenever I would go back in that little cubby room, I would replay [the kiss] in my head over and over again."
AUSTIN BUTLER

On how he auditioned for the role of Elvis: "…I had learned something about Elvis, which is that his mother passed away when he was 23. That's how old I was when my mom passed away. I ended up having this nightmare that my mother was alive, but then she passed away again. I woke up with all this emotion and I thought, Elvis would put this in a song. I sat down at the piano and imagined singing to my mom. I was still in my bathrobe and set up the camera and started playing. That's the tape I sent. Six months later, Baz called me—he woke me up, actually—and said, 'Hey, Austin. Are you ready to fly, Mr. Presley?'"
On which wardrobe items he kept from the set: "I kept one of the leather jumpsuits. He had times when he'd bust the seat of the pants. And that did happen to me a couple of times. But when you wear that jumpsuit, and you get the fabric right, you feel like a superhero."
TAYLOR RUSSELL

On being starstruck by Zadie Smith: "I saw her at a fashion show years ago. I had just read White Teeth and some of her other books. I saw her and I was like, "I wanna say hi, but also, how am I breathing the same air as you?" We talked very briefly. She's a great person."
Her secret skills: "I'm a great driver. I like speeding, [which is] not good, but I like it. I can parallel park so well. I wish people would ask me to just do it. Hire me on the side. On the weekends, I'll parallel park your car all over L.A."
[Photo Credit: Jamie Hawkesworth for W Magazine]
blog comments powered by

Disqus