Lizzo's in the house and she looks goddamn amazing! We figured we'd kick things off with something unabashedly positive. Not that we're feeling particularly negative about the premiere of RuPaul's Drag Race's 14th season. We've been here since day one and devoted a considerable portion of the last few years turning our entire careers over to a discussion of the show's importance. We could never hate – even if we did get a bit burned out on recapping all of the international versions since season 13 aired. We'll say this and we don't care if it sounds provincial or whatever: it's fun to be back on the home soil, where we can get all the jokes and references easily and we don't have to question whether the subtitle translator knows what they're talking about. As for this episode, it followed a very familiar formula in more ways than one. Let's meet the girls and do a little assessing, shall we?
Alyssa Hunter is a pageant queen from Puerto Rico and it honestly took us a little more time than we're comfortable admitting to figure out that her entrance look was a play on her last name. We were fairly confused about it for a good minute (or perhaps longer, who's to say) there. It's an interesting choice for a pageant girl to make. We just wish she'd been a little more convincing with the bow.
She unsheathed her claws more than once this episode, but it looked like she learned a few lessons about not judging other queens too harshly, going by the Untucked conversation. We also think, like a lot of pageant queens on Drag Race, she strutted in full of confidence and then realized it was going to be harder than she thought. We didn't love her talent show performance. Lip syncing is practically one of the basic talents required of most mainstream drag performers (and every performer competing on this show), so if you're going to declare it your talent, you should offer something sickening. This wasn't it.
Bosco wants you to know that she's not just some skanky alternative girl from Seattle, she's THE skanky alternative girl from Seattle.
We haven't had a good burlesque queen on the show in a while and we think she surprised a few of her competitors coming out of the gate. Burlesque queens don't always have the highest level of polish when it comes to their drag skills, but Bosco may just offer one of the most notable transformations among this crop of queens. To go from her boy look to this requires some pretty exceptional skills. Her picture was the best out of the queens (although the win went to the prettiest, as per Ru) and her performance was cute and well-executed. All that and she can serve body to boot.
Kornbread is so much more than she first appears. Most reality competitions of long standing, from The Bachelor to Project Runway, wind up settling into a set of character types, which are then cast and re-cast with new faces each season, in an almost algorithmic response to fan favorites or former lightning rods of controversy. So we might give anyone a little leeway for initially comparing Kornbread to the big girl queen with the similarly food-based name, Silky Nutmeg Ganache. There's more than a passing resemblance. But without casting any shade at Ms. Nutmeg Ganache, we think Kornbread's rapid-fire delivery and ability to switch up personae and create characters puts her at the top of the game.
We think she's likely to sail her way through to the top three easily. We're talking Bianca levels of wit, delivery and gamesmanship. These bitches should be very wary.
Willow Pill is the little weird girl of the group and it looked like everyone had decided early on to mean-girl her out, but they seem to have badly misunderstood her. For all the shade thrown about her entrance look, we thought it was a pretty clear homage to early aughts Disney starlets and reality TV queens. There's a lot of Paris, Lindsay, and Xtina in the mix here, right down to the platform flip-flops. It's not the kind of corseted and sickening drag that tends to win the competition more often than not, but we don't think it should be dismissed either. There's real thought put into this look and Willow looks absolutely  nothing like this out of drag.
She also took a great picture and nearly brought the judges to their knees with her performance, although we think they might have overreacted to it slightly. But Ru's right; this kind of weird, satirical drag is very much where she came from and it's refreshing to see a queen just go for it right out of the gate. We wouldn't call it a winning performance, but it was gutsy, funny, and weird and that's enough to make Ru love her.
Kerri Colby is just pure stunning. She's also extremely charming. We think Ru's a little dazzled by her, but we're going to be the skeptical bitches just a little bit. In a way, we think it's a mark of the show's progress and the number of trans and non-binary queens who came before her in the competition that we feel we have a little bit of room to be critical.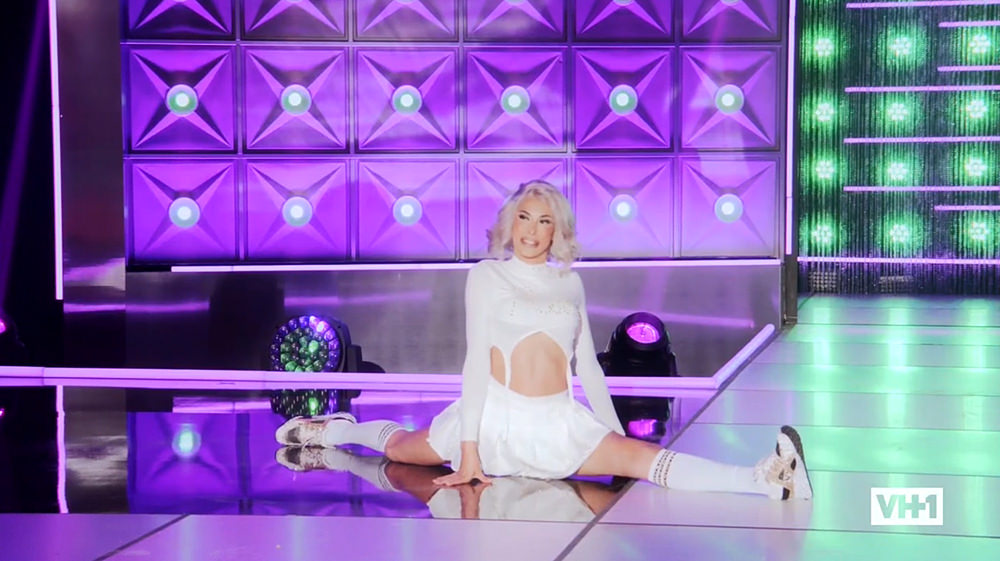 Not that we have much to say except that her drag is very pretty and very cute but neither of these looks wowed us all that much, except to note that she looked beautiful, which is true of her when she's not in drag. It's also true that she gave a pretty great picture. The lip-syncing and rope-skipping were cute, but neither reached excellence. We think she's a contender because charisma goes really far in this competition and along with her natural beauty, she's going to dazzle Michelle and Ru for some time to come, but we hope she's capable of a bit more than she showed here.
June Jambalaya is… we're just gonna say it. There's a certain type of reality competitor who clearly was raised/raised herself on a particular style of reality TV and it's all over how she conducts herself on camera. She's a Bravolebrity queen. Every one of her line deliveries was Real Housewives-inflected. All of which is fine, but she feels performative in the extreme.
That isn't actually a bad quality to have if you're a drag queen, of course. We'll see how she handles the pressure of the show. We didn't think her entrance look was all that flattering. We're in no position to critique her African-style dance routine, but Michelle was right to point out the lack of polish in her costume and how it affected her performance. What we're saying here is that June has a lot of attitude but she hasn't yet backed it up in looks or talent. We'll see.
Orion Story could also be described as another alternative girl with some amazing transformative skills, similar to Bosco, but she seems quite a bit weirder and more conceptual. Her entrance look was pretty good, but her entrance bit was confusing and unfunny.
We could say the same about her performance, really. She did a great job creating a character and a specific look – the kind that Ru absolutely adores when it's done well – and then she got up there and landed not one joke or line. It was grim to watch.
The girls had to deliver their best drag or some such vagueness for the runway and we should take this time to note that, while the episode may be formulaic, we're actually a little grateful that we're not tasked with introducing and assessing 14 queens in one go. The looks were mostly worthy across the board, although we're struck by how colorless a group this is. You're drag queens! Serve us some clownery, ladies.
June's look is okay. Those capri pants don't really coordinate well with the crazy bodice and shoulders on this thing. We didn't think the trains really worked all that well and we think we'd have liked all of it more if it was in purple or something. Bosco is delivering a perfect (and perfectly generic) Burlesque/Cabaret drag style. It looks great, but she better show some versatility soon – or at least lose the horns.
Alyssa is very pretty, pageanty, and ladylike. We hope she also shows some versatility sooner rather than later. We think Kerri looks pretty fabulous, but we also think the costume doesn't quite come together as well as it could. The boots don't match and the Ks are a little too large. The lining of that coat should sparkle way more. We do like the idea of a massive fur coat on the runway, though. We don't see it all that often here.
And now we move on to the craftier side of the stage. We think Orion's makeup is kind of great, but her wig is terrible and that ensemble is just goofy and themeless. It doesn't feel like it has a point or like she's created a character. Having three boobs is not a character. Kornbread looks pretty fantastic from the neck down, but that look practically begs for a sickening wig. Willow's weirdness seems to be helping her in the competition and we do kind of like where this costume goes. It's just not up to the level of polish the show requires of the girls.
Can't really argue with this win at all, even if her runway look failed to drop jaws.
Not to be all essentialist about it, but just looking at the above picture, who's gonna be winning this Lizzo lip sync, do you think? Sorry, girl. Sometimes you're just so ill-suited to a song, you'd need to be a world-class lip-syncer to even come close to overcoming that handicap.
Always sorry to see one of the weird girls go first, but there's no denying that she failed to bring it when it ought to be brung.
Legendary Children: The First Decade of RuPaul's Drag Race and the Last Century of Queer Life, a New York Times "New and Notable" pick, praised by The Washington Post "because the world needs authenticity in its stories," and chosen as one of the Best Books of 2020 by NPR is on sale wherever fine books are sold!
[Photo Credit: VH1 via Tom and Lorenzo]