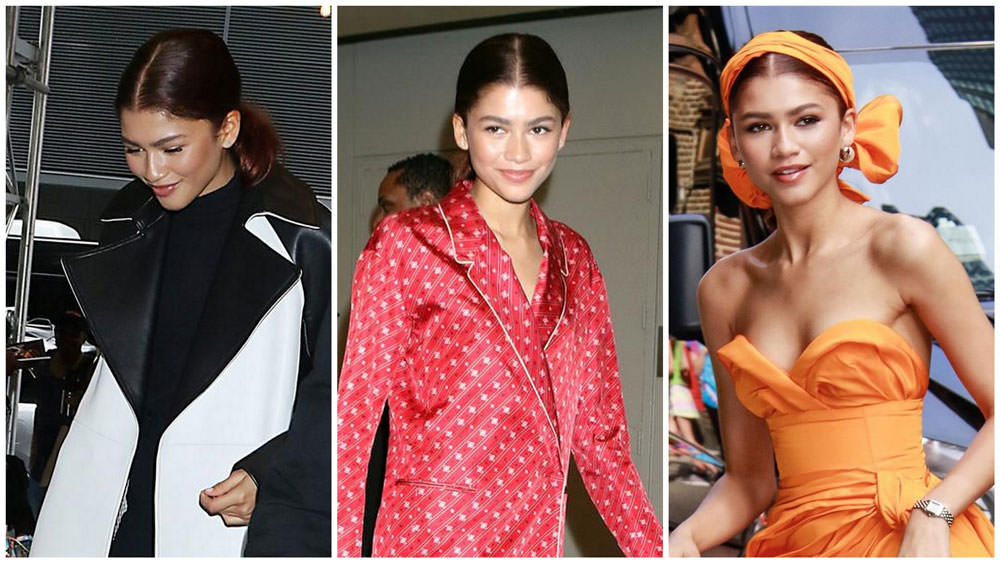 Pin
Miss Z's got a little promo tour double-shot action going on. With the premiere of her HBO series Euphoria in her rear-view mirror and the premiere of Spider-Man: Far From Home coming up on the horizon, you could say she's killing two birds with each lewk. So to speak. This gives us reason to be extra-judgey about it.
Zendaya in Dice Kayek

Pin
Pin
Pin
Pin
Pin
Sharp as shit. It doesn't remotely feel like a late June ensemble, but it takes one hell of a picture. She looks amazing in it.
Zendaya in Fendi

Pin
Pin
Pin
Pin
Pin
And thus does the public pajama trend reach ever more ridiculous heights of desperation; doing anything – ANYTHING – to hold onto the style spotlight a tiny bit longer. Just die, already.
Sorry, girl. Not even you.
Zendaya in Carolina Herrera

Pin
Pin
Pin
Pin
Pin
This is so very "Carrie Bradshaw meeting her editor for drinks." It's playing in that sort of "Sex and the City/Taylor Swift leaving the gym" arena of ridiculously inappropriate streetwear that nonetheless looks fabulously chic in pictures. The head wrap is a brilliant styling choice.
Style Credits:
First Look: Dice Kayek Black and White Coat from the Fall 2018 Collection
Second Look: Fendi Head-to-toe Ensemble from the Resort 2020 Collection
Third Look: Carolina Herrera Dress from the Resort 2020 Collection | Christian Louboutin Pumps
Styled by Law Roach
[Photo Credit: INSTARimages, Courtesy of Dice Kayek, Courtesy of Fendi, Courtesy of Carolina Herrera]
blog comments powered by

Disqus