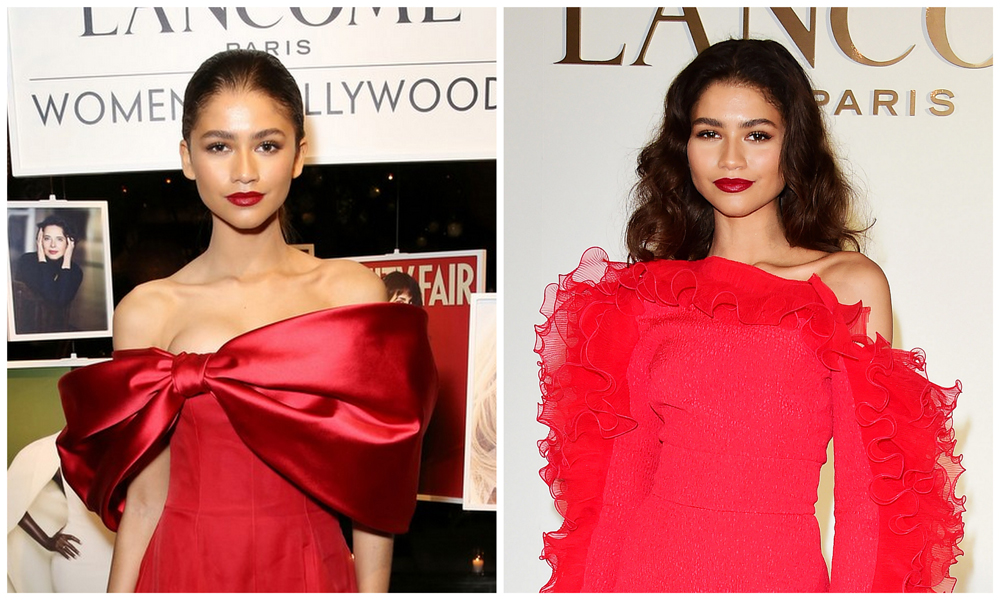 Miss Zendaya, never any slouch when it comes to the red carpet game, seems to have stepped things up yet again, possibly in response to the knowledge that she'd be sharing these red carpets with The Queen. You damn sure better bring your A+ Game if you're going to be standing around with Miss Lupita.
Zendaya Coleman in Alexis Mabille Couture at the Vanity Fair and Lancôme Toast Women in Hollywood Event

And a happy belated Valentine's Day to you too, Miss Z. This is a lot, and it definitely requires the right wearer and more importantly, the correct level of restraint. She's got it all right on those fronts. We still don't love giant bows or sheer skirts, but this is perfectly styled and totally on point for a beauty company PR jaunt.
Zendaya Coleman in David Koma at the New Lancôme Ambassadress Announcement 2019 Event

She's clearly feeling the reds at the moment. It's not like her to dress in similar ways or using similar elements two appearances in a row like this. She's much more likely to veer wildly from style to style to shake things up. But she's an Ambassadress now and with that position comes a certain amount of responsibility; the main one being that a girl's gotta show up looking as romantically beautiful and drop-dead stylish as the almighty Lancome demands. So get your Valentines ruffles, bows and sheer on, Miss Z. Pick up that check and werq those lewks. Both of these look stunning on her and in these settings.
Style Credits:
First Look: David Koma Red One-shoulder Jumpsuit with Ruffle Detailing from the Fall 2019 Collection
Second Look: Alexis Mabille Red Sheer Dress with Satin Bow Detailing from the Spring 2019 Couture Collection
Styled by Law Roach | Hair by Ursula Stephen | Makeup by Sheika Daley
[Photo Credit: INSTARImages, vogue.com]