Pin
Like a significant portion of the world's population, we're both Agatha Christie fans. We can't say we've loved Kenneth Branagh's two previous installments as Hercule Poirot (Murder on the Orient Express and Death on the Nile), but we can't deny they have some entertainment value if only for the high-profile casts, beautiful settings, and memorable costumes. Besides, you don't want to get Lorenzo started on how much he can't stand the Belgian sleuth. Anyway, here's the third (final?) film of Branagh's mustache reign and we have to admit it raised an eyebrow or two:
Our first thought: that is an extremely well-cut and convincing trailer. That doesn't necessarily indicate that the film will be equally as interesting, but it sure caused us to lean forward in our seats. Our second thought? Walk with us through a short gallery of film stills and we'll explain.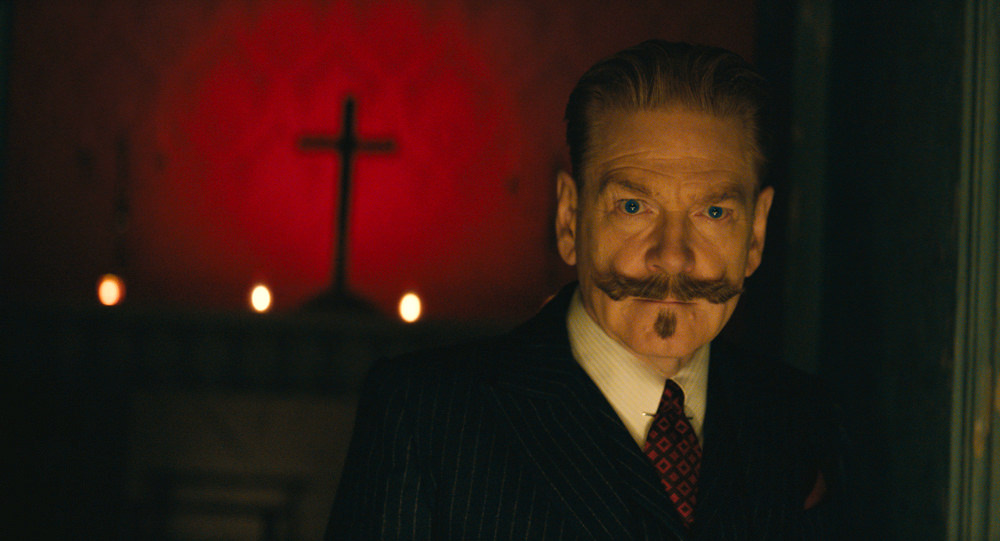 Pin
Pin
Pin
Pin
Pin
Pin
Christie occasionally skirted the line when it came to injecting supernatural elements into her stories, but this trailer works really hard to convince you that this is a full-blown horror story. She's one of the most adapted authors in the English language, so there's a part of us that thinks it's perfectly okay to reinterpret some of her stories in fresher ways. This appears to be only loosely based on her novel Hallowe'en Party, which was not considered one of her better works. This could very easily be a big mistake, but as we said, we're pretty intrigued. The cast alone is reason enough to want to see it. It's great to see Tina Fey do something this unexpected.
The unsettling supernatural thriller based upon the novel "Hallowe'en Party" by Agatha Christie and directed by and starring Oscar® winner Kenneth Branagh as famed detective Hercule Poirot, will open in theaters nationwide September 15, 2023.
"A Haunting in Venice" is set in eerie, post-World War II Venice on All Hallows' Eve, "A Haunting in Venice" is a terrifying mystery featuring the return of the celebrated sleuth, Hercule Poirot. Now retired and living in self-imposed exile in the world's most glamorous city, Poirot reluctantly attends a séance at a decaying, haunted palazzo. When one of the guests is murdered, the detective is thrust into a sinister world of shadows and secrets.
Reuniting the team of filmmakers behind 2017's "Murder on the Orient Express" and 2022's "Death on the Nile," the film is directed by Kenneth Branagh with a screenplay by Oscar® nominee Michael Green ("Logan") based upon Agatha Christie's novel Hallowe'en Party. The producers are Kenneth Branagh, Judy Hofflund, Ridley Scott, and Simon Kinberg, with Louise Killin, James Prichard, and Mark Gordon serving as executive producers. A brilliant acting ensemble portrays a cast of unforgettable characters, including Kenneth Branagh, Kyle Allen ("Rosaline"), Camille Cottin ("Call My Agent"), Jamie Dornan ("Belfast"), Tina Fey ("30 Rock"), Jude Hill ("Belfast"), Ali Khan ("6 Underground"), Emma Laird ("Mayor of Kingstown"), Kelly Reilly ("Yellowstone"), Riccardo Scamarcio ("Caravaggio's Shadow"), and recent Oscar winner Michelle Yeoh ("Everything Everywhere All at Once").
[Photo Credit: – Video Credit: 20th Century Studios/YouTube]
blog comments powered by

Disqus