We're just a little bit late getting to the finish line, which means it's well past time to wrap up our coverage of the 2023 Golden Globes, all of which you can review and peruse to your heart's content by clicking here. Line 'em up for judgment!
Adam Scott in Paul Smith

It's a great color, but we question whether any man can pull off a cummerbund/string tie combination. Also, he should button the jacket for pictures.
Ayo Edebiri in Rosie Assoulin

We're afraid we don't like any of this, not the color, not the shape of the skirt, not the gloves.
Bailey Bass in Dior

That textile looks like hotel ballroom wallpaper and the colors wash her out. The waist is hellaciously overdesigned and the bust is too small on her.
Daisy Edgar-Jones in Gucci

As we noted in our writeup for Cosmopolitan, this is the kind of dress – overdesigned, with too many disparate elements, i.e., a Frankendress – we tend to hate. Somehow, she's making us love it, because yoga hair aside, we think she looks fantastic in it.
Danny Ramirez in Saint Laurent

Looks good, but the pants are too short. We don't really think those boots go with the tux, but we don't mind them as much as the highwater hem.
Domhnall Gleeson in Giorgio Armani

Can't argue with any of that.
Evan Peters in Dior

Or that.
Glen Powell in Brioni

Or that. Are you seeing why we devoted an entire post to the dudes who didn't wear basic black tie? It would've been 30 captions just like this.
Heidi Klum in Kevin Germanier

An absolutely hideous dress. We are DELIGHTED by it. Never change, Heidster.
Hilary Swank in Prada

We don't much like those trailing sashes, but the rest of the look is pretty great. On another wearer, we might call this design a little fusty or mature, but she's upright and in heels, which renders everything she's wearing that much more impressive.
Jamie Lee Curtis in Valentino

She LOVED that black lace cape. We did not. The rest of it is great, though.
Jay Ellis in Louis Vuitton

Perfectly fine – in every sense of the word.
Jennifer Hudson in CD Greene

She could barely walk in it when she came out onstage, but we can't deny that it's a fabulous gown. We think gold sandals were called for here. Love the Cleopatra hair.
Kaley Cuoco in Vera Wang Couture

Very pretty. We're not sure that lavender is the best color for her (this would probably sing in a deep purple), but it's a lovely, unfussy design with just enough sparkle to it.
Ke Huy Quan in Thom Browne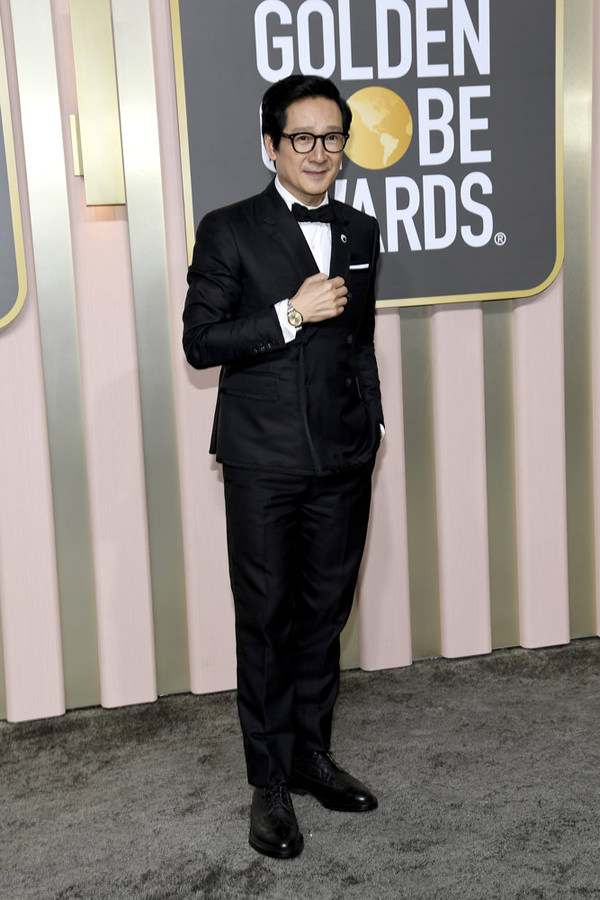 We're simultaneously amazed at how fantastic he looks now and how he hasn't changed much at all in 40 years. Some people sport the exact same face the entire length of their lives. We suspect he'll look largely the same in another 20 years. Love the googly eye brooch.
Laverne Cox in Vintage John Galliano

We think this may be the best she's ever looked on a red carpet. The dress looks spectacular on her and we're really liking the new hair.
Matt Bomer in Ralph Lauren

Ooh, we didn't realize until just now that his jacket is a deep purple velvet. Sorry, Matt. We were too distracted by your face. He looks great.
Mj Rodriguez in Balmain

You can't tell from the way she's posing, but we assure you, she does have arms and the design doesn't restrict them as much as it looks. She's giving you the full effect of the dress by posing with her arms at her side. We love the drama of the design.
Salma Hayek in Gucci

Very pretty and extremely well fitted. We're not super-crazy about the backing color (looks a little like bandages) or the fringe on the sleeves. We also tend to think the black straps are too jarring for the design. Still, it suits her really well.
Selena Gomez in Valentino

It's really dramatic, but we think we may have hit the wall on these big, puffy, sash-trailing pieces. The bust sits too low on her and we think the hairstyle isn't up to the dress.
Sigourney Weaver in Saint Laurent

It's very dignified and stately, which is where her style preferences tend to lie, for very good reason: it suits her tremendously. We don't love the way the fabric all gather right under the bust, but the black does a lot to mitigate the effect. We might have rec'd a pendant or chandelier earrings, just to give it some pop and sparkle.
[Photo Credit: Kevork Djansezian/NBC, Todd Williamson/NBC, DDP/INSTARimages.com/Cover Images]
blog comments powered by

Disqus