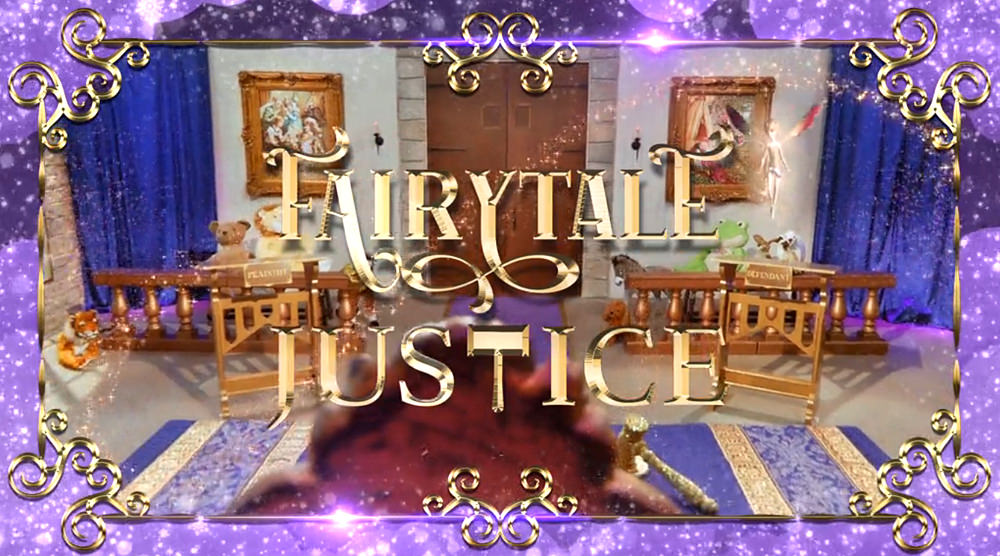 No mini-challenge, no drama, no tearful makeup mirror conversations this week. When you have a bunch of Drag Race winners competing, there's no point in doing anything but getting down to business and getting out of their way, so let's do that.
We would normally treat the announcement of an improv challenge with a groan and a shifting in our seats. It has nothing to do with the show or the queens themselves; we just don't like improv. Sorry improv-ers or whatever you call yourselves. But this time, we figured since Snatch Game (which is technically the hardest improv challenge of any Drag Race season) was so entertainting with this crowd, we figured it wouldn't be too much of a disaster to sit through. We are happy to report we were right. We're also happy to offer the following 2 screencaps for the muscle furry fetish folks out there:
You're welcome.
Anyway, there truly were no disasters in this troupe and the sketches were both relatively painless to sit through (extremely high praise coming from us).
The judges all but said it: When it comes to any sort of acting/comedy/improv challenge, there's Jinkx and then there's everybody else. She never broke character, never went searching for a line or showed the slightest bit of struggle, reacted to everybody and everything, and vastly outranked everyone else by the only metric that matters to us: she made us laugh out loud more than anyone else. Even her entrance and exit from the sketch were turned into bits, as she pretended to struggle with the flimsy set door and then wandered off confused after her ear fell off. She's just flawless when it comes to this stuff, like the old school sketch comedy comediennes she clearly takes a lot of her cues and inspiration from. We kind of felt sorry for Jaida that she had to share so much time and space with Jinkx. She didn't give a bad performance by any means – none of these queens did. Almost all of the performances would have ranked very high or been declared a winner in a regular season of Drag Race, pitted against queens with less polish and skill.
To our way of thinking – and clearly to the judges' – The Vivienne was the only one who came close to Jinkx's skill level. She didn't just come with a fully realized character, she came with a half dozen – and accompanying accents and props for each. It might not have made us laugh as much as Jinkx, but it was an amazing performance with no seams or struggles to be found.
Raja was also a standout, largely because of her commitment to the character, which never wavered. Shea did alright, but she had a rather thankless role. Trinity came in all guns-a-blazing, but she couldn't seem to break out of constantly reacting to whatever Michelle fed her. It's when a queen can take control of an improv situation that she really stands out.
Yvie also demonstrated an admirably consistent and relatively seamless commitment to character. Se managed to pull the sketch in her own direction several times, but the character, while well-rendered, wound up being one-note. If we're being bluntly honest (and really, when are we not?), we think Monet would have been a possible bottom queen in a normal Drag Race scoring situation. She might have held her own in non-all-star cast with a performance like this, but it never really felt like it left the launchpad.
Lorenzo took the time to get this screen cap and we think it deserves a moment of silent reflection before moving on.
The runway category was spikes and before we get into the looks, we just want to note that for us at least, this "no eliminations" format is really working. We think it might be frustrating in a regular season, when there are always at least a quartet if not half-dozen queens who shouldn't be there in the first place, but when everyone is this high-level, it means that we get a lot of great performances and world class looks every week.
Jaida's Grace Jones-esque high-fashion take was a stunner. Jinkx's porcupine was both clever and very Jinkx; classy and campy. Monet's was okay and might have stood out more in a different line-up, but other queens took the punk aesthetic in more interesting directions.
Even though she's got a badge, she's the only queen in this group who comes off like she needs to step her pussy up. Everyone else is already hitting on all cylinders (to mix our metaphors in weird ways). Yvie went off in her usual wildly unexpected direction, making the most of her body and her ability to manipulate it. We think we liked the creativity and the performance of it more than we liked the costume itself. Accoutrements aside, that body suit looks kind of basic. Trinity's look is drop-dead gorgeous and would have had the judges gagging and handing her the win. Sorry to be so repetitive about that point, but when it's all champs and no one ever goes home, it means most of the work winds up being top-tier.
Shea's look was cutely weird and a little unexpected, but her inability to walk lessened the impact for us. Viv's look is just pure fabulous. As Michelle said, it's pretty, sexy and dangerous all at the same time. It's also deceptively simple in design. That powder blue does so much to alter the basic style and put a queer, draggy spin on it.
Raja is feeling free to express a little frustration at her lack of recognition so far and we can't say we blame her. While we absolutely believe that the right queens were chosen for the top two spots, we can't deny that she's been putting out amazing work – this costume is an all-timer – and getting little more than a pat on the head every week. We suspect claws are about to become unsheathed in that Werk Room soon.
The Viv finally won her badge while Jinkx was blocked from getting one, and they faced off with their best Whitneys for a fun and energetic lip sync where these two smooth pros played off each other without ever getting in each other's way. It was fun to watch, but as much as we loved Jinkx's improv performance, we agreed with the decision to give the cash prize to Viv this week.
She promptly handed off the plunger to the one person everyone knew was going to get it this week. So far, we don't think the dramatic, strategic or comedic possibilities of the plunger have paid off as much as the producers probably wanted.
Legendary Children: The First Decade of RuPaul's Drag Race and the Last Century of Queer Life, a New York Times "New and Notable" pick, praised by The Washington Post "because the world needs authenticity in its stories," and chosen as one of the Best Books of 2020 by NPR is on sale wherever fine books are sold!
[Photo Credit: Paramount Plus via Tom and Lorenzo]
blog comments powered by

Disqus