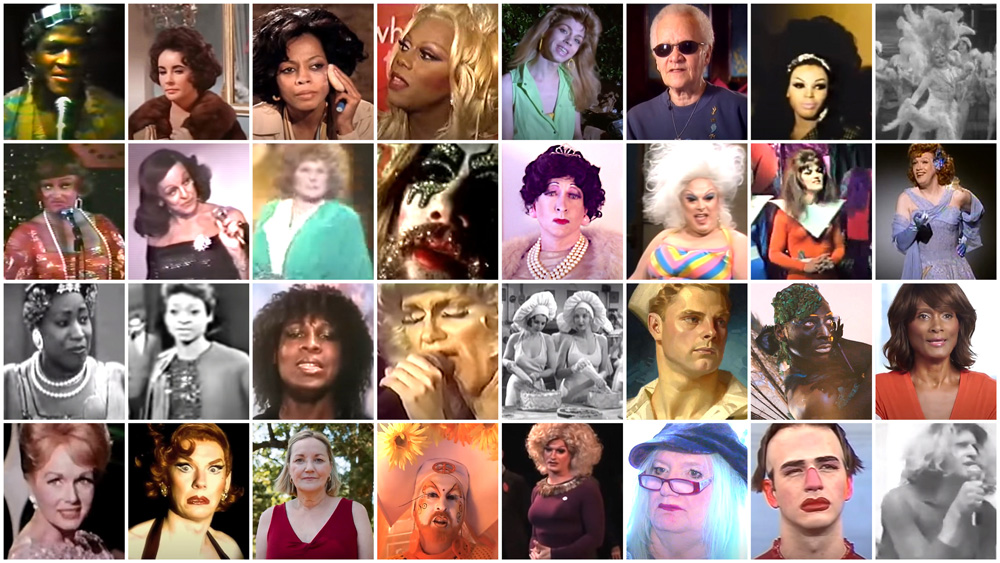 Kittens, Yahoo! named Legendary Children as one of the must-read books this Pride season, which isn't really related to the point of this post, but we simply had to get that out there somehow. Yay us. The real reason for this post is that one of our readers did something so fabulous that we had to share it. It was actually something we planned to do ourselves at one point, but Miss Rona scrambled our lives so much in the last three months that someone else beat us to it. And we could not be more thrilled or flattered by it. Legendary Children reader Sharon Leavy followed the advice we gave in the first line of the book: she spent weeks going down Google holes as she looked up all the people and events spotlighted. But she took all her research one step further: she made a YouTube playlist out of it all. One of the things we noted in our introduction to the book, when we implored readers to keep looking everyone up, is that almost everybody and everything mentioned in the book can be found on YouTube somewhere. Miss Sharon took aspects and references from every single chapter in the book and she lined them all up in order, for anyone who wants to follow along as they read. Some of these videos are mentioned in the "Suggestions for Further Exploration" section at the end of the book, some of them are the very videos we used in our research, and some of them Miss Sharon found all on her own. We are so honored and excited that she was inspired to dig deeper than we asked her to, and that she was diligent enough to want to compile them in one place. We cannot thank you enough, Sharon. You do us an honor and you do all the readers of Legendary Children a fantastic service.
If you sat through this entire playlist (which can be found here) front to back, you'd walk away with a pretty broad understanding of LGBTQ history. With the 50th anniversary of the first Pride parade occurring this weekend, what better time to dive right in and swim around the deep, fabulous waters of queer culture? Also, what better time to support your local queers by buying the book that inspired it! We're just saying!
Anyway, some fave selections:
Can we just say that inserting this legendary scene from BUtterfield 8 into the proposal for the book was the moment it all clicked into place for us? Both our agent and our editor said the same thing. It was when we all realized the possibilities of a book that was nominally about Drag Race but could use the show as a launching point to discuss all manner of queer-related culture. This scene is of course loaded with camp, but it allowed us to remind readers that Elizabeth Taylor was an extremely popular inspiration for drag queens for decades and she was also the most legendary fruit fly of all time, using her friendship with all the closeted A-listers of Hollywood to spur her on to become one of the most effective single fundraisers for AIDS charities of all time.
POLARI!!! This one's not embeddable but it's absolutely our favorite bit of gay male culture – mostly gone now, but it still lives on in terms like "drag queen," "zhuzh," and "butch," among others. In the short time we got to tour for our book, mentioning Polari was always the one bit that got the most surprised response – especially from straight people. Yes, gay men – at least the British ones – actually had their own language and it's nearly indecipherable to outsiders.
The astonishing story of Tracey Norman, which inspired a storyline on the last season of Pose. The world of fashion and modeling has come a long way, even if it still has a long way to go.
The absolutely legendary Charles Busch. Confession: we feel like we did both him and Harvey Fierstein a disservice in the chapter on underground theater and drag. It was easily the one aspect of the book we spent the most time struggling with. Busch and Fierstein are giants in the history where theater and drag intersect, but neither of their more sophisticated, mainstream-facing drag performances and plays can be hung on a Drag Race framework. Drag Race's acting challenges are way more in the Divine/Cockette's mode of underground theater. Busch and Fierstein only got passing references in our book and that still pains us. Having a focus and framework for such an expansive history is a bit of a double-edged sword.
Speaking of which:
An immortal. A giant among giants. Divine is probably the most influential drag queen of the last 50 years.
And finally, a piece of film history we must have watched a hundred times over the course of writing the book; this short exchange from Busby Berkeley's 1931 musical Palmy Days, between a 15-year-old Betty Grable and an unnamed "pansy" character. We used this as a launching point to talk about the Pansy Craze of the '20s and '30s, which we then used as a launching point to talk about Gladys Bentley's amazing career. See? It all fits, darlings! Get yourself a whole semester's worth of queer history in one weekend.
"Our book Legendary Children: The First Decade of RuPaul's Drag Race and the Last Century of Queer Life is on sale now!
The Los Angeles Times called it "a nuanced exploration of the gender-bending figures, insider lingo and significant milestones in queer history to which the show owes its existence."  The Washington Post said it "arrives at just the right time … because the world needs authenticity in its stories. Fitzgerald and Marquez deliver that, giving readers an insight into the important but overlooked people who made our current moment possible."  Paper Magazine said to "think of it as the queer education you didn't get in public school" and The Associated Press said it was "delightful and important" and "a history well told, one that is approachable and enjoyable for all."

[Stills: YouTube.com via Tom and Lorenzo]
blog comments powered by

Disqus