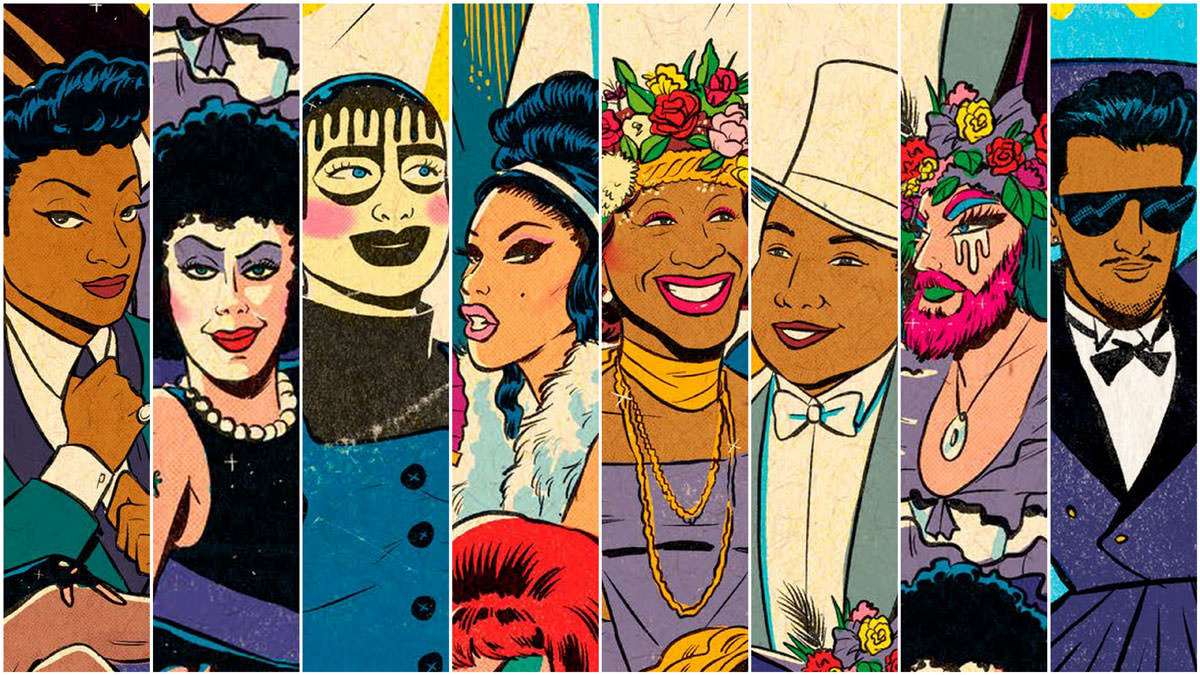 Kittens, we made into VARIETY! No lie!
"We wanted this tone of being two really chatty gay uncles with a whole lot of stories about your queer forebears," says Fitzgerald, half of the Philadelphia-based couple that's behind the website TomandLorenzo.com, which delivers a daily dose of takes on fashion, celebrity, film, TV and pop culture; and podcast Tom & Lorenzo's Pop Style Opinionfest. They still recap "Drag Race," as well as "Project Runway," "Westworld" and other shows.
"Ultimately, we want to showcase the talent of these legendary people, that yes, they made history, yes, they were right there fighting for us. But they were also talented singers, performers, actors," says Marquez of the queer pioneers in the book, such as Dorian Corey, Crystal LaBeija, Hector Xtravaganza, Charles Ludlam, Charles Busch and Julian Eltinge, who first appeared on Broadway in the early 1900s. "And a lot of people don't know who they are so that would be a way to introduce these very, very talented people to everyone."
"We want young people to know that the reason HIV drugs are advertised on TV is that queer people took to the streets and screamed their heads off," adds Fitzgerald. "Elizabeth Taylor raised $100 million before she died just to make sure AIDS research kept going. And that's important to get their stories told. As long as it's in a fun way."
Frickin' Variety! Now we KNOW we're a big deal! We'll be impossible to live with from now on. Fortunately, we only live with each other. Joking aside, we're thrilled by any positive attention our baby receives, especially when folks have so many other things on their minds. We LOVED this review from Shelf Awareness:
Legendary Children, a lively, fascinating, comprehensive and essential LGBTQ history lesson, will reach and educate a new generation. By showing how every aspect of RuPaul's Drag Race can be traced to longstanding queer traditions and pioneers, Tom & Lorenzo have revitalized history.
And this one from Verity Wilde, who says the most important thing anyone can say about our book: I learned something.
I learnt so much from this book. The authors say they want you to be googling as you go along while you're reading this – and boy was I. I look forward to seeing what Google ads serves up to me after this – because my search history is a riot. And I had to go googling some stuff beyond the people, because this is a book written for a queer audience, not the those of us who need explanatory commas (which by the way, is exactly as is should be). Fascinating, clever and touching – and you'll watch Drag Race with new eyes afterwards. And the first episode I watched afterwards had a actual Tom of Finland mention and I felt so in the know you wouldn't believe it.
For our regular readers, we thank you for your patience as we relentlessly flog this book on the front page of our site, but with the cancellation of our book tour and the economy thrown into sheer panic, we have to be our own publicity campaign at this time. As we said, we are grateful beyond words for the good press and great reviews Legendary Children continues to generate. They are literal dreams come true for us. We're going to continue to ask our kittens for their patience as we figure out ways to promote the book going forward and to those of you who have supported us by buying the book already, you have our eternal gratitude. If you enjoyed, we ask that you spread the word.
And if you're still in the market for it, may we suggest looking toward your local booksellers first? They truly need the support now that Amazon is overwhelmed. You can check here and here to see who's still selling your area. Or, if you'd rather download it now or listen to us read it to you in our cartoon voices, you can go here for those options.
Thank you again!