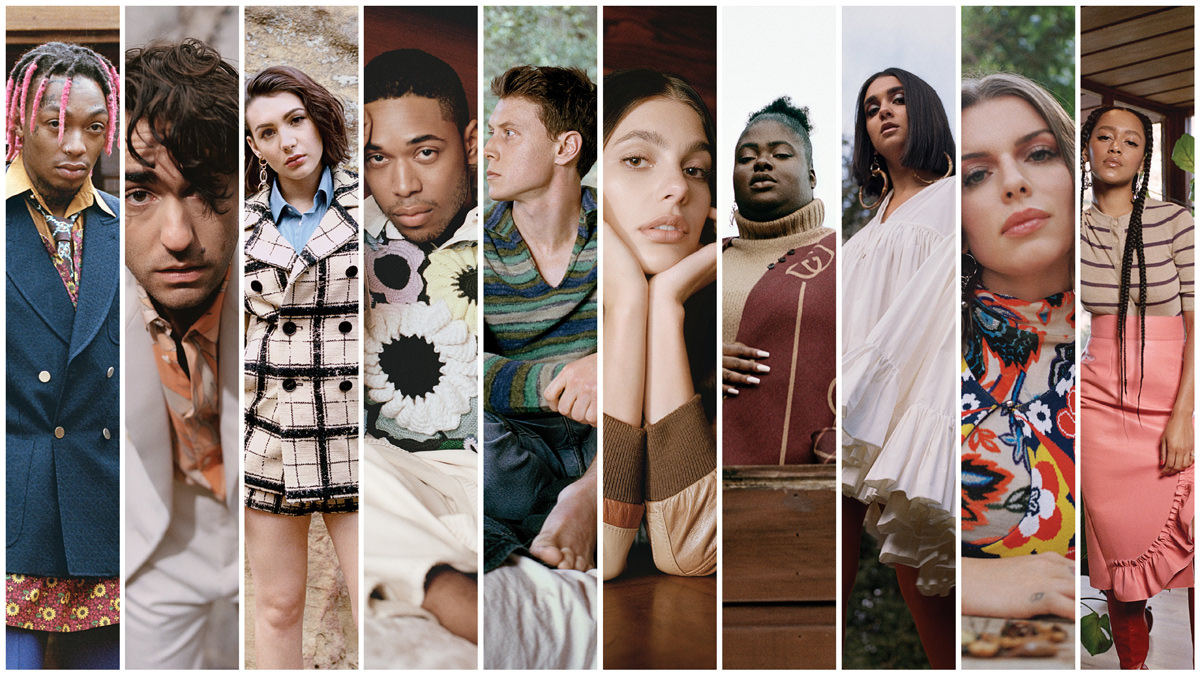 WSJ. Magazine's annual YOUNG HOLLYWOOD PORFOLIO is here! From actors who have shifted to directing, a makeup artist who has turned into a creative director and a model who is making a mark on-screen, this is a group filled with multihyphenates—young people curious about the world around them and eager to get involved in as many different facets of it as possible.
Camila Morrone • 22
Mickey & The Bear
Upcoming: Daisy Jones & The Six
In Annabelle Attanasio's debut feature film, Mickey and the Bear, Camila Morrone delivers a decidedly unglamorous performance as a Montana high school senior navigating a complex relationship with her troubled father. Meanwhile, off-screen, the L.A. native is a successful model with almost two million Instagram followers, as well as a prominent tabloid presence, due in part to her relationship status with Leonardo DiCaprio.
"I'm really lucky in the sense that I have the privilege of being able to pick and choose what I do," she says, "and only pick projects I really love and feel I can bring something to and I can learn from." Morrone—who will also appear in the upcoming TV adaptation of Daisy Jones & The Six—does not plan to focus on modeling moving forward: "I think it's hard for the world and also the industry to be able to see you as both."
The attention Morrone has dealt with can be somewhat taxing, she says. "More exposure leads to more judgment and negativity," she explains. "It's a little bit of a bummer because you're really trying to do good work and be nice and be a good person, and in the meantime…people wish negative things upon you." But she says she is pretty good at stepping away from it all when she needs to or simply not looking at the comments: "It would never take away the joy of the craft that I get to do."
Kelvin Harrison Jr. • 25
It Comes at Night, Waves
Upcoming: The Trial of the Chicago 7, Covers, The Photograph
When director Trey Edward Shults sent Kelvin Harrison Jr. the script for his third feature film, Waves, he let the actor (whom he'd worked with on 2017's It Comes at Night) pick the part he wanted to play. Harrison chose Tyler, a temperamental high school wrestler in a fraught relationship with his girlfriend (played by Euphoria's Alexa Demie).
He was drawn to the role because of how different he and Tyler are. "I'm just not athletic," he says. "The whole 'dude, bro-y' thing is… not my thing. That whole world is just so foreign to me. I was curious to dive into understanding that guy better so I can stop judging him from afar and start to connect with him more."
He gained 45 pounds for Waves, as a result of training and a new diet: "It was miserable, but it did put me [in the mind-set of] the obsession and intensity those guys have." Harrison has a diverse slate ahead—an Aaron Sorkin film (The Trial of the Chicago 7), a music industry comedy (Covers), a romantic drama (The Photograph)—and he's eager to keep audiences guessing. "There are no rules to this business…to storytelling…to just living a life. We can all do different things," he says. "I could do a Christmas movie tomorrow, and I could do Waves last summer, you know what I mean? And that's my prerogative."
Chika • 22
In April 2018, Chika, a musician from Montgomery, Alabama, posted a video on Twitter of her freestyle-rapping over the beat of Kanye West's "Jesus Walks," admonishing the artist for his political stances. The video went viral, and Chika's life transformed almost overnight.
"I got out to L.A. in January [2019], and I was only supposed to be out here for two weeks. Then I ended up moving here, and I have not gone home since," she says, still seemingly in awe at her trajectory. "So I just literally uprooted my entire life and got thrust into the industry immediately."
Chika, whose first EP, Industry Games, will be out early this year,
has already received public support from everyone from Missy Elliott to Cardi B and scored a Calvin Klein campaign. "Even in the viral moments…a lot of people would ride those moments out till there is nothing else to milk from them," she says. "But I've had to allow certain moments to die…I'm building a career [in which] I want to go on making stuff and stay busy."
She picked her album title to reference the somewhat perilous music-industry scene she has encountered in L.A. "I decided not to play any of [the games], because I think that talent should speak for itself and should take precedence," she says. "I don't think anyone's really like me."
Quinn Wilson • 26
Creative Director, Lizzo
Quinn Wilson was an 18-year-old student in Minneapolis when she met Lizzo. Wilson had been hired as the musician's makeup artist, and she says the two immediately bonded: "It was definitely natural. We were supposed to know each other." Wilson and Lizzo struck up a partnership right after their first meeting, nearly a decade before Lizzo's breakout success in 2019.
The Michigan native now serves as Lizzo's creative director. Wilson—who directed Lizzo's visually electric "Truth Hurts" and "Juice" music videos and designed several of the musician's high-profile awards show performances—says directing has always called to her. "I love music, but I wasn't necessarily interested in working in the music industry," she says.
"I wanted to be a makeup artist. I used people's faces to express myself at that time. And it wasn't until I started working with [Lizzo] in other ways that I realized that I could do that through other means of visual art." Wilson says she is overjoyed at the way the world has embraced her friend and collaborator. "It feels long overdue. We've been working hard for a long time…. I think people just finally caught up. She's been the same person, and we've been making the same s— for years. But finally, maybe it's a sign of the times…." She adds, "I think we've always needed her."
George Mackay • 27
1917, Captain Fantastic, Pride
Upcoming: True History of the Kelly Gang
Sam Mendes's recently released World War I epic 1917 is filmed as one continuous shot, as the camera stays in real time with the lead character, Schofield, as he journeys across France to deliver an urgent message. That protagonist is played by the British actor George MacKay, and his steady countenance, featured in nearly every frame of the film, serves as the story's grounding force. While the physical and mental preparation for the role was intense, what struck MacKay most the first time he watched the film was the emotional weight of the narrative.
"It's a film set in the First World War, and it's a race-against-time thriller," he says. "Yet at the same time, when I finished, I was really clear on who I loved in my life. I had to call a few people to just talk. Because it's about the big and the small—that's the journey."
"You're always just part of a bigger story," he says. "So I think if I can attach myself to stories that investigate or explore things which I either think need to be spoken about or that I feel like I need to suss out myself in some way, those are the things naturally I'm drawn to."
Tyla Yaweh • 24
Heart Full of Rage
"It's its own genre," Tyla Yaweh explains, describing the kind of music he creates. "I make everything." Yaweh—born Tyler Jamal Brown—is working on the follow-up to his 2019 debut, Heart Full of Rage, which is due out this year: "It's super nostalgic—a lot of guitars, a lot of rock references, a lot of stories that you could probably relate to. It's a new wave of music that people are going to connect to." While the artist identifies Drake, Travis Scott and Billie Eilish as performers he'd love to collaborate with someday, he also cites punk and rock influences, recalling the Used and the My Chemical Romance posters he used to have on his wall.
Yaweh decided to take his shot at a music career after witnessing how others had used the internet to propel their careers. "I started making music [after] looking at the industry and seeing how fast rap really was moving," he says. "People are making vlogs on YouTube… and I was like, Yo, I have this talent, so why am I not doing it?"
Yaweh has been touring with Post Malone, who has served as one of his mentors, for the past year. Aside from music, Yaweh—who has a bold and joyful sense of style—says he's excited to venture into other terrain as well and that he wants to "definitely get into fashion more, cosmetics, nail polish." Where does he hope to be in five years? "The same image right now," he says, "just richer."
Julia Fox • 29
Uncut Gems

Five years ago, the Safdie brothers sent their friend Julia Fox the script for what would become their 2019 release, Uncut Gems. They thought one of the characters would be perfect for Fox, who had never acted before but was a fixture in the downtown NYC social scene, having co-created a fashion line and presented photography and art shows featuring her work.
Eventually, Fox was called in for a screen test, opposite Adam Sandler. "I really gave it my all," she says. It worked. Fox nearly steals the movie as the plucky, hilarious mistress to Sandler, who plays a jeweler.
Fox also recently wrote and directed a short film, about four teenage girls in Nevada, and has written a number of other scripts. She cites Margot Robbie as a model for the sort of career she hopes to have: "She started out in The Wolf of Wall Street in a sexy role. And then she really spread her wings…. She has her own production company [now]." Fox stresses it is important to her not to be typecast. "I'd love to do something maybe more serious or even a mystery or a noir or a thriller," she says. "I'm really open to everything. Maybe I'm really good in rom-coms, you know?" And she also has no qualms about aiming for mainstream fare: "I will a hundred percent sell out. Because I'll always be myself…my raw, authentic self. Maybe the mainstream needs someone like me."
Geraldine Viswanathan • 24
Blockers, Hala
Viswanathan starred as a Muslim teenager in the quiet coming-of- age drama Hala, which debuted at 2019's Sundance Film Festival and started streaming on Apple TV+ in December. "I was terrified," Viswanathan recalls of that festival screening. "It was really emotionally intense, because it's definitely the most vulnerable I've been in a movie, and it's really my face the whole time." Viswanathan says she feels lucky to have been able to work with a number of female directors, noting that Blockers and Hala, directed by Kay Cannon and Minhal Baig, respectively, have more in common than one might assume: "[They're both] very much about sexual awakening and liberation…the circumstances are just so different." Viswanathan will soon be seen in the 2020 romantic comedy The Broken Heart Gallery, directed by Natalie Krinsky, who has become a close friend of Viswanathan's. "I can't think ahead too much, or else I lose my mind," she says. "I try to stay open to everything, because I'm very selfishly just trying to keep it interesting for myself."
Hannah Marks • 26
Acting: Accepted, Weeds, You're the Worst to Dirk Gently's Holistic Detective Agency
Directing: John Green's YA Novel Turtles All the Way Down
Marks—who cites Ava DuVernay, Greta Gerwig and Ben Stiller as role models—says she is thrilled at what she perceives as a shift in thinking in Hollywood. "I think it's so nice that people are more excited and more open to hiring differently," she says. "I do think it's frustrating that a lot of movies that were so female-centered, like Legally Blonde or The Devil Wears Prada, weren't directed by women. But I think in the future those types of stories will have the female voice behind the camera, too."
Alex Wolff • 22
The Naked Brothers Band, The Cat and the Moon
Alex Wolff first appeared on television at the age of 6, alongside his three-years-older brother, Nat, as a star of Nickelodeon's The Naked Brothers Band series. "I was joking with my friend the other day. I was like, 'I wasn't a child star. I was like a…shiny rock.' I didn't ever make it to star." At 20, he directed his first feature film, The Cat and the Moon, which he also wrote and starred in. (He received advice on the script from his parents' NYC neighbor Noah Baumbach.) While Wolff has a number of films lined up—including Pig, in which he appears alongside Nicolas Cage—he also is preparing another directing project, as well as making a documentary about his friend's band. "I feel like I've skimmed the top layer of what hopefully I'm capable of doing," he says. "I'm deeply unsatisfied, which keeps me hungry and really wanting to do more."
This article is featured in WSJ. Magazine's February "Talents and Legends" Issue out on newsstands Saturday, January 18th.
[Photo Credit: Campbell Addy/WSJ. Magazine]
blog comments powered by

Disqus