Initial response: "Oh. A trash bag gown. How very unexpected."
(Note: We said it in our bitchiest voices. Paint blistered and paper burst into flames all around us.)
Angelina Jolie attends the world premiere of "Maleficent" at the El Capitan Theatre in Hollywood, California in an Atelier Versace strapless gown.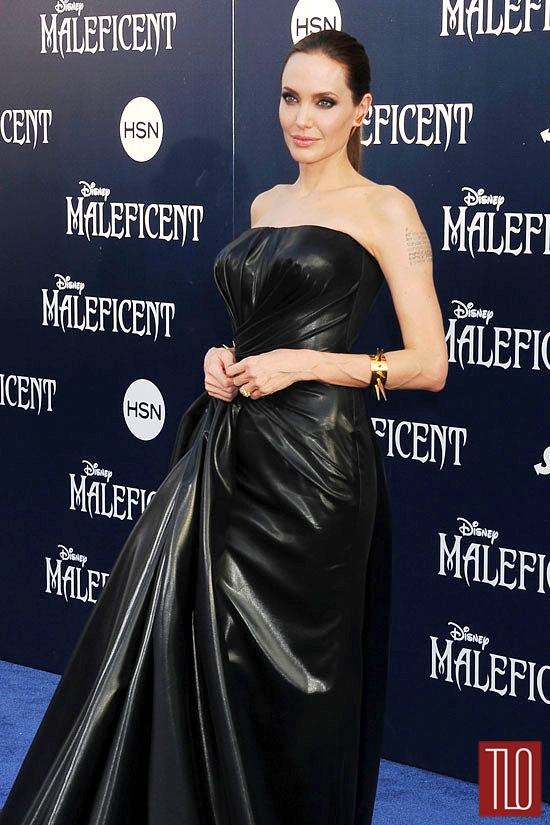 But she and Elle have been dressing pretty much in character for this film's poledance, so a black dress was the only thing on the menu. Granted, Angie's normal style menu is no more than "A black dress. A black gown. A black pants suit. A white pants suit." We think dressing in character for promotional events is always a little dicey, but we suppose it's to be expected when you're playing iconic Disney characters. This is the couture version of a Disney World employee posing for pictures dressed as Snow White or Goofy.
And we'll give the style team credit. They picked some really interesting jewelry in order to give the look some edge. Unfotunately, that ear spike doesn't photograph all that well. And while we understand the need to show it off, we think the ponytail flattens the drama of the dress and styling. And one spikey cuff would've been enough – although we love the "I won't be hugging anyone tonight" vibe they give off.
[Photo Credit: INFphoto.com]
blog comments powered by

Disqus