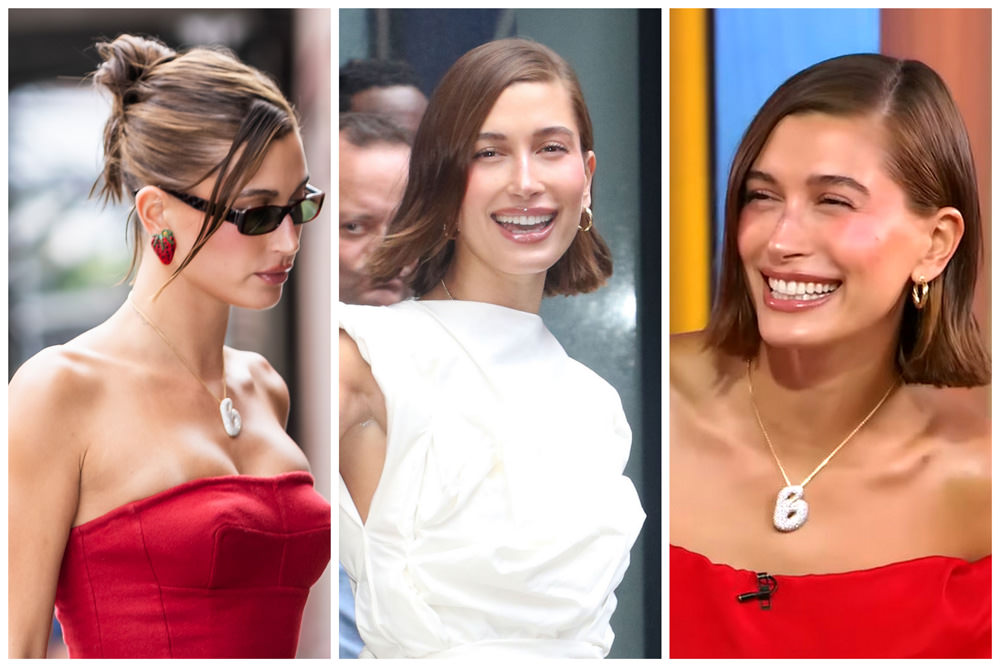 Pin
We wouldn't blame you if your first response to this post is "Oh, T Lo. A model doing a lip gloss product launch promo tour? Are things really that dire?" But you know what? These looks are all pretty cute. As Hailey Bieber hit the New York press tour rounds to promote her new "Strawberry Glaze" lip gloss as part of her skincare line Rhode, she stuck to a Barbie-like approach of dressing toward the theme. In other words, your girl was out here looking like a Valentine.
AT KRISPY KREME FOR HER STRAWBERRY GLAZE LIP LAUNCH IN ERMANNO SCERVINO

Pin
Pin
Pin
Pin
Pin
It's cute. We can't hate. The bust is too tight and if we wanted to be total bitches, we might suggest that the reds are all slightly off, but still. If you asked us "How should a model dress to go visit Krispy Kreme so she can promote her new strawberry lip gloss?" we have to assume we'd picture something just like this. That B pendant looks like the "HAPPY BIRTHDAY" sugar lettering you can buy to put on a cake.
AT GOOD MORNING AMERICA IN MARC JACOBS

Pin
Pin
Pin
Pin
Also semi-cute, although we don't really like the dress at all. Too diapery. But we like the idea of a white mini paired with those kitten heeled mules.
AT GOOD MORNING AMERICA IN VIVIENNE WESTWOOD

Pin
Pin
Pin
Again, while it may not be the most exciting or trendiest of looks, it's hard to say it looks bad on her. Granted, she's in the profession of making everything she wears look good. Again, we'll be the bitches who note that the reds are still slightly off. She's getting good use out of those shoes.
Style Credits:
First Look: Ermanno Scervino Red Strapless Mini Dress from the Fall 2023 Collection |  Ferragamo Bag | Maison Ernest Red 'Lidylle' Patent Leather Shoes
Second Look: Marc Jacobs White Mini Dress from the Fall 2023 Collection | Ferragamo Wanda East-West Top Handle Bag | Manolo Blahnik Maysale 70 Buckled Suede Mules
Third Look: Vivienne Westwood Ginnie Draped Recycled-crepe Dress | Ferragamo Wanda East-West Top Handle Bag | Maison Ernest Red 'Lidylle' Patent Leather Shoes
Styled by Dani Michelle
[Photo Credit: Roger Wong/INSTARimages, INSTARimages.com, ferragamo.com, ermannoscervino.com, Courtesy of Marc Jacobs, matchesfashion.com, net-a-porter.com – Video Credit: Good Morning America]
blog comments powered by

Disqus