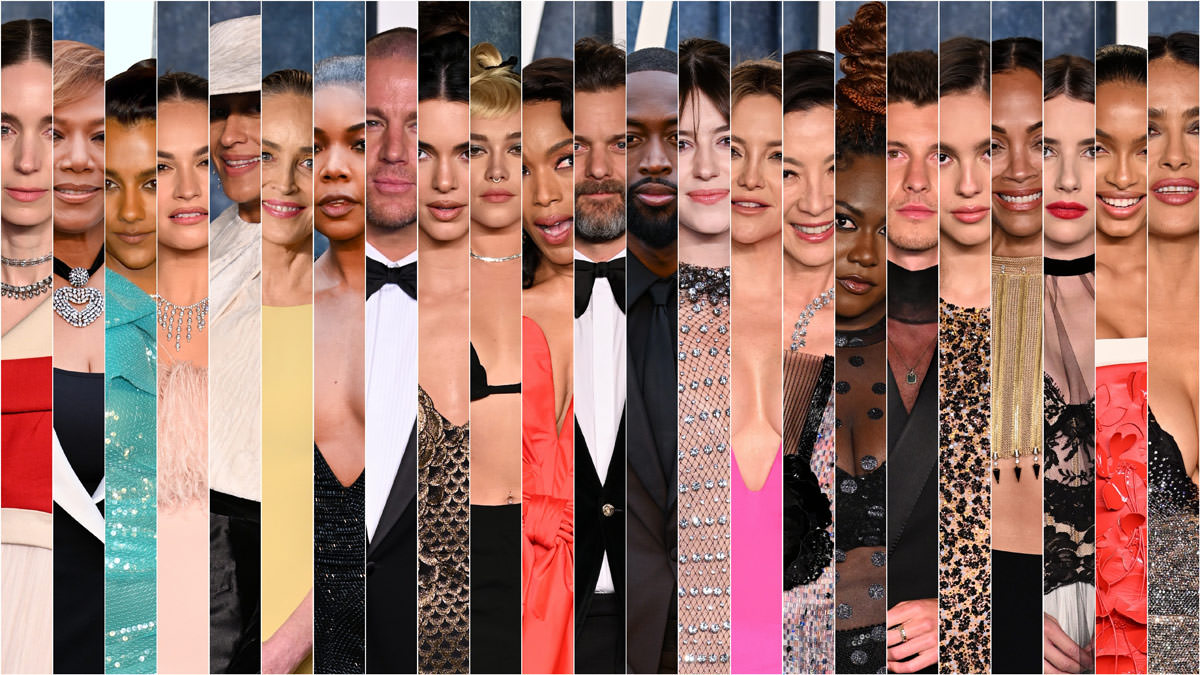 Angela Bassett in Moschino

This is very cute and it looks like something you'd pick to pose with a trophy at the after-party.
Channing Tatum in Giorgio Armani

It's fine.
Daisy Edgar-Jones in Gucci

We won't deny that it's a very pretty take on the sheer gown. We tend to think a black bodysuit would look better with it. This is giving Barbie Body.
Danielle Brooks in Nina Ricci

The musical version of The Color Purple will be out at the end of this year and we suspect we'll be seeing a lot of Danielle all through festival and awards season. We can't wait. We hope she dresses this boldly the whole time. The jacket is fabulous.
Dwyane Wade (in Prada) and Gabrielle Union (in Ralph Lauren)

Beautiful people in beautiful clothes.
Emma Roberts in Dolce & Gabbana

You had us until we got to the skirt. If you're gonna do Goth Bride, then do it. That skirt needs to be black.
Florence Pugh in Valentino

This is kind of fun, but that bra top is hideous.
Joshua Jackson in Gucci

Also fine, although he could've put a little product in his hair.
Kate Hudson in Tamara Ralph Couture

This is gorgeous glam in a very draggy way and it suits her perfectly.
Kendall Jenner in Jean Paul Gaultier Couture

The gown is a pure stunner. She needed jewelry.
Lily James in Atelier Versace

Meh. It's an after-party, so wearing something stale isn't the worst sin in the world, but we'd think you'd want a little more to show for your efforts than this bland thing.
Michelle Yeoh in Armani Privé

It has the one quality her awards campaigning ensembles tended to lack: it's overdesigned. We think the backing fabric needed to be a non-print, if not a neutral.
Olivia Rodrigo in Valentino

It's fine. As we said, we don't expect after-party looks to necessarily be A-list super-trendy fashion. You need to be red carpet-ready, but it's way less about turning heads than it is about looking like you belong there.
Queen Latifah

Love this, but we wish the white lining wasn't showing at the closure.
Rooney Mara in Alexander McQueen

We suppose she didn't wear the coat with the dress on the main event red carpet because putting it on later feels like an outfit change without having to change your outfit. That's kind of smart, but we'd have much rather seen this coat at the Oscars. It sharpens the look up considerably.
Salma Hayek in Gucci

It's okay. The lace is pretty well utilized, even if it isn't our favorite design element.
Sharon Stone in Tony Ward

She really brought the drama butter, but unfortunately, this shade of yellow looks terrible on her.
Simone Ashley in Nina Ricci

Stale design, but a great color for her. It looks a little flimsy, however.
Shawn Mendes in Dolce & Gabbana

We tend to be really hard on his style choices, but we can begrudgingly admit that he looks pretty great here.
Tracee Ellis Ross in Balmain

There really should be more hats on red carpets. Tracee knows the score. She looks ready to have some fun.
Yara Shahidi in Bottega Veneta

Oh, honey no. You might have convinced us with the dress, but not while you're sporting those lobster claws.
Zoe Saldana in Michael Kors Collection

No pun intended, but this feels like half of a good design. We don't mind the crop top, but it feels unresolved as a design. Like they just cut off the bottom half and, running out of time, opted to hang some crystals off of it.
More to come in Part Two!
[Photo Credit: Doug Peters/PA Images/INSTARimages, PA Images/INSTARimages]
blog comments powered by

Disqus