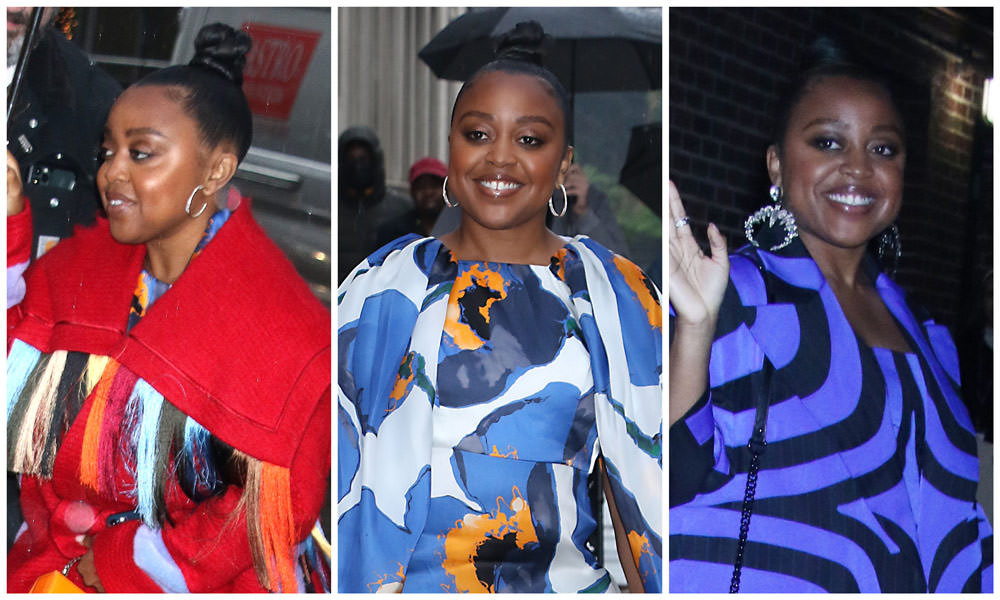 Quinta Brunson is back out on the promo rounds for Abbott Elementary, which returns with new episodes this week. It seems to us, reading the style tea leaves here, that Miss Quinta is feeling increasingly comfortable with her success, with the spotlight, and with serving looks. All of these pieces are flexes.
At THE VIEW in Sarawong (Coat) and Carolina Herrera (Dress)

This may be the biggest flex of them all, because only a handful of people, relatively speaking, are going to even see the coat you wear into the studio – especially on a rainy January day. On the other hand, smart stylists and publicists know when blogs, sites, and paparazzi are at their hungriest for content, so we tend to think this was savvy as hell. It's a KILLER coat. We have not suspended our loathing for fringe, but even we have to admit she's working the hell out of all of the various elements on display here. It's fun, it's bold, and it's a LOT – all of which makes it perfect for her. And speaking of which, she didn't exactly abandon those qualities for her in-studio look, which was just as eye-popping:
It's a really fun print and the large scale of it works well both with the design and on her. We really like the dress, but the waist seam strikes us as unfortunate. It's too focus-pulling and sits too high. The teeny orange purse and white platforms make a little more sense with the dress than they did with the coat, but we can't say we love either of them, if only because they throw off the proportions. We can forgive the platforms, since she's a gal who needs to find her height where she can get it (assuming she wants the height, that is, which seems like a safe assumption given her predilection for tall-making footwear), but we can't help thinking how much better the ensemble would look with an orange clutch or full-sized handbag as an accessory.
For her Colbert visit, she kept her coat on:
At THE LATE SHOW WITH STEPHEN COLBERT in Annakiki

It's a cute ensemble in the street shots, but it totally comes alive on camera. Wearing a coat off the shoulders like that can come off so precious on the wrong wearer, but it works well for her. She looks cute and the color/print pops. Also, we're with her on the whole Mac Machine thing. Didn't realize how Philly-specific it was until one of us mentioned it on the podcast.
Style Credits:
First Look: Sarawong Coat from the Fall 2022 Collection | Carolina Herrera Dress from the Resort 2023 Collection | Gucci Shoes
Second Look: Annakiki Coat and Dress from the Spring 2023 Collection | House of Emmanuele Earrings | Dolce & Gabbana Shoes
Styled by Bryon Javar | Hair by Karen Miller | Makeup by Jessica Smalls
[Photo Credit: ROGER WONG/INSTARimages.com/Cover Images, annakiki.com, Courtesy of Carolina Herrera, sarawong.com – Video Credit: The Late Show with Stephen Colbert/YouTube]
blog comments powered by

Disqus