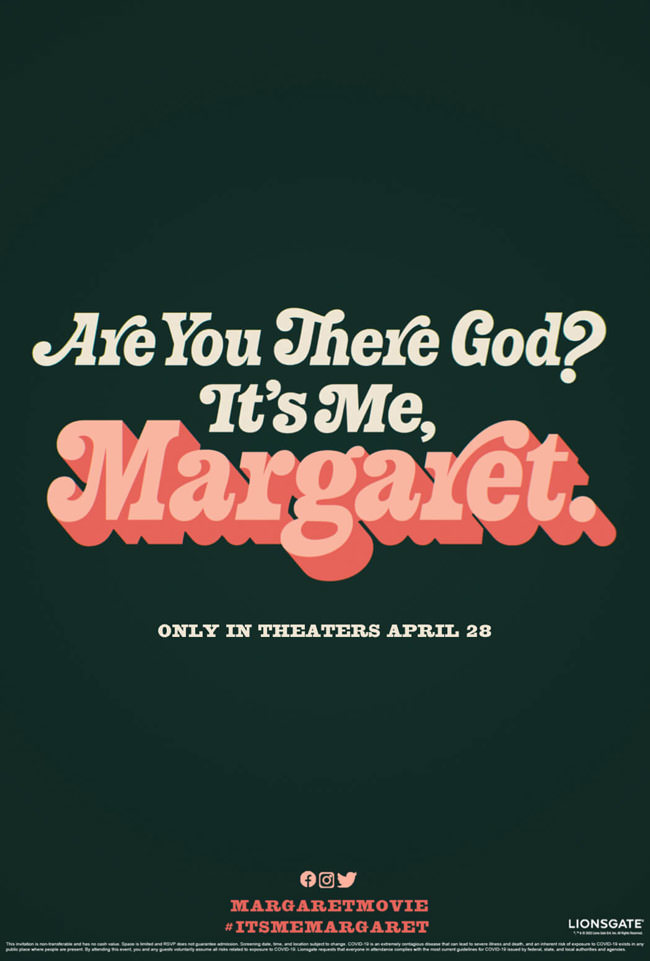 We can just feel three entire generations of women holding their breath right now. As soon as this landed in our inbox, Tom went running to Lorenzo, arms-a-flapping, and shrieked, "WE'RE DOING THIS RIGHT NOW YOU DON'T HAVE SISTERS SO YOU CAN'T UNDERSTAND WHY JUST PUT THE POST TOGETHER."
Granted, we claim no ownership or kinship with this material, but you simply couldn't grow up in the last five decades without this book coming up in the conversation. For the sake of all those former little girls who found Are You There God? It's Me, Margaret to be a lifesaver at a time in their lives when no one else seemed to know they existed, we truly hope this is everything you ever wanted out of this adaptation. It looks really cute and at the risk of making a truly terrible pun, we were glad to see they made it a period piece. Sure, you could probably set the story in the present day, but Judy Blume wrote a book that's both timeless and very much of the moment in which it was written. Besides, we tend to think this adaptation is being pitched to the Boomer and Gen X women who first read the book.
A beloved and best-selling classic comes to the big screen with Lionsgate's adaptation of Judy Blume's Are You There God? It's Me, Margaret. Starring Rachel McAdams, Kathy Bates, and Abby Ryder Fortson as Margaret, this timeless, coming-of-age story has transcended decades and spoken to generations. At 11, Margaret is moving to a new town and beginning to contemplate everything about life, friendship, and adolescence. She relies on her mother (McAdams), who offers loving support but is herself finding her own footing in a new place, and her grandmother Sylvia (Bates), who is coming to terms with finding happiness in the next phase of her life. For all three, questions of identity, one's place in the world, and what brings meaning to a life will draw them closer together than ever before. From writer-director Kelly Fremon Craig (The Edge of Seventeen) and Gracie Films' Academy Award®-winning producer James L. Brooks. Are You There God? It's Me, Margaret. is the theatrical event for everyone who has ever wondered where they fit in.
Directed by Kelly Fremon Craig
Screenplay by Kelly Fremon Craig
Starring: Rachel McAdams, Abby Ryder Fortson, Elle Graham, Benny Safdie, Kathy Bates
Produced by James L. Brooks, Julie Ansell, Richard Sakai, Kelly Fremon Craig, Judy Blume, Amy Lorraine Brooks, Aldric La'Auli Porter
Executive Producers: Jonathan McCoy
Source Material: Judy Blume
[Photo Credit: Dana Hawley/Lionsgate Movies – Video Credit: Lionsgate Movies/YouTube]
blog comments powered by

Disqus