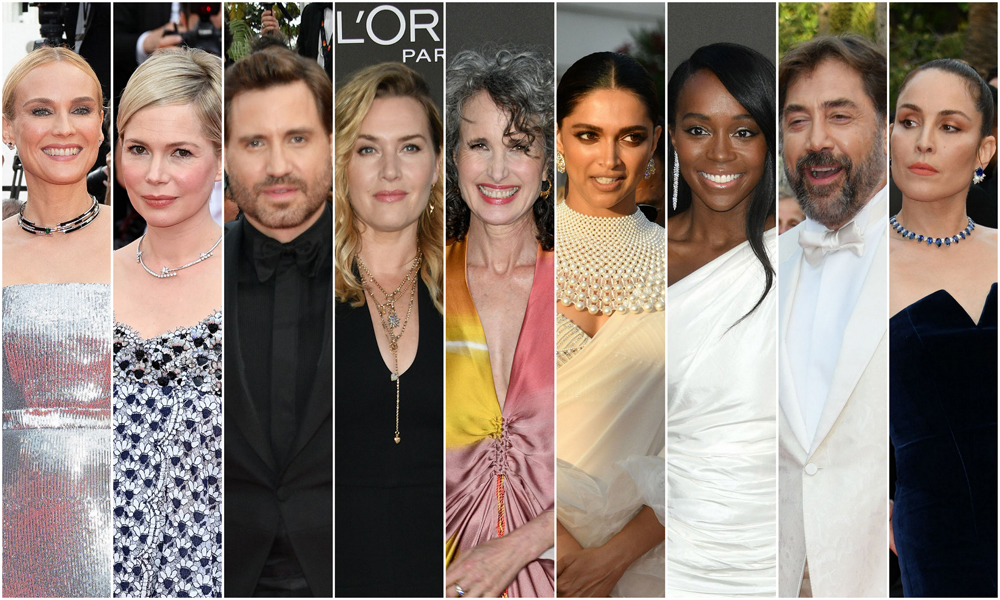 Pin
The surprisingly fruitful (in terms of content for a couple of red carpet commentating bitches such as we) 2022 Cannes Film Festival concluded over the weekend. If you need to play catchup, you can spend quite a bit of time diving into the rabbit hole of our coverage here, but for us, it's time to clean out these folders for good. Here are a bunch of looks from a bunch of events worn by a bunch of stars over the weekend, rather randomly shoved together for quick and easy judgment. Let's go!
Aja Naomi King in Oscar de la Renta

Pin
We could live with the big shoulder flounce, but that side train just looks silly and overwhelming.
Aja Naomi King in Armani Privé

Pin
This is pretty, although we have some quibbles with the design. The heavily beaded bodice doesn't marry with the shimmery and ethereal skirt as well as it could and we wish it had more of a traditional sweetheart neckline. We think it would be improved if the skirt had a heavier, more opaque lining.
Andie MacDowell in Prada

Pin
For such a simple dress, it sure does have a lot of seams we question or just don't like. The color's great, although rendering such a bright green in satin looks a little old-fashioned to our eyes. The makeup is fun but she needs more jewelry.
Andie MacDowell in Silvia Tcherassi

Pin
We love the idea and the styling, but we're sorry to say that textile looks awfully cheap in photographs.
Andie MacDowell in Dior Couture

Pin
This looks surprisingly great considering it's a brown and white striped dress, which is not a thing we'd recommend for a red carpet. She could've used some gold to dress it up.
Deepika Padukone in Abu Jani Sandeep Khosla

Pin
If we're being completely emotionless and objective about it, we'd note that this look is wildly overdesigned. If we gave into our prejudices, we'd say that white always looks a little bridal on a red carpet, no matter how outrageous the design. But if we're being honest, we have to admit that despite everything, we love it. It's weirdly beautiful and unexpected.
Edgar Ramirez

Pin
Why is it so hard for this man to find a tux that fits correctly?
Javier Bardem

Pin
The jacket's a little short on him, but he looks pretty great otherwise.
Kate Winslet in Alberta Ferretti

Pin
It's a L'Oreal party and she's doing the bare minimum for it. We can't hate. She looks great, even if the look itself is generic.
Michelle Wiliams

Pin
We feel like this look, the details of which aren't registering under these lighting conditions, needs to be taken in concert with her next look, in order to get the full picture.
Michelle Williams in Chanel Couture

Pin
In other words, we were going to say the previous look is a little underwhelming for Cannes, but as this one handily demonstrates, your girl is on the Riviera in May, deep into the work of making a baby. She can slack off on the style.
Noomi Rapace in Moschino

Pin
This is a surprisingly conventional form of glamour, coming from her. We like that she can turn it on or off as she pleases, because she is clearly working the hell out of this.
Norman Reedus and Diane Kruger (in AMI Paris)

Pin
Pin
Can't get mad at any of that. He's finally dressed to her level and while we'll never love giant ass bows, this one's kind of fun and fab.
[Photo Credit: Dave Bedrosian/DDP/INSTARimages.com, Simone Comi/IPA/INSTARimages.com, DDP/INSTARimages.com, David Niviere/ABACA/INSTARimages, Alberto Terenghi/IPA/INSTARimages.com, PA Images/INSTARimages.com]
blog comments powered by

Disqus