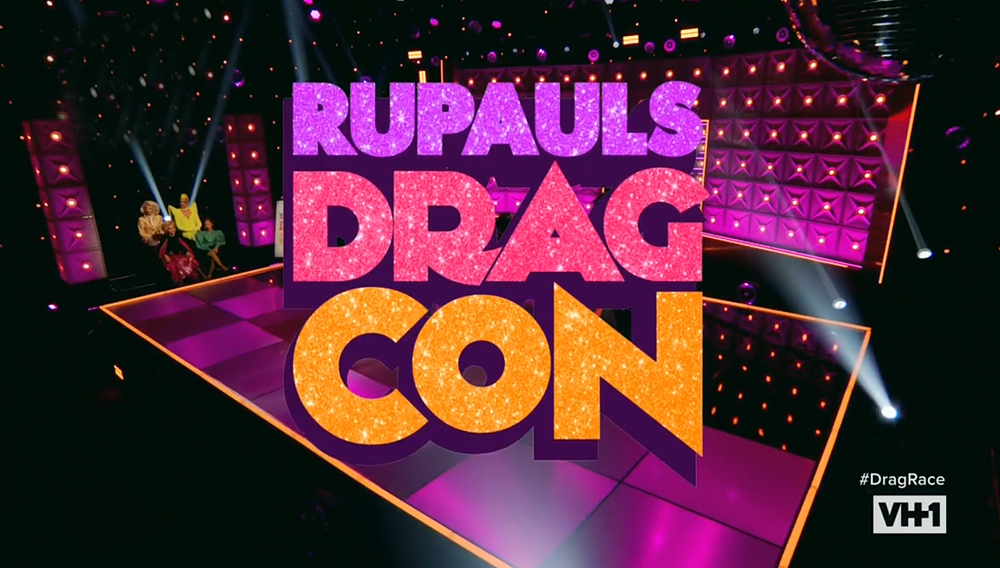 The queens are asked to bare their souls for cash prizes, but we have to commend Drag Race for once again finding a challenge format that works on every level (including the exploitive ones).
We're sounding a little more cynical than we intend to. After a fun little photo-based quick drag mini challenge, Willow was granted the opportunity to pick her team for a faux Drag Con panel challenge. She made the slightly counter-intuitive choices of Lady Camden, Angeria and Deja.
The show has done The View/Red Table Talk- style challenges before, but tying it directly to Drag Con was an inspired move that effectively answered any potential "What does this have to do with drag?" questions or criticisms. We haven't loved Ru's tendency to see himself as some sort of life coach in the Oprah vein, but a challenge like this one gives him an opportunity to do his GuRu schtick and not have it seem out of place or obnoxious. You could argue that "sitting on a panel and discussing important issues" isn't exactly a day-to-day working skill for most drag queens, it's exactly the kind of media training a Drag Race alum needs because they're about to be on the receiving end of the highest level of press attention they've every enjoyed.
Willow's team was up first and they were so good, we almost felt sorry for the B team. The topic was as broad as possible (men), giving the queens plenty of opportunity to go in all sort of directions. The most important direction was the one that pointed inward, since Ru made it very clear in his walk-through that she expected the queens to metaphorically open a vein onstage. Everyone on this panel seemed to understand that clearly. Deja was a smooth moderator, but gave herself and every queen there a chance to open up. Camden told a sweet story about her father, Willow was consistently vulnerable and hilarious with all of her responses, and Angeria was warm and engaging. Top level work across the board. We weren't super-crazy about Deja's look, but the rest of them were distinct and felt coordinated.
In terms of looks, it felt like Bosco's team was a little all over the map. Bosco, Jorgeous and Jasmine all served mature lady drag for some reason and Daya was off on her own drag tangent, looking like she crashed the group. Jorgeous and Jasmine were the clear weakest links here, neither of them able to open up effectively or connect with the audience smoothly. Daya was okay, but our perceptions of her are so colored by her bitter confessionals that she tends to grate on our nerves. Bosco was great; funny, smooth and witty. We wouldn't have given her the win, though.
The category was shoulder pads and these bitches were all over the map, to their partial credit. You can tell some tried to interpret the category and some just picked out a costume with some sort of enhanced shoulder; a design motif so common in the drag world that the results here were much more widely varied than we might have otherwise expected.
We think there's a strong argument that this should have been the week for Deja. She did a great job moderating the clearly superior panel and she interpreted the challenge with a bullseye of an on-point reference. Our only critique of this costume was that we wish she'd gone for a slimmer fit on the skirt and defined her waist a little better. Camden did a gorgeous, if simplistic Nutcracker drag that felt like something she pulled from her trunk. Willow delivered something chic and original, but we agreed with the judges that the shoulders needed to be bigger. Angeria delivered a surprisingly good, if not necessarily original take on Club Kid couture.
Bosco's look was cute, but it felt really low effort and there are no shoulderpads to be found here, if we're being pedantic about it. She had a great week, but we think Willow or Deja made better choices for the win. Jorgeous's Selena/Prince homage was cute, but again: no shoulderpads. This is one of the best looks Jasmine's served all season. Daya's look was a giant cliche and we kinda thought the judges should have called it out more.
We winced a little when the opening bars of "Something's Got a Hold on Me" by Etta James rang out. It's a fabulous song, but the episode had already been heavy with 40 to 50-year old cultural references by Ru (Lou Grant and Dale Bozzio) that left the queens confused and only tended to underline the huge gap that separates the judging panel from the contestants. But this time, the old-school reference worked wonderfully, because when you give a song like that to two queens who can tear the fuck out of a lip sync, they're going to work their asses off that much more to interpret it correctly and give it life. It took real skill for both of them to do such a fantastic, totally on point version of the song and while it's always fun to point at Ru and yell "SHENANIGANS!" we can't really fault him for keeping both queens in. A double shantay was good and right in this instance.
There's this default grumbling that the show absolutely must eliminate one queen per episode, but we don't agree with that at all. Let the competition play out and if no one did terrible work that week, let it roll and see what happens. It's not like the show's not going to get to where it needs to be by the finale.
Legendary Children: The First Decade of RuPaul's Drag Race and the Last Century of Queer Life, a New York Times "New and Notable" pick, praised by The Washington Post "because the world needs authenticity in its stories," and chosen as one of the Best Books of 2020 by NPR is on sale wherever fine books are sold!
[Photo Credit: VH1 via Tom and Lorenzo]
blog comments powered by

Disqus