This time we really mean it. We have a tendency to start off these recaps with a warning that it's going to be a really short one and then bloviate for another eighteen hundred words, but for real, darlings: this one was so straightforward and uncomplicated, we can't imagine this one going over five hundred. Start the clock.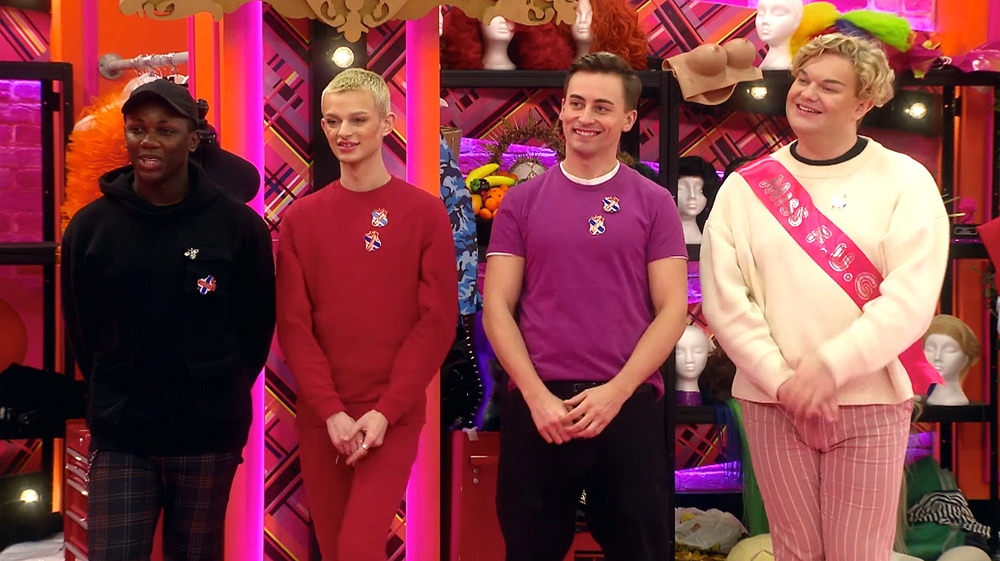 We'll start off with one snippet of bitchery, just as an observation. The final four is a satisfactory quartet, for the most part. Whatever other failings Drag Race may have, it's pretty good about separating the women from the girls in order to settle on a top group with some real polish and potential to them. Having said that, we think this final stretch would have been so much more interesting with Victoria Scone in Vanity's place. She's been listening and improving, but to our eyes, there's no denying she benefited from some flameouts that left her standing.
Kitty got her badge and suddenly started living up to her name. Her confessionals and side comments have gotten increasingly shady and pointed as we hit the final stretch and she seems extremely confident in her chances. No arguments there. The fact that she turned the casting of the parts into an impromptu drag performance that kept all the attention on her is a huge indicator of just how "on" she is and how she's always willing to find the bit, or the aside, or the punchline. She doesn't stop. She's a drag honey badger.
Not that the casting shenanigans seemed to matter, since every girl mysteriously had the perfect costume for her character. Best not to linger on such things, we say. To be fair, Ella's looked pretty thrown together and we can honestly believe that Kitty and Krystal would have these costumes packed in any case.
Drag has a long affiliation with campy sci-fi movie parodies, from Ru's own Starbooty! to Vegas in Space to The Cockettes' Journey to the Center of Uranus. It's a pairing of genre and artform that just makes sense and doesn't really need explaining. Science fiction, especially the low-budget versions that drag tends to gravitate toward parodying, has a distinct focus on transhumans, colorful creatures and glittering costumes that make the partnership eminently tempting and usually fruitful. This was one of the better acting sketches we've seen, lately. Canada's Drag Race managed a watchable horror movie parody last week, but the top two girls were so good this week that the other two girls stepped up their game and overcame their lack of talent through sheer force of will. (hitting word 500 now) The results were funny and everyone came out of it unscathed, which is a rare thing to say about a Drag Race acting challenge.
The queens were helped by a fairly competent script that managed to work in an impressive number of references, from Doctor Who to Aliens, and a set that almost seems… dare we say it… impressive?
For a whole bunch of reasons, this one was pretty fun to watch, start to finish. While it was clear that Kitty and Ella were the best, unlike the judges, we were pretty firm on the idea that Ella's work had a bit more of a professional polish to it while still finding funny bits of improv, like the thigh rubbing. We thought she should have won this one.
The category was a pretty on-point "Scene Stealers" and the top girls didn't disappoint.
Of course Krystal crushed this one. We'd like to roll our eyes and call both the perfection and the choice of character to be a bit expected, but we can't stop gagging at how amazing she looks. Ella's was a really cute and unexpected idea, perfectly executed. We've never thought of a drag Oompa-Loompa, but we will forever compare any attempt to this version, which is not likely to be topped.
Kitty's Kate Winslet homage was cute, but that skirt made no kind of sense and tearing it away didn't actually improve the look. Vanity's B.A.P.S. homage is a great idea, somewhat poorly executed. The blonde hair and orange dress are right for the character, but she's  been serving too many similar looks all season. In our version of this episode, Ella won handily and Vanity would be lip-synching with Krystal.
But Ru opted to pull the trigger on the fuck-with-it gun once again. A Krystal/Vanity showdown for a place in the final three would have been an epic moment and we suspect Ru's adoration for Krystal (there was another embarrassing fawning session this week) may have moved her to protect her from any chance of being eliminated. There was no real reason to make the top two queens face off, although we did get a really entertaining set of performances out of the idea.
And we suppose that's the reason for doing it, after all. Still, if you're gonna wimp out on eliminating anyone, you could at least give us a definitive answer as to which queen was the best this week.
907 words. That's still pretty short for us. What can we say? We're in the home stretch and these bitches are drama free.
Our book, Legendary Children: The First Decade of RuPaul's Drag Race and the Last Century of Queer Life, a New York Times "New and Notable" pick, praised by The Washington Post "because the world needs authenticity in its stories," and chosen as one of the Best Books of 2020 by NPR, is on sale wherever fine books are sold!
[Photo Credit: WOW Plus via Tom and Lorenzo]