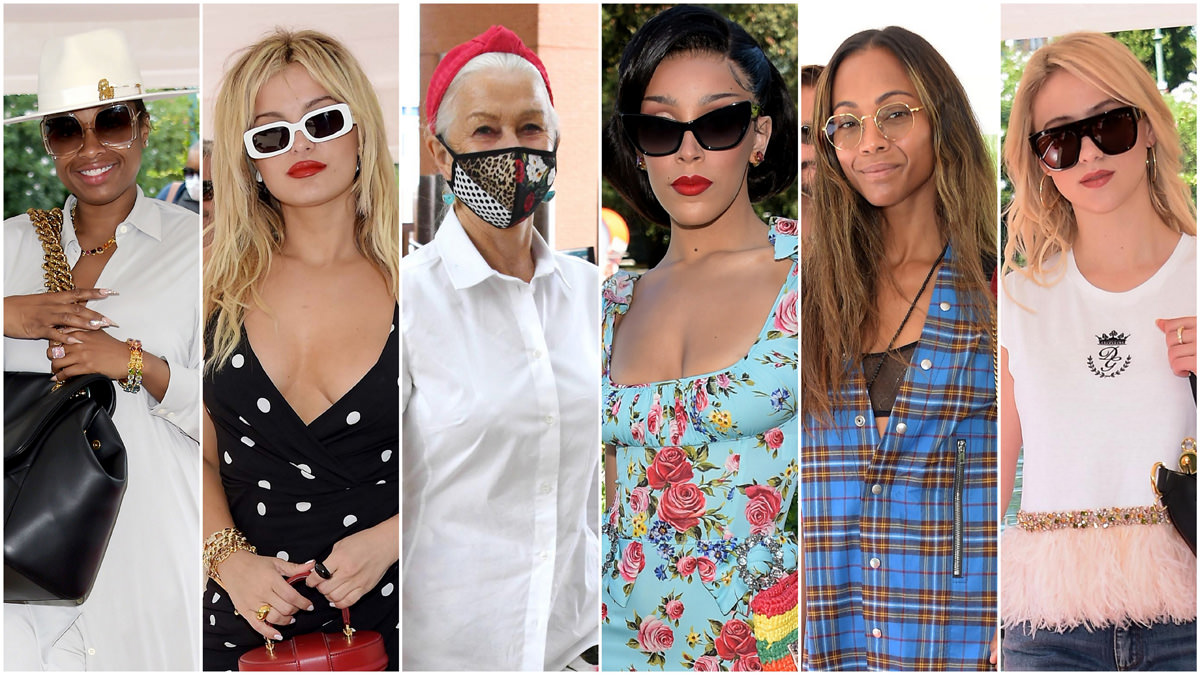 We've already given the spotlight to the Jennifers Lopez and Hudson, as well as Queen Helen and Princess Doja, but we thought we'd take a break from milking every last drop of celebrity high fashion out of the Dolce & Gabbana Alta Moda show by looking at … well, mostly more celebrity high fashion, but of the slightly more practical and wearable variety. After all, when you're a celebrity in Venice in August, you better have a selection of "getting off the boat" looks packed.
BEBE REXHA

Please note that we did say "slightly" more practical. Not that this is all unworkable, but it's upping the difficulty level on a boat ride and dock stroll for the sake of being camera-ready. To which we say, BRAVA, girl. The wonky hem gives us eye twitches but otherwise, it's a really cute look. Love the accessories.
DOJA CAT

Maybe this is missing the point of the look (which is clearly at least partially about being a bit too much), but we don't think the bag works with the dress at all. The outfit's SUPER-cute and so is the bag in its own way, but they're fighting each other.
HELEN MIRREN

Dame Helen knows how to approach this in a slightly more practical way while still remaining camera ready. This is far from her first Venice Film Festival after all.
JENNIFER HUDSON

We LOVE this for being pure diva chic. It's dramatic and sort of practical but also luxurious and full of a certain diva-esque flair. Shades and hat are ON POINT.
MARIA BAKALOVA

We'll admit, we laughed when we got to the boots. Not that the shirt wasn't worthy of a few chuckles. Individually, these items are kind of ridiculous, but we enjoy how the whole look is a sort of fuck-you to princess fashion, which she tends to excel at.
ZOE SALDANA

Miss Zoe, keeping it real. Cute sandals, the appropriately branded luxury bag, and everything else is low-key to the point of nondescript. Call it White Lotus Chic.
[Photo Credit: Simone Comi/Ipa/Instarimages.com, Alberto Terenghi/Ipa/Instarimages.com, Ipa/Instarimages.Ccom]