Just LOOK at how many unremarked-upon (and in some cases, unremarkable) looks we have left over after a week of hardcore opinionating, dolls! Why, it's almost like everything's norm–HAHAHAHAHA. No, it's not, but it was nice to pretend for a moment, wasn't it?
Anyway; shall we get to judging? Yes. Let's.
Gabrielle Union-Wade in Caroline Constas

We're homosexuals, which makes us immune to most "Mommy and Me" style efforts, but this is ridiculously cute.
Gal Gadot in Patou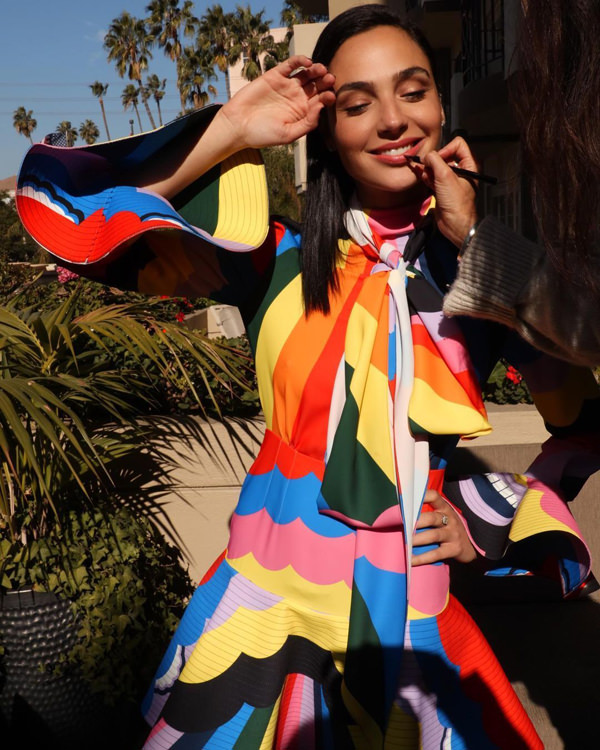 This looks like a pretty fabulous dress. We just wish she'd stop the silly posing and let us see it. We've had to skip a few of her looks lately because the posing and framing make them impossible to discuss. Harrumph.
Gwen Stefani (in RaisaVanessa) and Blake Shelton

Meh. We've been pretty supportive of her sparkly-cray stagewear of late, but this is kind of ugly.
Heidi Klum in MSGM

Cute top, weirdly cute skirt. They need to break up and see other pieces.
John Legend

Love the look overall, but we hate the cut of the pants. At the very least, a wide-legged cut should not be paired with some tassle loafers. You need a substantial shoe at the end of that wide leg.
Kelly Clarkson in Vetements

You almost had us until we got to the bottom. It's not so much the eye-shoes, which are kind of weirdly fabulous. It's that hem, which needed another two inches on it. The rest of it is a bit much, but that's kind of her brand.
Lily Rabe in The Vampire's Wife

We don't know why, but she manages to make these prairie dresses work for her when we'd hate them on anyone else. Some people just have the right look for them. Love the colors.
Maddie Ziegler in Abodi

The jacket is really interesting. The pants, not so much. The shoes are awful.
Neve Campbell in Aliétte

Cute skirt, BAD top. And the shoes look like they're killing her.
Priyanka Chopra in Emilia Wickstead

Miss Priyanka's shoes do NOT look like they're killing her. Quite the opposite. Do her Crocs go with this dramatic and oddly shaped thing she's wearing? No, but they do make the perfect at-home shoe, so we can't get mad. That neckline is terrible, though.
Regina King in Chanel

The design of that jacket is hurting our brains.
Taraji P. Henson in Cinq à Sept

Apparently, it's still high summer for Miss Taraji. This is a really cute look, though.
Tessa Thompson in St. John

LOVE the pants, but the jacket feels kind of drab.
[Photo Credit: Gabrielle Union-Wade/Instagram, Elizabeth Stewart/Instagram, Wayman + Micah/Instagram, Jason Bolden/Instagram, Trae Patton/NBC, Kevin Mazur/2020 MTV Movie & TV Awards]