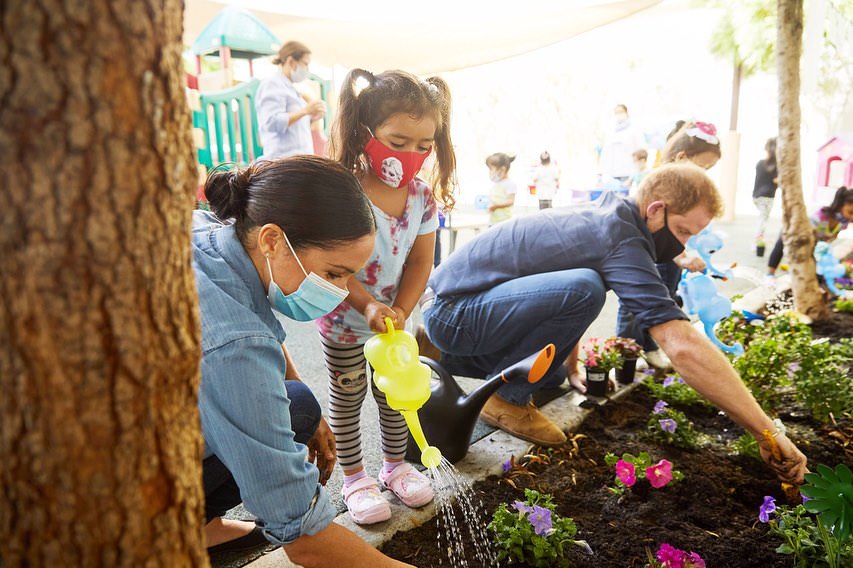 Meghan and Harry put on another pair of matching outfits to visit the Assistance League of LA's preschool learning garden and plant Princess Diana's favorite flower, forget-me-nots, on the anniversary of her death.
Say what you will about these two – everybody has at this point – but we think they're acing their PR at the moment. Who could argue with flowers, mask compliance, adorable children and a memorial to Princess Diana all in one visit? They were also there to instill the importance of healthy eating, but let's face it: it was all about the Diana tribute, quiet as it was.
It's interesting how the SoCal Sussex style is slowly codifying. They're really into these blandly minimalist casual workmanlike looks. Not that either of them should have gotten dressed up for the occasion, but we don't think these outfits are any less curated than if they'd shown up in a dress and a suit.
Style Credits:
– Cartier Cartier 'Love' Bracelet
– Rothy's Black Solid Flats
[Photo Credit: Matt Sayles, Assistance League of LA/Instagram]
blog comments powered by

Disqus