Pin
When we asked people to name the most iconic female costumes in motion picture history, we were especially interested in which answers were going to highlight costumes worn by Black actresses. We knew that the answers were going to skew heavily white based solely on the history of Hollywood and mainstream motion pictures, which not only failed to produce entertainment created by and starring Black people for most of its history, but sidelined Black actors from the kinds of roles that become iconic in the public's eye. We can name costumes worn by Black actresses that truly stand out and could easily be called iconic, from Diana Ross's Bob Mackie rainbow pleated gown in Mahogany to the white and blue satin gowns with the sweetheart necklines worn by Beyonce, Jennifer Hudson and Anika Noni Rose in Dreamgirls, to Pam Grier's red jumpsuit with the keyhole neckline in Foxy Brown to Halle Berry's orange bikini with the white belt from Die Another Day.
Pin
To us, each one of these looks satisfy our own criteria for what constitutes an iconic film costume simply because they're so easily conjured in our mind's eye and so easy to spot when someone paying homage to them or ripping them off. But we're a couple of white dudes so our thoughts on what constitute iconic film images of Black women should be taken with an enormous grain of salt – as should our reaction when Gabrielle Union's Clovers cheerleading uniform from 2000's Bring It On kept popping up in response to our query: "Hunh. That one?"
Pin
Which isn't to say we didn't immediately see it as a very good costume design, for reasons we'll get into in a second. And we certainly don't have a bad thing to say about the film, which we loved at the time and which still holds up to a viewing today. The actresses are all funny or fierce, the routines are great fun to watch, and the message of white people appropriating from Black creativity still resonates powerfully today.
Pin
The last thing we want to do is treat costumes worn by Black actresses with some sort of ginger touch; some misguided attempt to over-describe everything in terms of its blackness or its relevance to Black people. We haven't stayed working bloggers for this long without understand where our lane resides, but we also shouldn't suddenly change our approach to discussing film costumes every time a Black actor wears one. Having said that, this was definitely an example where we had to start with our own cultural blindness if we wanted to talk about it. Now let's talk about why it's a great costume design.
Pin
The film's costume designer was Mary Fort, who is also well known for being the costume designer of Mean Girls, which means she's responsible for the film's "sexy Santa" costumes, which are equally as iconic a representation of early aughts teen girl costume design as the uniforms for the Clovers and the Toros. She clearly has a highly adept understanding of how to place teen girl characters in sexy costumes with high cinematic value and the ability to be easily referenced. She talks a bit about the process behind those costumes here.
Pin
And look, we can talk about how the costume's green, orange and yellow color scheme could call to mind kente cloth or any number of African flags. We could note how the Clovers logo looks like graffiti compared to the Toros' more corporate-looking sports team-style logo. We won't deny those interpretations, but we don't think we're qualified or entirely correct to impose them ourselves, if that makes any sense. It's possible to read various design elements as more "Black" somehow, but that's also a tendency any white writers should pay attention to if they keep returning to it. Put it this way: these things – possible references to African cultures or inner-city Black culture – are definitely in the mix here.
Pin
But from a more practical, more cinematic perspective, this costume stands out because the color story is so bold and bright that you can't look away from it onscreen. It dominates any scenes with any other cheerleading teams in them and that is entirely the point. The Clovers want to dominate the sport and cast aside any pretenders to their skill and creativity. They want you to pay attention to their color, in other words. They also want you to see their power and skill. It's not a coincidence that the first shot of Gabrielle Union as Isis is this one:
Pin
She's huge in the frame, her body is highlighted and looks powerful and athletic. Mary Fort designed the Clovers costumes to be a little more revealing than the Toros'; with a larger armscye (armhole) revealing more of the shoulder, and by raising the hem on the crop top and lowering the waistband on the skirts.
Pin
Pin
This wasn't to make Isis or any of the other girls look sexier. It was to allow them more freedom of movement and to highlight just how different their movements are from those of the predominately white cheerleading team.
Taking inspiration from the moves performed by drum lines and step clubs at HBCUs, as well as quite a bit from hip hop dance moves of the time, the Clovers' cheer routines require them to stomp, twerk, and bop in a way their white challengers never do.
Pin
Pin
Note how the striped hemlines and necklines call your attention to each movement, whether it's cocking the hips or raising the arms, the costumes help highlight the high athleticism and hip hop inspiration of the Clovers.
Pin
Pin
Note how their skirts are pleated all the way around (as opposed to the Toros' skirts, which had a couple of pleats in the front) and every other pleat is lined in orange, making every twerk, every hip cock, every twirl stand out onscreen that much more. The Clovers' routines were more exuberantly kinetic than the Toros' (by a fraction at the end) and the costumes help underline that energy and the broadness of their movements. Add that explosion of color to the mix and the Clovers' routines all come off way more energetic and fun onscreen than the rigidity of a lot of the Toros' more traditional cheerleading styles.
But those are the larger touches. It was the smaller ones that caught our eye and underlined points about Isis and her teammates.
Pin
Like Isis' matching heart-shaped beads on the end of her braids. Not only an expression of her African-American self, but also a subtle grace note that shows just how committed she is to her team; how much she'll fight for it because she loves it.
Pin
As does the little clover painted on her face for Nationals. Just a cute little touch that says underneath her annoyance with her white competitors (and the way the film tends to portray her as a physical threat to them, which didn't age all that well), she's a teenage girl with school spirit who just wants a chance to show it.
Pin
Pin
The other girls show this through matching bandannas or scrunchies; little touches to interpret their uniforms in a personal way that the other teams don't do.
Pin
Note how they all upped their game and unified their look for Nationals, with all the girls sporting metallic gold hair bows.
So, taking all that we're noting and observing as to how it moves and looks on film as well as what cultural references it may or may not be pulling from, when it comes to the question of how or if this costume is iconic, here's what we see:
Pin
Pin
Pin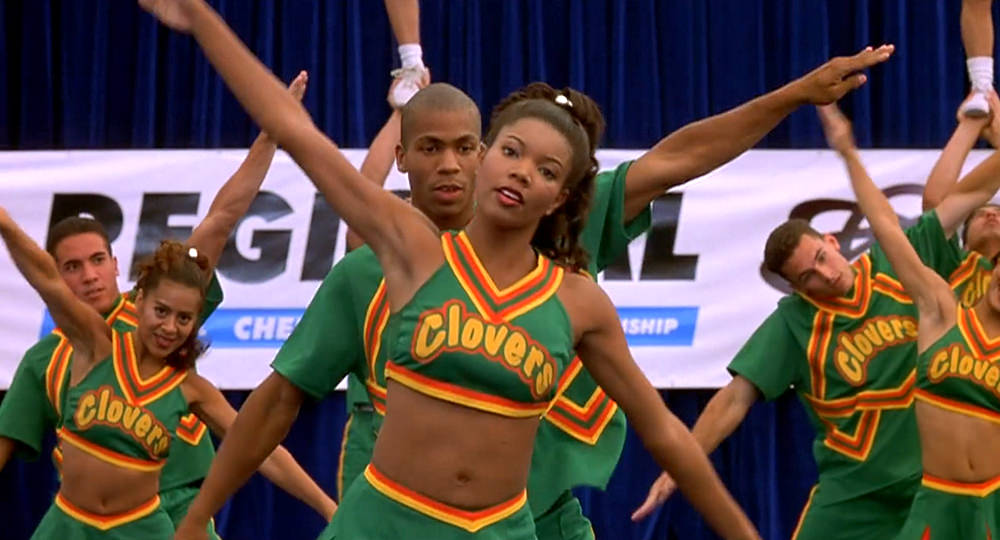 Pin
Pin
Here's a costume that shows a Black woman as a talented competitor, a powerful athlete, a beautiful presentation of Black bodies in motion, a young girl with the same kind of dreams as any other, a team player who will fight for her team's place in the world. It's a costume that says a lot, working within a very narrow framework and using very little to get its message across. That alone makes it a powerful and well-executed costume design, but as we said, when it comes to this costume's meaning and iconhood, it's going to be (and has been) Black women who elevate it to that status. First, it's still a popular Halloween costume twenty years after the film's release. Gabrielle just wore it herself this past Halloween during her birthday party, with her daughter Kaavia sporting the toddler version of the costume.

Oh, that's another way of noting something is iconic. If you can dress a baby in it and everyone knows what it is, that's an iconic film costume. But by far, our favorite reference to this costume is when the Black members of the Dallas Cowboys Cheerleaders dressed up as Clovers for their Halloween 2016 party and did the whole "Brr, it's cold in here" routine:
What better way to show that this costume has larger, long-lasting meaning than to see a bunch of professional Black cheerleaders lovingly paying homage to it nearly two decades later?
Pin
Pin
It's powerful, cute, and memorable, with its meaning only growing stronger and more important as the decades pass and almost everyone knows what it is as soon as they see an homage to it. And it will likely still be illustrating stories about Gabrielle Union and her career well into her dotage, like all great film costumes.
[Stills: Universal Films. via Tom and Lorenzo]
blog comments powered by

Disqus