Pin
So it turns out that we're a couple of sneaky bitches. Some of you probably knew this already and don't need an example, but in this instance, we're referring to this tweet:
What's an iconic film costume for a female character so well-known that you can see every detail of it in your mind's eye? pic.twitter.com/smLB3vxwb7

— Tom and Lorenzo (@tomandlorenzo) April 20, 2020

Because it wasn't just an idle time-waster of a question. We were actually conducting an informal poll in order to get a sense of what film costumes tend to top the lists of people's faves. And now that we know, we can begin singling some of them out for discussion and analysis in a new series. Although to be fair, we already knew what the Number One answer would be – among women, anyway: the now-legendary green gown worn by Keira Knightley in 2007's Atonement, designed by the film's costume designer Jacqueline Durran. It's been topping such lists for years and pretty much any discussion about fashion and costume design in motion pictures makes at least a passing reference to it. There are plenty of very good reasons for that, not least of which is that it's a gorgeous garment, a unique costume, and is so perfectly suited to Keira Knightley that it's nearly impossible to picture anyone else in it. That last bit is the hallmark of legendary costume design. If you have a hard time picturing someone other than Harrison Ford in Han Solo's vest or Michelle Pfeiffer in Catwoman's unraveling PVC bodysuit or Marilyn Monroe in her iconic pink "Diamonds are a Girl's Best Friend" dress, it's because the costume is so memorable and so well-suited to the actor that they become nearly indistinguishable from each other. Not to be morbid about it, but when Ford and Pfeiffer go, we can pretty much guarantee pictures of them in those iconic film costumes will show up in their obituaries, just as Keira Knightley will likely have this gown follow her around for the rest of her life:
Pin
Let's start off by going straight to the source: Jacqueline Durran herself, who's had many chances to talk about this gown over the years.
"I'm under no illusion that the dress that I've created isn't a true 1934 dress. It's a combination of elements that has been made up by someone with a modern perspective. Any time you're not taking elements and recombining and interpreting and creating, you're going to move outside of what is exactly the correct period. But everything within the dress is from the period; it's just recombined in a modern way. For sure, I think that the spaghetti straps coming out of the front of the dress and running down the back gives us a more noted back than most '30s dresses, even though it was fashionable to have bare shoulders and back at the time."
Pin
"I chose elements from 1920s and 1930s dresses that I liked: the dress is not an authentic 30s dress. The details like the backlessness and the fullness of the skirt exist in a dress in the 30s, but not all together."
Pin
Pin
"We wanted the fabric to be as light as possible because it was supposed to be the hottest day of summer: there's an element of nakedness about the dress, even though the character is fully dressed."
Pin
"I don't think it has actually any impact on my career, particularly. I don't know. But, the thing is, it was a kind of precious dress because, in the book, it had such an importance in the story. So it was always going to be something that had to have an equal importance in the arc of the film. It was very stressful trying to design a significant dress.
Pin
"But I'll also say, it, again, comes back to the collaborative nature of film. Because, in the end, the dress's success was partly what it was — the color and the design and everything — but it was also partly Keira and partly the lighting that Seamus [McGarvey, cinematographer] did and it was partly the scene that Joe created and the sets that Katie Spencer made. So the whole picture becomes part of what everyone feels about the dress. So you have to think about that all the time in film. What you're creating is part of a combination of elements and they're put together by all the creative departments. You're successful when you're all together."
There's a lot of fun stuff to unpack in her comments, not least of which is the nature of inspiration; how a creator can sometimes articulate what she's doing deliberately and at other times admits how much of it was based on emotion and collaboration. But make no mistake, details exist in good costume design because the designer was trying to tell a story, create a character, or make points that illustrate parts of the script or that add something that the script couldn't say with words.
Pin
Cecilia is a character that straddles two incongruous types: the delicate English rose of high romantic fantasy and the sensual woman whose body is always in presentation mode. She is introduced in a delicate blouse and skirt, carrying a vase of flowers and strolling through the house and grounds with purpose, looking every inch the high-born English girl in a great house of so many other stories and films. She then immediately strips down to her slip, dives into a fountain, and comes out dripping weight and more or less completely naked in front of Robbie, the man whose desire for her sets off a string of tragic events. Romance and dripping sensuality all in Cecilia's first moments on film – and represented through costume design, of course.
Pin
You don't often see those two archetypes present in the same character. This is of a piece with how the story is told in the film, with multiple points of view reflected in the repeating of scenes, sometimes from entirely different angles and perspectives. Cecilia is able to exist as two different archetypes on film because her story is being told by others or seen through the eyes of others, allowing her to be more chimera than person. The gown embodies so many different things about her, but that dual quality, that youthful dewy romanticism and nubile sensuality co-exist in the design of the dress.
Pin
Green is not an often-used color in film costume design for stylish heroines, partly because it can be so distracting and partly because other colors like red or purple look more "cinematic" somehow. There's also the consideration that it's not always a color that white people can pull off and it can have a sickly effect when it bounces off pale skin onscreen. Prior to this, if you'd asked people to name the most famous green dress in film history, most people would have landed on Scarlett O'Hara's draperies, which spoke less of finery and more of the character's innovation, desperation, and need to project a certain image. Green is more often a color in film costume design that evokes fantasy or magic (like the Wicked Witch of the West or the animated Maleficent) or an affinity with the natural world (like Robin Hood or Legolas).
We can say that all of this is bound up in the green of Cecilia's gown: a vibrant green that speaks of youth and vitality (in a story about the young being told by an old woman), a fantastical green that speaks of a magical, almost hypnotic quality (from Robbie's perspective anyway), a dangerous green that speaks of envy or desire gone wrong.
Pin
But in keeping with Durran's observation that film is collaborative and that costumes owe their impact as much to their surroundings as to their wearer, we should note that the film itself is absolutely awash in green. The grounds surrounding the house are the focus of so many scenes, seen from both outside and inside the house. The house itself is papered in florals and draped in botanicals in room after room. The servants' quarters and downstairs areas are all painted green. And SPOILERSPOILERSPOILER: Both Cecilia and Robbie are wearing green in their respective death scenes; she in a green day dress, he in his army uniform. In many ways, the entire film foreshadows or calls back to this dress solely through the use of color. Which is as it should be, since the entire story rests not only on the events of the day the dress was worn, but also on what the dress represents: Cecilia's mystical desirability and unattainable status.
Pin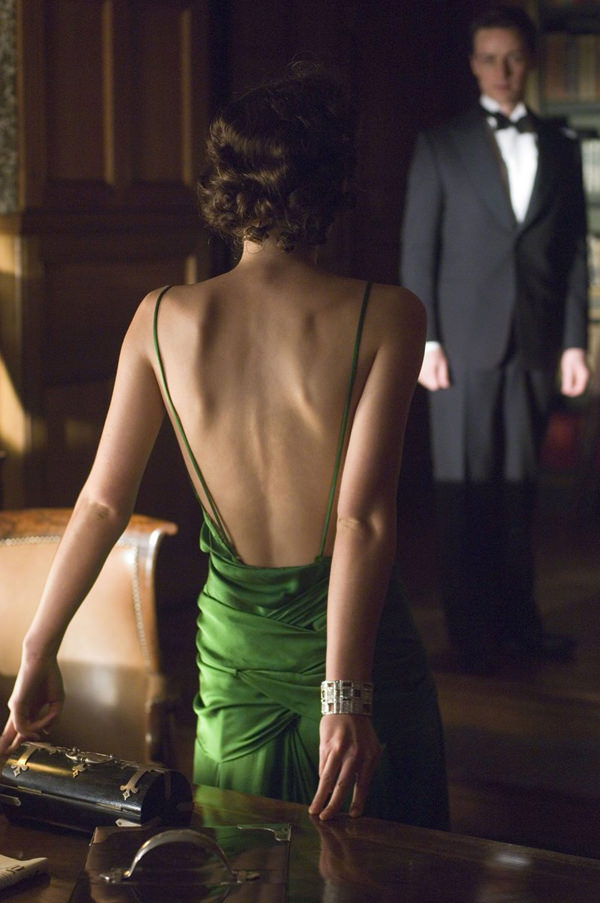 Pin
Jacqueline Durran has noted that the back is unusually open and that the dress is meant to underline and illustrate Cecilia's sensual nature and desirability. In addition to that, we would also note the anachronistic laser cut eyelet of the bodice, which doesn't truly expose more of her chest, just gives you the idea of it. We'd also note the way the design of the dress highlights both her butt and her crotch through the use of drape and pleat. It not just a beautifully fitted dress that gives the sense of the naked body underneath it, it's also a dress that frames or highlights the parts of a woman's body a man's eyes will rest on when he desires her.  It's also worth noting that the MacGuffin that sets off the tragedy of the story is a misplaced note in which Robbie eagerly and vulgarly waxes rhapsodic over Cecilia's vagina, which this dress helpfully frames in nearly every shot of it.
Pin
Taking all of that into consideration, it's not hard to see why this dress made such an impact on film audiences. Not only does it tell the film's entire story, but it visually sums up its themes of desire, envy, memory and magic. It's also just a straight-up stunning gown.
[Photo Credit: Focus Features]
"Our book Legendary Children: The First Decade of RuPaul's Drag Race and the Last Century of Queer Life is on sale now!
The Los Angeles Times called it "a nuanced exploration of the gender-bending figures, insider lingo and significant milestones in queer history to which the show owes its existence."  The Washington Post said it "arrives at just the right time … because the world needs authenticity in its stories. Fitzgerald and Marquez deliver that, giving readers an insight into the important but overlooked people who made our current moment possible."  Paper Magazine said to "think of it as the queer education you didn't get in public school" and The Associated Press said it was "delightful and important" and "a history well told, one that is approachable and enjoyable for all."

blog comments powered by

Disqus