It's always great to have Miss Emma back on the red carpet because she has a tendency to serve up highly discussable fashion, which means roughly half the time we don't agree with what she's wearing but can't stop talking about it. That's actually a good thing. Case in point: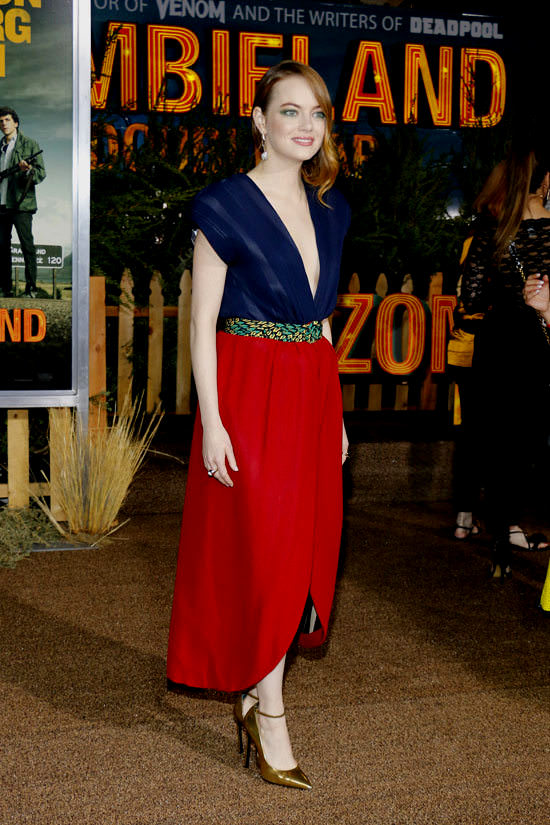 Our first, highly bitchy impression: "No, no, no! This is all WRONG." We were responding mostly to the shape and style. That skirt design is just heinous to our eyes. And we don't think the proportions of the plunging neckline, cap sleeves, and accentuated shoulder are all that great in combination.
HOWEVUH…
We absolutely adore the richness of the colors. At first we really weren't sure about that belt or those shoes, but we think they both do a lot to elevate the visual interest level. While the design and style aren't entirely to our tastes, we have to hand it to her and her team for really knowing how to style her in a distinct way. She never looks like just any other actress. And she always seems to snag the LV that's exactly right for her.
Style Credits:
Louis Vuitton Dress with Belt from the Spring 2020 Collection
Styled by Petra Flannery
[Photo Credit: Eric Charbonneau/EPKT.TV, David Gabber/PRPhotos.com, louisvuitton.com – Video Credit: Sony Pictures Entertainment via YouTube.com]
blog comments powered by

Disqus