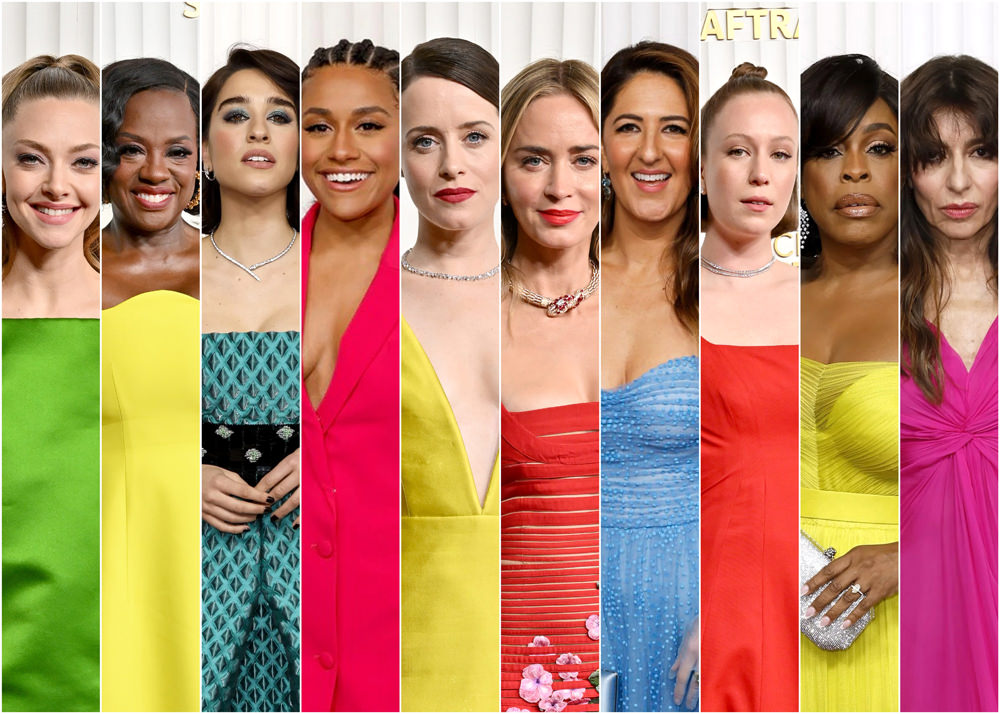 While this isn't quite as LGBTQ-esque as last year's Rainbow Ladies Oscar post, we kinda thought titling this one "Ladies on the Spectrum" wouldn't quite work, so a rainbow it is! Look, we're just super-excited to see color back on the red carpet again. Things had gotten decidedly colorless in the last few weeks of awards season and we feared that things were trending away from boldness and brightness. Not according to these gals! We should also note, in the interests of fairness, that Angela Bassett, Jamie Lee Curtis and Jessica Chastain also wore brightly colored gowns, but they each got the spotlight treatment. Hit it, bright girls!
Amanda Seyfried in Prada

Is this perhaps a little less formal than a SAG Awards frock should be? We don't know. We don't make the rules, much as we'd like to pretend that we do. Obviously, no one's gonna stop her at the door and tell her to go home and put on a gown. Besides, it's got a train! That's kind of formal, right? We still don't like trains on short dresses or bows on grown women, so we're not inclined to love this one. We do, however, think she's perfectly suited for '60s retro styles and we're kind of surprised she doesn't dip into that well more often.
Ariana DeBose in Prabal Gurung

She did the thing! We're so glad she's shaking off the trauma of becoming the latest meme. This is great. Love the longer jacket. It's a shame that she lost her feet somewhere along the way.
Claire Foy in Prada

Girl, that's not your color. Beautiful gown, though.
D'Arcy Carden in Monique Lhuillier

It's pretty, but it's a little too '80s prom for our tastes. We think she should have avoided the matchy accessories and considered a hairstyle that would give the look a more modern feel.
Emily Blunt in Oscar de la Renta

It's a really striking gown, but we can't shake the feeling that it hasn't landed on its best wearer. It's not that the red doesn't suit her or the style looks bad on her. We can't quite put our finger on it, but if we saw this gown on a dress form or a model and tried to suggest a celebrity for it, we don't think her name would be in the top ten. Still, this is a super-vague critique, so take it with a grain of salt. We love the gown. The necklace is gorgeous. If we had to be more specific, it feels like these items aren't hitting with the impact they should.
Hannah Einbinder in Staud

It's got a dramatic sweep to it and the color looks great on her, but the fit in the bodice is pretty terrible and there's just no way we can see that top knot as the right choice for this style.
Niecy Nash-Betts in Vera Wang

Hail Niecy, the Goddess of Fit and Support. Burn offerings in her name at your next bra fitting so that she may bestow her blessings and grace upon you.
Sabrina Impacciatore in Valentino

This is gorgeous. Other wearers might prompt us to suggest that the look needs more jewelry or that the hair comes off a little too casual with it. She is not other wearers. This is perfect as it is. It's giving Alta Moda Stevie Nicks.
Simona Tabasco in Armani Privé

What a gorgeously unique color and design. The textile looks upholstery-heavy, but we love this look for being so eye-catching and so different from the rest of the gowns.
Viola Davis in Valentino

We're not sure this very structured, very traditional style is the best one for her, but that color looks amazing on her and she's giving eleganza, so it's all good.
Photo Credit: BauerGriffin/INSTARimages, Frazer Harrison/Getty Images]
blog comments powered by

Disqus