Two of the queens looked over the poor offering of a challenge this week and wisely decided that the only way they were going to make a splash is if they got into an argument and kept it going for the cameras. Or at least that's how it seemed from our couch. We admit, every episode is a bit of a blur now, what with them all being something like 19 minutes long at the point.
We joke (sort of) because we're bored. We don't necessarily think it's impossible to produce an hour-length episode of a reality competition series, especially if every episode comes with an additional 20-minute epilogue for all the shit-talking to take place. But Drag Race is a somewhat well-oiled machine at this point and it doesn't feel like it's capable of shifting its format to accommodate the shorter run time, except to eliminate the mini-challenges.
Of course the internecine drama among the queens is also an essential component of Drag Race and even we were a bit excited to see some sort of confrontation play out. The problem is that the argument between Mistress Isabelle and Malaysia was just so boring and dull. Isabelle and Luxx went all-in on needling the other team over who was going to do the metal song last week. It wasn't insulting or out of line in anyway, but it was a little disingenuous of them to act surprised that anyone had an issue with it. On the other hand, Malaysia took the standard smack talk and jockeying for position that pretty much defines the Werk Room experience and decided to take it personally and act like it was out of line. As good, juicy reality show drama, this one failed to launch. For some reason, Malaysia wound up apologizing to Mistress — not that we really think anyone needed to apologize, but let's face it, Mistress was kind of a bitch about it.
There was also some minor drama surrounding Aura's choice to play the lead character – the one that everyone else wanted to play – only to discover that, bless her heart, the girl just isn't lead actress material. People acted like Mistress expertly manipulated the situation, but she just saw an opening and took it. If anything, she wound up doing Aura a favor, because as bad as her performance wound up being, we think it would have been much worse if she'd tried to hang the whole sketch on her own shoulders. As for the sketch itself…
It may be one of the worst-written sketches we've ever seen on Drag Race. The hook was that it was supposed to be a somewhat lame sitcom, but the problem with parodying bad material is that you risk not elevating your parody of it. In other words, it was a parody of bad comedy material that wound up being nothing more than bad comedy material itself. To be fair, Drag Race has a long history of handing the queens questionable songs or sketches in order to give them the opportunity to rise above the material. That didn't really happen here. It didn't help that the show tried to get clever with the editing in a way that didn't really add anything to the performances. If anything, it wound up making them worse, in a way that didn't feel particularly fair to the queens, since they were playing their parts with the assumption that a lot of fart sounds would be edited in. The appearance of Danny Trejo was a lot of fun, though. We kinda wish they'd milked it a little bit more. As for the queens, we'd rate their performances as follows:
Perpetually in over her head with nothing to offer but lewks. Professional and smooth, but not nearly as funny as she seemed to think.
So forgettable that we tend to think it was a mistake to call either of them safe.
To be fair, these two were so clearly in the bottom that it doesn't matter if the other queens got the appropriate critiques for their work. Jax and Aura are both low-charisma queens. Jax may have been slightly better than Aura, who clearly has no idea what to do with a line reading.
She was exactly as good as we'd expected. That's not shade. We expected her to be able to handle the material and she did.
We honestly thought Anetra and Marcia Cubed were among the best performers. They did a lot when they had virtually nothing to work with and Marcia in particular was impressively smooth and funny with her performance.
We thought they were both wildly overpraised. It's not that they weren't good, it's that they were playing the characters most likely to dominate a scene. They were fine.
The runway category was "Puffer, Please" and the the dolls got a little creative with it. Starting with the safe girls: Loosey's Stay-Puft look was a fun idea, but it was just a cute sailor girl look with a fierce coat over it. Sasha's Queen Bee look was inspired, but a little overdesigned. Luxx claiming her look was an homage to Jackie Kennedy's assassination suit is hilariously wrong, but the look was fun. This may have been our favorite Salina look all season, although the Cheetos crotch was a little gross. As for the tops and bottoms…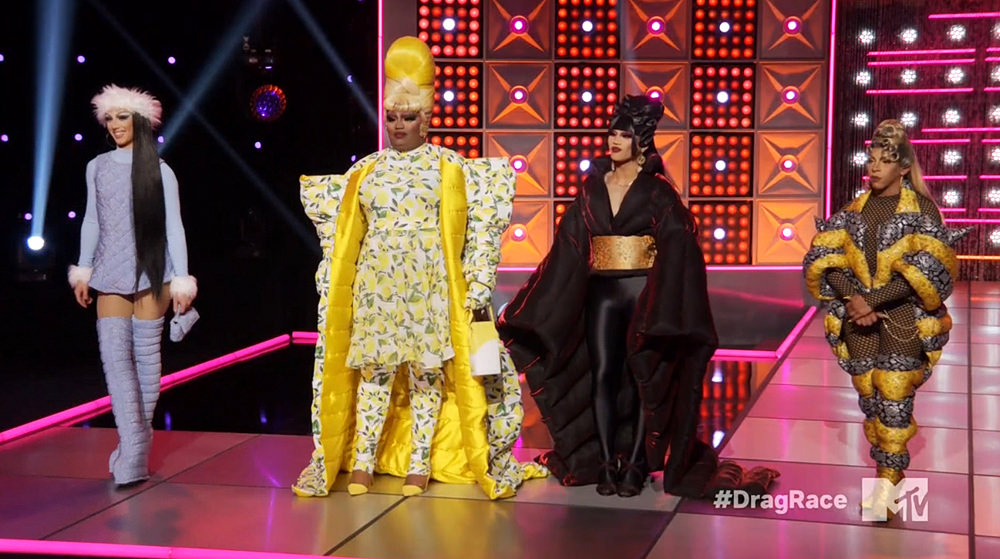 Michelle was right to call out Spice for doing the exact same runway walk every week. The irony is that this critique came in response to one of the least formulaic looks she worked all season. She looks great. We loved the creativity of Malaysia's look, but we weren't thrilled about the kitchen curtain fabric. Credit where it's due: Aura served up a gorgeous take. Jax's look, like so many of her looks, was a little incomprehensible to us, but it does tend to serve as an illustration of what the judges mean when they want a queen to drag something up. This is ostensibly another take on a Queen Bee look, but when you compare it to Sasha's, which had a more starkly graphic and easily parsed meaning, this looks a little half-assed. The textile choices are so strange to us.
Mistress's look, on the other hand, was a perfect example of taking a look and making it drag. You just can't confuse a costume like this with anything else. If you held it up on a hanger, anyone would call it a drag queen costume. Compare that to Anetra's look, which is fine, but it's just a variation on her usual showgirl/hooker drag. Marcia Cubed had a really cute idea and ran with it. The frostbite makeup was clever, but we agreed with Carson that she should have glittered or stoned the look more in order to give it that icy drag feel.
Condragulations to Mistress. We'd say she earned this one handily.
The two low-key queens faced off and while we would have been fine with either of them going home, once the music started it was pretty obvious who had a handle on the song and who didn't. Jax ate this one up.
We think the queens who walk in the door proclaiming their own trade status or showing off their biceps tend to not quite get what this show is about. There's a certain defensive quality in queens who make a point of proclaiming how traditionally masculine-hot they are right off the bat. Technically, his drag is pretty good, but it never felt like he was coming close to really opening up to the experience.
Legendary Children: The First Decade of RuPaul's Drag Race and the Last Century of Queer Life, a New York Times "New and Notable" pick, praised by The Washington Post "because the world needs authenticity in its stories," and chosen as one of the Best Books of The Year by NPR is on sale wherever fine books are sold! 
It's also available in Italian and Spanish language editions, darlings! Because we're fabulous on an INTERNATIONAL level.
[Photo Credit: MTV via Tom and Lorenzo]
blog comments powered by

Disqus