Apologies for the late recap, darlings. We opted for a weekend getaway instead of working on a Saturday morning, which is a choice we think almost anyone can support and understand. Anyway, we hope the following screencaps help soften the blow.
You are free to be tasteless and make a joke using either "soften" or "blow" here, but we would never be so crass and vulgar ourselves. We will say that we do love to see Drag Race remember the raunchy queer show it first was, before the Emmys started rolling in.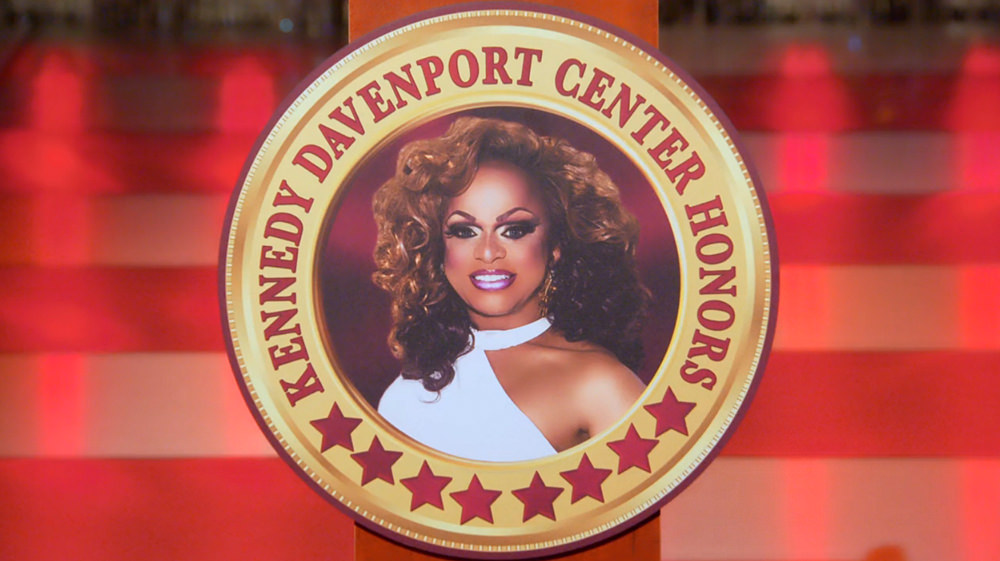 This week's main challenge was a roast, and as per the usual with this season, the queens all stepped up their games. We've been debating the pros and cons of this all-winners, no eliminations season for weeks now, but an episode like this tends to shut any objections down. While it remains a season pretty much devoid of any tension, drama, or sense of competition, there's no denying the pleasure of watching really seasoned, well-trained queens execute a classic Drag Race challenge with ease. Sure, some were better than others, but even the clear worst effort was as smoothly delivered as any professional comic finding herself bombing.
It's entirely possible that all of the queens are getting the best possible edit of their work so that none of them look too bad, but we can't really stay mad about it when we laughed so much throughout the challenge. Raja was appropriately the meanest girl with the most acid delivery.
Yvie was surprisingly sharp and smooth. She looked great too.
Shea looked amazing and did her sort of Phylicia Rashad-esque, "poised lady" thing. It's a performer's trick she uses to cover for weak material sometimes. It mostly worked here. She had a couple of good setups, but her follow-throughs and punchlines weren't as strong as they could have been.
Jinkx was hilarious, to absolutely no one's surprise. Her line about doing coke off Yvie's dick was not just funny, but a whole lot wittier and biting than a dick joke has a right to be. She's just insanely good at comedy performance.
Trinity was nervous about this one, given how poorly she did in her previous roast challenges. But she's become extremely adept at working a camera and creating catch phrases, so we kinda felt her nervousness was unwarranted, if not something of a bit in itself. She plays the game well and we wouldn't be surprised if she was deliberately keeping expectations low. Whatever the case, whether she was devious about it or not, her set was hilarious.
Monet has comedy chops and a relaxed, confident vibe to her stage work. She didn't exactly slay or burn the house down, but it was a good, occasionally funny, well-delivered set.
Jaida could have been a disaster, but she's very quick on her feet and when the jokes started going south because she kept flubbing the lines, her asides and off-the-cuff reactions had everyone laughing. There was no question she was the worst (even if none of the judges could bring themselves to even suggest such a thing), but she was funny and entertaining about it.
The Viv was among the most polished queens, with some of the most devastatingly British (read: cutting) lines. It's kind of a shame she didn't get more recognition for her work. Literally any queen other than Jaida was up for a star this week, but she was the one most robbed by not getting one, we think.
The runway category was "Who Spent the Most on Their Costumes," or a glow-up challenge that practically required jaw-dropping looks. Every queen delivered:
Raja's was the most interesting. Yvie and Monet surprised us with high glamour and flawless polish (two things they don't always deliver). Trinity's look was a little craftsy, but there's no denying her description of wearing the Vegas strip on her back, which suits her. Shea, Jaida and The Viv served pure fantasy and Jinkx interpreted the challenge in just about the most Jinkx way possible.
We might have given Trinity's spot to The Viv, but we can't get too upset that she and Jinkx each got another star. They definitely earned it. As for the lip sync, we thought Trinity was better suited to the song, so we were surprised to see the check get handed to Jinkx for her more humorous take on it. We think at this point, she can do no wrong in Ru's eyes. With the Platinum Plunger now permanently retired, we don't think there's going to be too much of a shakeup heading into next week, but we'll see. All we know is that we laughed our way through that challenge and everyone looked sickening. We suppose you can't ask for more than that out of Drag Race.
Legendary Children: The First Decade of RuPaul's Drag Race and the Last Century of Queer Life, a New York Times "New and Notable" pick, praised by The Washington Post "because the world needs authenticity in its stories," and chosen as one of the Best Books of 2020 by NPR is on sale wherever fine books are sold!
[Photo Credit: Paramount Plus via Tom and Lorenzo]
blog comments powered by

Disqus