That popularly nostalgic show about nothing, Stranger Things is back for its final season! The cast came out to celebrate by living up to the title, evidently. Because there were definitely some stranger things on this red carpet haha areweright?  Bad joking aside, we don't know if it's something particular to this cast, which has more than its share of wacky types or if because it's the last season, or it has something to do with its former child stars transitioning awkwardly into adulthood, but the style choices here are weird! Strange, even!
Caleb McLaughlin in Casablanca

It's an Elvis puppy suit? We don't understand.
Charlie Heaton in Richard James

It's a little too on-the-nose '80s for us. If your character would dress this way then you're basically in a costume.
Dacre Montgomery

Sure! Okay! It hurts our eyes, but he looks kind of comfy. That hat has nothing to do with the rest of his outfit.
David Harbour in Custom Union Western Clothing

That is just … beyond themey. He's basically wearing the show in clothing form. We know he's beloved, but this isn't cute to our eyes. The design is ugly and the concept is a bit too nakedly promotional. The fans will love it, though.
Finn Wolfhard in Saint Laurent

Meh. It all feels a little stale, to be honest. We expected better from him.
Gabriella Pizzolo in SHO + CO

The style and print are a little too "doll fashion" for us.
Gaten Matarazzo in Dolce & Gabbana

This is a cute idea, but we hate the cut of that jacket.
Joe Keery in Thom Browne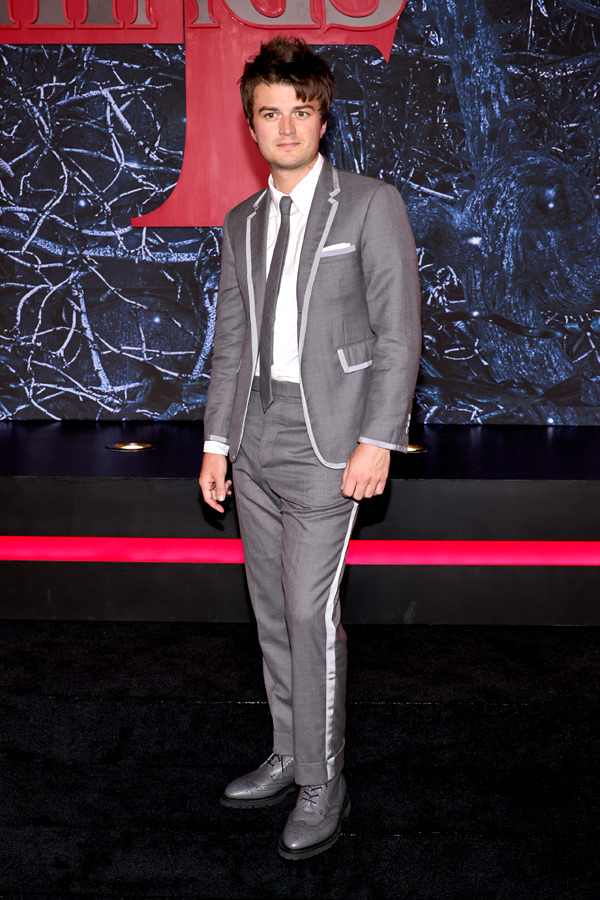 Another not particularly fresh look. We wouldn't mind it if it fit correctly.
Maya Hawke in Christian Dior

There was a real "Dress like it's a Halloween party" brief, wasn't there? This is okay. Whatever appeal it has comes down to its weirdness.
Millie Bobby Brown in Louis Vuitton

Why, Heidi Klum! What are you doing here? Are your kids fans of the show? Miss Millie has always had a knack and an apparent preference for a certain sort of precocious style, so this just feels like part of a long pattern to us. It's not terrible by any stretch, but like a lot of what she wears in public, it's equally if not more suitable for someone decades older.
Natalia Dyer in Saint Laurent

It's just not a great dress design and we don't think her hairstyle was the right choice for it.
Noah Schnapp in Dior Homme

You lost us with the kicks, son. We don't mind the idea of sneakers with this, but we think a finer, perhaps showier pair than that was called for. Love the rest of the look.
Sadie Sink in Prada

This is kind of sharp and we love the cut of it, but it also feels a bit too sedately grownup for the wearer.
Winona Ryder in Tibi

She's wearing a pin depicting her character, so we guess this cast is really all about the fans and the promotion for this event, like they're at Comic-Con or something. We like the Chaplin-esque take on the suit, though. The style really suits her. We just wish she wasn't dragging her pants on the ground.
[Photo Credit: Courtesy of Netflix, JOHN NACION/startraksphoto.com]
blog comments powered by

Disqus