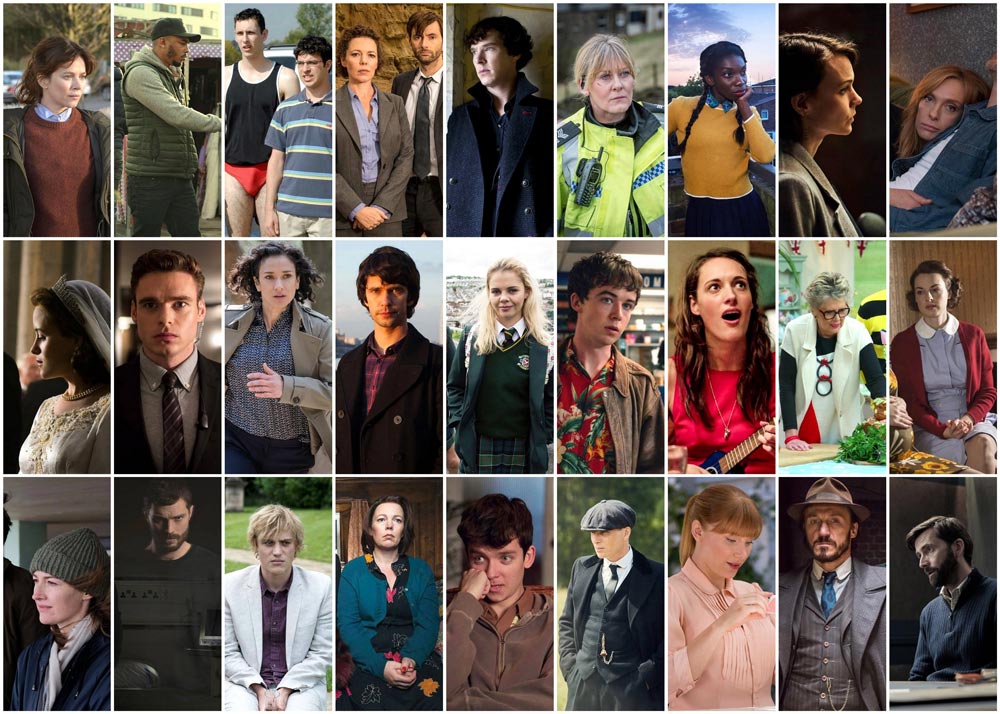 Doctor Binge-watch is back with more time-wasters for you, darlings!
Having given you all his Netflix recommendations for Nordic, German, and Spanish language TV series, he's giving you a break from subtitles (unless you have problems with regional accents, which – no judgments!) and sending you off with a list of his fave British and Irish shows. And if you can't believe he didn't mention one of your faves, that's because it's a list of HIS faves. We're just saying! And before anyone asks, Netflix isn't paying us a dime for any of this. Lorenzo really is the King of Binge-watchers, extravagantly covered in cats and throw blankets for hour upon hour of viewing. Tom really is amazed by the (never-changing) sight of it all. He's an expert on sussing out what kind of show is worth hours of your time.
Derry Girls


Amidst the political conflict of Northern Ireland in the 1990s, five high school students square off with the universal challenges of being a teenager.
Collateral


Investigating the murder of a pizza delivery man, a London detective uncovers a tangled conspiracy involving drug dealers, smugglers and spies.
Peaky Blinders


A notorious gang in 1919 Birmingham, England, is led by the fierce Tommy Shelby, a crime boss set on moving up in the world no matter the cost.
The Fall


A seemingly cold but very passionate policewoman goes head to head with a seemingly passionate father who is in fact a cold serialist in this procedural out of Belfast. The only thing they share is their common complexity.
The Inbetweeners


This rib-tickling series follows four English lads as they try — and fail spectacularly — to navigate the wretched no-man's land of adolescence.
The Crown


This drama follows the political rivalries and romance of Queen Elizabeth II's reign and the events that shaped the second half of the 20th century.
The End of the F***ing World


A budding teen psychopath and a rebel hungry for adventure embark on a star-crossed road trip in this darkly comic series based on a graphic novel.
Criminal: UK


Criminal is a police procedural with a unique premise: it takes place exclusively within the confines of a police interview suite. This stripped down, cat-and-mouse drama will focus on the intense mental conflict between the police officer and the suspect in question.
Bodyguard


After helping thwart a terrorist attack, a war veteran is assigned to protect a politician who was a main proponent of the very conflict he fought in.
Ripper Street


In the seething backstreets of Victorian London, a police inspector and his men fight to uphold justice amid the lurking fear of Jack the Ripper.
Happy Valley


Yorkshire police sergeant Catherine Cawood pursues the man who assaulted her late daughter, unaware he is now part of a secret kidnapping plot.
Lovesick


In his quest for true love, Dylan found chlamydia. Joined by friends Evie and Luke, he relives past encounters as he notifies all his former partners.
Call the Midwife


This period drama set in impoverished East London in the 1950s follows a newly qualified midwife and her colleagues at a nursing convent.
Sex Education


Insecure Otis has all the answers when it comes to sex advice, thanks to his therapist mom. So rebel Maeve proposes a school sex-therapy clinic.
Broadchurch


After a young boy is murdered in the small seaside town of Broadchurch, local detectives Ellie Miller and Alec Hardy are assigned the mysterious case.
Chewing Gum


Tracey Gordon is a 24-year-old religious Beyoncé-obsessed virgin. Growing up through the church, with her strict preacher Mother, she has ended up rather 'underdeveloped' in certain areas – but Tracey wants more. We follow Tracey as she embarks on her journey into adulthood, crashing her way through what she should and shouldn't be doing.
London Spy


When his reclusive-banker lover disappears, a hard-partying young British hedonist plunges into the dangerous world of espionage to find the truth.
Giri/Haji


A Tokyo detective travels to London to look for his long lost younger brother, now believed to be posing as a Yakuza gangster and wanted for the murder of a Japanese businessman. His family's honour, and the fragile peace between the warring gangs back home, is at stake.
Marcella


Returning to the Met's Murder Squad after a 12-year career break, Marcella is a detective in her late 30's who gave up her fast-tracked role to marry and devote her life to starting a family. With the abrupt end to her marriage to the love of her life and isolated from her children at boarding school, Marcella returns to work – her sense of self shattered.
Paranoid


When a woman is brutally murdered on a playground, a group of detectives find themselves drawn into a dark conspiracy as they search for the killer.
The Great British Baking Show


A talented batch of amateur bakers face off in a 10-week competition, whipping up their best dishes in the hopes of being named the U.K.'s best.
Black Mirror


This sci-fi anthology series explores a twisted, high-tech near-future where humanity's greatest innovations and darkest instincts collide.
Top Boy


Two seasoned drug dealers return to the gritty streets of London, but their pursuit of money and power is threatened by a young and ruthless hustler.
Wanderlust


Unable to revive their fading sex life after many years of marriage, a therapist and her husband decide to start dating other people.
Sherlock


In this updated take on Arthur Conan Doyle's beloved mystery tales, the eccentric sleuth prowls the streets of modern-day London in search of clues.
Flowers


Between a troubled marriage, a senile granny and twin siblings constantly in rivalry, a crumbling household struggles to barely keep it together.
Crashing


In exchange for low rent, a hodgepodge group of 20-something tenants set up residence as property guards in a disused hospital, where hilarity ensues.
[Photo Credit: Netflix ]
blog comments powered by

Disqus