WAIT. STOP. Hold up a second. We know that the urge to scroll down and gape at the monstrosities and curiosities on display is strong, if not positively overwhelming, but we wouldn't be … well, us, if we didn't attempt to put our own spin on that perrennial of online ridicule, the menswear of the 1970s. Yes, we come not to ridicule but to … not so much praise as contextualize.
The first thing you have to do when you look at one of these collections of pictures is separate out the advertisements from the catalogs from the crafting booklets. Ads are fantasy-based by their very nature and they don't always reflect what real people were wearing at the time; only what real retailers and clothing lines were trying to push on them: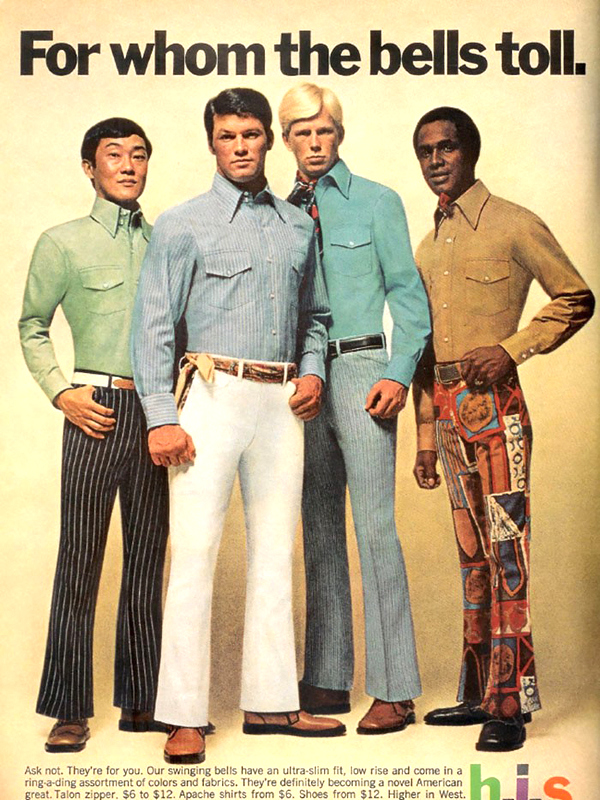 In some cases, these looks are fancifully aspirational, like a modern Gucci ad campaign, or just plainly aspirational in that capitalist-fueled way that presents standard products in the best possible scenarios worn by the people best suited to them. In other words, folks did actually dress this way, but rarely looked as good (relatively speaking) as the professional models in these shots.
Then there are the craft shots:
Crafting booklets, especially knitwear pattern books, tend to… well, find reasons to keep crafting or knitting, which means the styles you see in them not only fail to reflect the dressing patterns or style preferences of the period, but often take flying leaps away from them. Which isn't to say absolutely no one wore these fanciful creations; just that when you want to talk about how people really dressed a half-century ago, none of the above rates high on any compilations.
But the catalogs, those were another story:
Mass-market catalogs, by their very nature, feature only those items with mass-market appeal, usually mass-produced at high volumes in order to satisfy demand. Which is to say that they make the best possible representation of how people really dressed at the time. Even then, you have to take at least a few of these pages with a grain of salt, because the nature of consumerism is to cycle through trends, some of which don't gain much traction: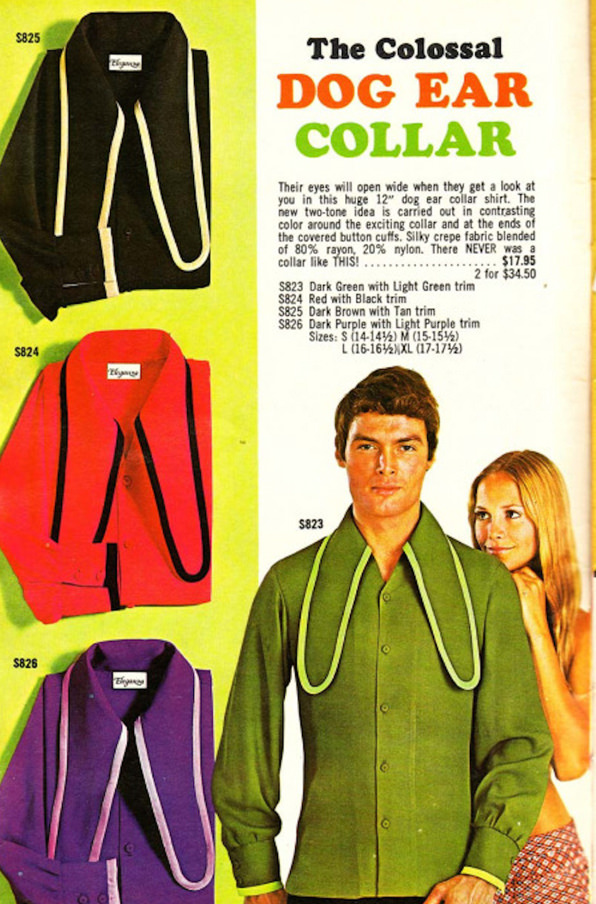 But for the most part, mid-century mass-market catalogs represent the broadest range of popular styles of the day, serving a consumer base that eagerly accepted what retailers had on offer:
And while it's fun to pick out the most extreme examples of the time in order to laugh and tease and wonder why anyone would wear such horrors, there's a big part of us that looks at these styles a bit wistfully. Don't get us wrong here. We're not pining for polyester flares and platform shoes. We can't point to one item anywhere on this page that we wish would come back in style. But our culture really did lose something when it over-corrected from the wild aesthetic explosion of the late 1960s that briefly transformed fashion. Different versions of some of the above styles have cycled in and out of vogue for short periods over the last half-century, but menswear, for the most part, snapped back to a stale and staid conservatism in the 1980s and never recovered from it, which is why mass-market menswear styles have barely changed at all in the last 25 or so years. Yes, so much of the above looks ridiculous, but we miss when men weren't so afraid to be a little outrageous with their clothing choices.
[Photo Credit: Pinterest]
blog comments powered by

Disqus