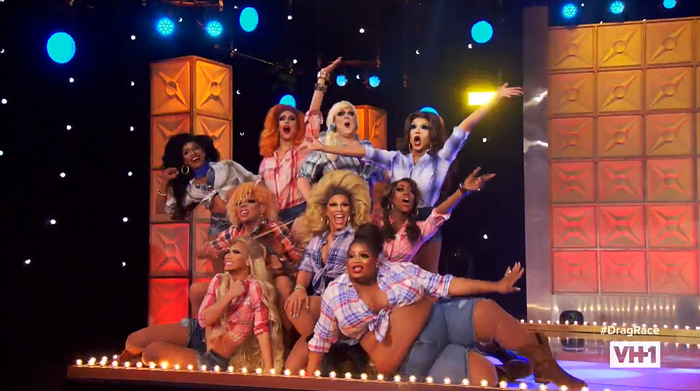 Going from last night's episode of Project Runway, loaded as it was with good feelings and camaraderie, to Drag Race, where every bitch had a knife behind her back was quite the culture shock last night. But bitchiness and boundary-setting (as in "Don't cross this line, bitch") are part and parcel of the world of drag and Drag Race in particular is a show that centers the personalities of the contestants as much as it does their drag skills because Ru believes truly great drag comes from a queen who knows who she is and knows how to work through her issues utilizing the art.
There have been some complaints that Ru has seemed more and more distant and over-it in the last few seasons but we have to say, she's coming out and kicking ass this time. Sure, going around the werk room and asking the queens who they should send home was designed to stir up drama – and it definitely got out of hand by the time Untucked rolled around – but it also set the stage for the struggling queens to step up and the mouthy queens to state their truths. But again, this is how Ru sees drag. That conflict and that sense of standing up for yourself is very much a part of her philosophy of drag. A great deal of our *ahem* book on Drag Race deals with this exact idea. Sure, reality TV fights can get nasty – especially when there are wigs and tucks involved – but Ru wants to see her queens actually become something under her tutelage and if that means messy family drama, all the better.
On that same note, Ru's encounter with Plastique in the werk room is a prime example of why Ru has won Emmys hosting this show. Of course there's a sense of manipulated drama in the scene and if you know anything about Ru's history with the show's alums, the likelihood of her remaining a mother to Plastique after the season wraps is slim to nonexistent. There's also some question as to whether Plastique was being entirely accurate in the description of her family dynamic. But the show has always done a very good job of highlighting the pain of being gay or queer, coming from a family or culture who can't accept such things and Plastique's breakdown was the perfect fuel to drive her performance this week. Do we think it all felt manipulative and a little too pat? Of course. But to that we say, "Welcome to the world of reality television."
The expiration dates on Ra'Jah and Silky were flashing brightly last night, but we could tell from the beginning which one was on the chopping block. We understand a frustrated queen lashing out because she's doing badly in the competition, but Ra'Jah's attacks and asides got really nasty this time. And Silky's unbelievably tone-deaf declarations that America was going to fall in love with her no matter what anyone else says are starting to come off incredibly delusional. She's simply not the charmer she thinks. Yvie does not let up once she starts going, in the manner of a queen who values bluntness and lives with constant chronic pain. She can be a bit much, but she hasn't said a thing about the other queens that wasn't true on some level. And during her shouting match with Silky, you could see how she wanted to counter Silky's poor assessment of her due to her condition with a crack about Silky's weight holding her back just as much, but to her credit, she never went there.
The farm-to-runway challenge was goofy as hell, but we are all for a return to a focus on home-made drag rather than rewarding the queens with the biggest costume budgets. The results on the runway ranged from inventive to "dresses with shit on them," in the manner of a good Project Runway challenge. The hoedown number was a little silly, but then again, what's wrong with some silly drag?
*listens to @KaceyMusgraves once* 🤠 #DragRace pic.twitter.com/8tVdyyrSUU

— RuPaul's Drag Race (@RuPaulsDragRace) April 12, 2019
#CategoryIs: Farm to Runway! 🌽👩‍🌾

Who had your fav lewk? 💃 #DragRace pic.twitter.com/wUxpy3cplq

— RuPaul's Drag Race (@RuPaulsDragRace) April 12, 2019
To our eyes, Yvie's look was head-and-shoulders above everyone else's, almost certainly because she's used to making her own drag from whatever she can find. Plastique's was very good; possibly even a close second, but her story this week pretty much guaranteed her a win (which is why Ra'Jah was so pissed). We think Brook Lynne is starting to get wildly over-praised because we couldn't really see what made the judges love her look so much.
Shuga's face work continues to be inscrutable and hard to understand. Just beat your face so we can see it, girl. Silky's look was better than we expect. Vanjie's was a big nothing, but as usual, her face work was stunning.
Nina's look could have worked if she'd made that skirt a good four or five inches longer (but she's still our fave this season). A'Keria's look was inexplicably mature and low-key. Ra'Jah's top half was interesting, especially her face work, but the pants and the head piece were terrible. We agreed with putting Ra'Jah and A'Keria in the lip sync.
You betta strut, Queens!!!! 💃🙌 @A_doubleC_D @RaJahOHara #DragRace pic.twitter.com/kGpVv6NojV

— RuPaul's Drag Race (@RuPaulsDragRace) April 12, 2019
But dear god, that was a piss-poor effort from both of them. We like A'Keria and think she's got a lot going on for her, but there are times when she seems too low energy for the competition. She's lucky Ra'Jah landed in the bottom so many times that it was practically a foregone conclusion before the song started that she was going home.
But we fear she's set herself up for a Phi Phi O'Hara like backlash from the fans. You can read your fellow queens all you want, but when you attack someone over matters of family and outness, you're stepping over a line.
We'll have more to say about that explosive Untucked episode in today's podcast.
[Stills: VH1 via Tom and Lorenzo]